Back to search results
Nautica LC: RIBs with Opening Bows
Florida's makers of high-end tenders and hard-knocks working boats have introduced a simple design change that many will welcome.
For amphibious landings, it hard to beat a bow-opening vessel for getting personnel and gear onto a beach in short order. It saves the hassle and danger of people having to clamber over the gunwales and drop down into water of uncertain depth, especially if the boat is rolling and pitching in any kind of chop.





What made sense for troops and matériel on D-Day makes sense today for families disembarking onto more peaceful beaches with kids, folding chairs, umbrellas, and coolers. Accordingly, Nautica International, makers of rugged, high-end Rigid Inflatable Boats (RIBs), have introduced the LC line of bow-opening yacht tenders. Five sizes are available: 18, 20, 22, 25, and 28 feet. Shown here is the 22-footer, powered by an inboard diesel stern drive, with jet or outboard power available as options.



The bow ramps on the LC series are hydraulically operated and button-controlled. They can be lowered, raised, and stopped at various heights to allow for beach operations and safe access for swimmers.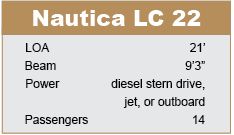 Nautica RIBs are built in Florida for a wide range of clients, including the U.S. military, state and local police and rescue services, commercial dive operators, and the international megayacht market. All boats are built to meet or exceed ABYC standards, European Commission directives, and USCG passenger-for-hire requirements.

For more information, visit Nautica International.