See more articles
New Mercury Two-Stroke Oil Attacks Carbon Deposits
The Boats.com Outboard Expert looks at engine oil for older two-stroke engines.
Up here in Wisconsin, where the season is short and the water is fresh, an outboard motor can last a long time. How long?





This past weekend, I spotted a couple fishing in a small aluminum boat powered by a Mercury motor with a green aluminum cowl that would date it to the early 1950s. That's extreme, but there are still plenty of good old "pre-regulation" two-stroke motors on the water. And if you are running one, Mercury has a new oil product that might make your old motor happy.

According to Heidi Stark-Klebs, Mercury oil product manager, the company's new Quicksilver Rejuvenate will remove carbon deposits and restore performance in well-used two-stroke engines. The oil, now labeled Rejuvenate, was originally developed for military use in a program that was testing jet fuel in outboards, a fuel that leaves behind a lot of carbon. The oil uses the same semi-synthetic base stock as Quicksilver Premium Plus oil, but has an exclusive package of powerful additives, including a solvent that removes carbon but does not reduce the lubricating qualities of the oil. It also has dispersants, which hold carbon in suspension so it exits with the exhaust. If it's pre-mixed with gasoline, it further acts as a fuel stabilizer. It can be used in oil-injected motors or pre-mixed.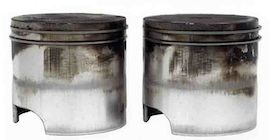 "A boat owner who's been using high-quality oil and a fuel additive probably will not see any benefit from Rejuvenate," says Stark-Klebs. "But if you've bought a used motor and you are not sure of its history, or if you been using a poor grade of oil, Rejuvenate will clean the carbon off the heads and piston domes, and clean out the ring lands and prevent sticking piston rings."

Stark-Klebs told me that when Rejuvenate is first used in some motors with a lot of carbon accumulation, the exhaust can look pretty nasty until the carbon is cleaned out. Mercury is selling Rejuvenate through marine dealers and also in the mass market because it can be used in many two-stroke applications, from weed trimmers and chain saws to personal watercraft and even snowmobiles – it's mil-spec formula is designed to work in very cold temperatures.

I don't have an old outboard, but I've been running a sample Stark-Klebs gave me in my 1976 Lawn Boy mower all summer. All I can say is it's still running. This winter, it's going in a 1969 Arctic Cat. I'll let you know if it purrrrs.