Back to search results
2014 Princecraft Quorum 25 SE: Video Boat Review
Check out our video boat review of the Princecraft Quorum 25 SE.




Read the Princecraft Quorum 25 SE Boat Test Notes

The Princecraft Quorum 25 SE is an all-new pontoon boat, and it has a rather unusual layout - there's a full bar and food-prep area on the port-side stern deck. The boat also has a huge cool-factor, tricked out with touches like blue LED lighting, spinning, height-adjustable bar stools, a sporty steering wheel, and a simulated-burlwood dash.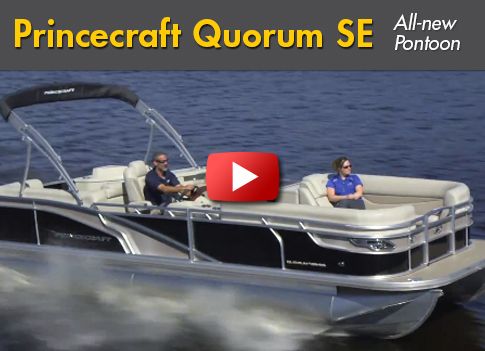 Since the stern is taken up by the bar area, the pop-up changing room is shifted forward, amidships. The bow lounges are as you'd expect: two comfy couches face inward, and there's plenty of stowage underneath. If you need a cup holder or arm rest, several are provided. There's another comfy lounge aft, on the starboard side of the pontoon boat.

When we took the Princecraft Quorum 25 SE for a spin, it cruised in the mid 20s and ran well over 30-mph at top-end. We're not publishing exact figures with this review since we tested a prototype boat and the production model will be a bit different, but the production boats are expected to run at least that fast.



There's a sink recessed into the console, and you can get an optional water system plumbed to it. More about that console: it's secured to the deck via a hefty aluminum L-bracket (which is screwed to the console; I'd change these for through-bolts if this were my boat), and there's also a good bit of stowage underneath it. Additional stowage can be found in the bar.

Battery stowage is rather unusual as well; walk out onto the swim platform, and you'll notice a hatch swing out that provides access to the batteries, which are housed under the aft lounge.

To learn more about the all new Quorum, visit Princecraft.