See more articles
Pursuit SC 365i Sport Yacht: A New Direction
With their latest design, Pursuit Boats brings outboard reliability and performance to the sport yacht genre.
Pursuit knows what you really want for the holidays: a hot new sport yacht that performs like it has outboards. Okay, maybe you want that regardless of the time of year. But since Pursuit has their SC 365i Sport Yacht ready for its introduction to the world in time for the festivities, why wait until next year?





With an LOA that peaks out at 41 feet and two inches, this boat is intended to deliver 16,500 pounds of the luxury and quality S2 Yachts (Pursuit's parent company) is known for. Just as importantly, it'll deliver it in a package with a pair of Yamahas that can be outfitted with the new Yamaha Helm Master system. This power package provides joystick control, which independently steers, throttles, and shifts each motor to spin the boat on a dime, walk it sideways, or maneuver in tight quarters. And with Yamaha 350's under there, the boat's performance is just as sporty as the name suggests; top-end hits 48-MPH, and at 4500 RPM,  you'll enjoy a cruise in the mid 30's.

Wait a sec – if this sport yacht has outboards, why does it look as sleek and curvaceous as a stern-drive or inboard boat? Because Pursuit hides the powerplants inside the transom, instead of hanging them off the back. That also means there's room for a full-beam swim platform, capped off with a four-step telescopic swim ladder.



Some other above-decks highlights include a cockpit wet bar/entertainment center with a built-in grill, gobs of seating with dri-fast foam cushions and mesh backing, and a cockpit table with teak accents.

You'd expect to find those kinds of touches on a sport boat built by Pursuit, but what you might not expect is so much room in the cabin. Since the barn for the iron horses is so far back, there's plenty of space for a full-beam stateroom aft. Guests can spend a night on the hook on the forward dinette, which converts into a queen berth. And you won't have to fight with a hi-low table to make the conversion; on the 365i Sport Yacht, that table rises and lowers at the press of a button, courtesy of an electric actuator.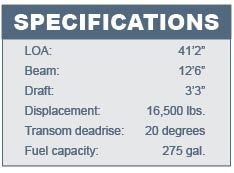 So can a builder known for fishing boats really come through with a high-end sport yacht? In some cases you might want to raise that question, but when it comes to Pursuit, it's a silly one to ask. All of the things you'd expect in a top-shelf sport yacht, like a galley with a reefer, microwave/convection oven, and stove-top; a fully-enclosed head; and an entertainment center with a 26" flat-screen TV; Apple TV with an iCloud account; iPad, stereo, speakers, and Bluetooth remote; are present and accounted for.

In fact, on the Pursuit SC 365i Sport Yacht, you'll discover only one thing that's missing: those old-fashioned powerplants.

And it's ready in time for the holidays! (Honey, are you listening?)

For more information, visit Pursuit Boats.

-Lenny Rudow