See more articles
Saga 35
Saga 35 is designed for long, blue-water legs within a manageable framework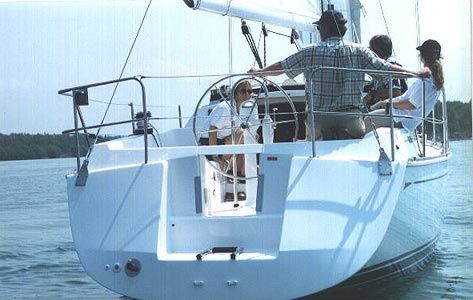 New on the Canadian front is an interesting little 35-footer designed by Robert Perry and built in St. Catharines, Ontario by Saga Marine. Unabashedly a cruising boat — in fact, dubbed by its developers as anything but a racer — it is designed to perform high up the curve nonetheless. And for a very specific reason: Passage-making speed, not racing speed, is the vessel's metier. Easy handling and comfortable accommodations for a couple on the go are primary objectives.

The new Saga 35 follows closely on the heels of the Saga 43 introduced in 1996, mirroring her big sister both in style and in spirit. It represents an important addition to the new-boat market in this popular size range. The 35 tweaks the mold in a number of innovative ways, most notably by suggesting that to cruise in comfort and to sail with pace and power are not mutually exclusive. The battle cry should sound familiar to most — it was enjoined by J Boats over a decade ago, and more recently by neo-BOC outfits such as Aerodyne (see our reports on the Aerodyne 38 in Blue Water Sailing March 1998 and the Aerodyne 46 in BWS June 1999).

Happily, Saga's spin on the concept is as original as these. Signature features include fairly narrow waterline beam; deep, stable canoe sections; plumb ends for maximum effective waterline length; and an unorthodox, if clever, double-head rig with a self-tacking masthead jib brought to the stemhead just inside a masthead reaching genoa that flies from the end of a bowsprit.

Rig/Deck Systems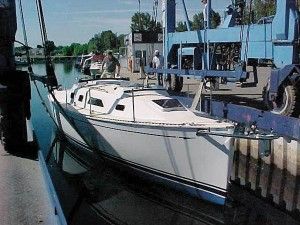 The rig: The Saga imperative and designer Perry's charge were to make this boat, like the 43, as easy to handle as it is fun to sail. To that end, among the 35's more inventive details is the sailplan, a hybrid affair that falls under the general descriptive heading "enhanced sloop." Saga calls it the company's exclusive "Variable Geometry Rig," and as noted it includes two masthead forestays - one to the stemhead and one to the end of the bowsprit - and two purpose-specific jibs, a self-tacking 100-percent upwind blade and an overlapping reaching genoa.

The idea is this:Perry has placed the mainmast well forward in the boat, around station 3, which brings the center of effort forward, reduces the size of the foretriangle, and gives prominence to the mainsail. This allows the vessel to go nicely upwind with a small, 100-percent jib — precisely the sail deployed by the roller-furler on the after of the two headstays. The jib is virtually self-tending, trimmed as it is off a foredeck traveler by means of a single sheet led aft. The boat is balanced and happy upwind; tacking involves simply turning the wheel and watching the headsail slip across on its own.

Now, coming off the wind, you roll up the little jib and unfurl the reaching genoa that lives on the foremost of the two headstays. This heaps on the horsepower as you bear away, and the increase in sail area forward lightens the helm at the same time. In breezy trade-wind conditions a whisker-pole should stabilize the clew and provide days of controlled broad-reaching. In lighter air or when conditions warrant, roll up the genny and fly a loose-luff asymmetrical kite from the bowsprit.

The rig combines upwind versatility with offwind power. And in 35 feet, it makes a lot of sense. Were the boat configured as a conventional cutter, the staysail would have limited utility given its small size, and tacking around the intermediate forestay would be problematic. Trying to make one headsail on a single headstay do everything from 100-percent blade work upwind to 135-percent reacher work downwind is a bad idea. Saga's Variable Geometry arrangement provides a bit of headstay redundancy and an adaptable foretriangle.

In theory, it is not unlike what Walt Schulz at Shannon Yachts has been doing aboard his boats since 1994. In that year, he introduced the Shannon "scutter Rig," a similar sloop/cutter hybrid based, like Saga's, on the principle that no furling genoa can "do it all" over a wide range of wind strengths and wind angles. Schulz's version differs in that he places a furling genoa aft and a high-clew working jib forward. Nonetheless, the thinking is parallel. We will unravel the topic further next month in a report on the new Shannon 47.



Deck layout:

Aboard the Saga 35, advantages gained in the realm of the deck layout are twofold. First, the self-tending feature of the small jib allows crew to operate the boat upwind almost exclusively from the safety and security of the cockpit, nestled aft and surrounded by welcome high coamings. Second, reduced demand for appearances on the bow by crew allows the cabin structure to extend forward without becoming a frequent obstruction, and this pays big dividends in the owner's cabin below in headroom and volume.

Hullform and Design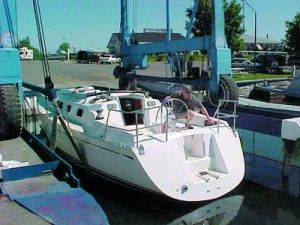 Perry's hull is narrower than a lot of what we see these days in modern yacht design, and he allows beam to taper back ever so slightly in the after sections, avoiding the tendency of many contemporary stylists to follow the lead of open-class ocean racers and put mini aircraft-carrier sterns on their cruising fare. A subtle and quite graceful sheer rises from stern to bow. The bow itself is virtually plumb, with a fine entry and a bit of hollow in the topsides that resolves itself in gentle flare as you move aft. To be sure, the hull itself is downright pretty.

A formidable stainless bowsprit cum anchor platform extends forward about two or three feet. Concessions made to the accommodations package below mandate a fair amount of cabin structure, but this is all for a worthy cause and, in truth, Perry has made a big effort to keep the profile under control and to avoid letting the boat become ungainly or top-heavy.

With reduced beam comes a perceived reduction in form stability, especially in conjunction with the modern-day penchant for flattened canoe sections and light displacement. The 35, however, shows relatively deep sections bow to stern — deep enough to carry 60 percent of the engine beneath the waterline — which is reassuring from a number of angles. In terms of stability and payload capability, volume underwater translates into a lower center of gravity, which reduces the need for exaggerated form stability and radical beam. As Olin Stephens cautions in the classic Desirable and Undesirable Characteristics of Offshore Yachts, "The way beam is used in combination with displacement and center of gravity is the crux of the stability question. Extremes are bad."

Furthermore, a deeper forefoot reduces pounding in seas and adds buoyancy forward. Increased deadrise along the length of the waterplane contibutes significantly to tracking, which allows Perry to go with a high-aspect keel (in the deep-keel version of the boat) to reduce wetted surface and optimize hydrodynamic lift. These factors help the vessel upwind and in close-reaching conditions, particularly by opposing leeward set. Also, as a result of the 35's plumb ends, she benefits from 34 feet of effective dynamic waterline length; in other words, hullform is at work through the water for virtually the entire length of the boat. In the spirit of promotion, Saga labels it their "MAX-Waterline" hull.

Construction & Numbers

Hull and deck are built conventionally of hand-laid fiberglass around Baltek balsa core. Resin content is monitored to achieve high strength-to-weight ratios. An ISO-NPG gelcoat is applied for resistance to osmotic blistering, followed by two layers of glass and vinylester, and then polyester in the remaining plies. The fabric of choice throughout the layup is non-woven bi-directional E-glass, a fairly straightforward, non-exotic way to go, combining good strength, low-crimp, light weight and reduced resin wet-out. Sensibly, coring is tapered to solid glass wherever through-hulls and hardware attachment occur.

Bulkheads and furniture are tabbed to hull and deck for monocoque structural integrity. The hull-deck joint occurs along a solid-glass inward flange. Finally, an elaborate, heavily reinforced E-glass subfloor grid stiffens the hull and accepts loading from the rig and external keel. No surprises here, just accepted, well engineered boatbuilding.

The finished product, in keeping with Saga's stated goals, appears to combine conservative seakeeping qualities with spry performance potential. Ballast/Displacement in the deep-keel boat tips in at 36 percent, healthy and upright by anyone's measure. Keeping the vessel to within 14,000 pounds, however, confers a Displacement/Length number of 162, certainly at the light and quick end of the spectrum for a cruising boat so well appointed as this.

A Sail Area/Displacement figure of 19.5 measured with 100 percent of the foretriangle connotes considerable horsepower and good light-air capability; with the abbreviated upwind jib, this number diminishes realistically to 17.5, a manageable yet hardly compromised mark that combines a comfortable ride upwind with the power and ability to claw effectively to weather in most conditions. In sum, given stout, lightweight construction and the designer's adeptness at efficient hullform with a conservative bent, this boat, at least on paper, appears to jump through a lot of hoops.

Accommodations

The 35 provides sensible accommodations for a couple with long-range voyaging aspirations. Hardly stripped out in the interest of unreasonable weight savings, the interior is spec"d with varnished cherry woodwork and joinery in all living compartments, and a varnished teak and holly cabin sole. An owner's cabin forward includes a generous double berth set obliquely against the starboard side, with a settee and cedar-lined hanging locker to port. The mainmast, being well forward, shares the cabin. Just aft of the berth is private access to the boat's single head and shower; general access is from the main saloon.

The saloon features longitudinal settees port and starboard flanking a fold-out dinette. Rigged with leecloths, either settee would make a stellar sea berth. Aft and on the port side is the galley, a U-shaped outboard-facing workstation with stove against the ceiling, reefer aft and double sinks forward as close to the boat's centerline as the turn of the U permits. Across the companionway and on the starboard side is a dedicated navigation station, available in an aft-facing configuration when the after cabin is selected as enclosed guest accommodations, or in a forward-facing configuration when the area aft is selected as an open navigator's quarter-berth.

Blue Water Thoughts

We like what Bob Perry and the crew at Saga have targeted with the Saga 35. They have taken the shorthanded voyaging theme developed in the 43 and put it in a more accessible package, which should appeal to plenty of long-range cruising sailors who find that small boats are where it's at. The vagaries of going to sea often delude people into thinking that bigger is better and safer. In truth, it's probably more comfortable over the long haul and faster, but lessons learned from countless blue-water sailors through the years suggest that seamanship has more bearing on safe passagemaking than waterline length alone.

That said, you do need a good boat to begin with. The Saga 35 has been developed from the ground floor up with blue-water voyaging and coastal cruising in mind. We like the vessel's athletic numbers; we also like the sensible if conservative elements of its design in terms of ultimate — not merely initial — stability.

We like the notion that this is not a race boat with a cushy interior, but rather a purpose-built cruiser with a cruiser's bells and whistles, one that just happens to have a very intentional performance edge. In concept and, presumably, in execution, the Saga 35 appeals to that part of us that wants to fly, but with broad and stable wings.

Specifications
| | |
| --- | --- |
| LOD | 35'6" |
| LWL | 33'3" |
| Beam (max.) | 10'9" |
| Beam (waterline) | 8'10" |
| Draft (deep) | 6'6" |
| Draft (shoal) | 4'11" |
| Ballast (deep bulb) | 4,900 lbs. |
| Ballast (shoal bulb) | 5,100 lbs. |
| Displ. | 13,700 lbs. |
| Sail area (100%) | 696 sq. ft. |
| Sail area (w/tacking jib) | 626 sq. ft. |
| Mast above water | 52' 6 " |
| Ballast/Displ. (deep) | .36 |
| Ballast/Displ. (shoal) | .37 |
| Displ./Length | 162 |
| SA/Displ. (100%) | 19.5 |
| SA/Displ. (w/tacking jib) | 17.5 |
| Fuel | 65 gal. |
| Water | 80 gal. |
| Holding | 20 gal. |
| Auxiliary | Yanmar 3JH3E 38 hp diesel |
| Base price | $155,900 (FOB St. Catharines, Ontario) |

Design
Bob Perry
Robert H. Perry Yacht Designers
6400 Seaview Avenue NW
Seattle, WA 98107
phone: (206) 789-7212
fax: (206) 789-7214
Construction
Saga Marine
423 Lakeshore Road
St. Catharines, ON L2R 7K6
Canada
phone: (905) 646-4040
fax: (905) 646-2991