Back to search results
Scout 320 LXF: Fish and Grill
A quick look at the unique grill location on the Scout 320 Luxury Fishing boat.


Check it out: this is Scout's 320 LXF. Now a lot of modern boats have a grill in the back of the leaning post. That's cool, right? But you lose your tackle station. Not the case here: we have a large lighted live well, tackle drawers, and plenty of stowage.

Still want that grill? Check it out, come on up here.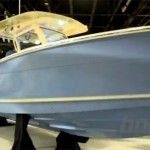 On this boat, Scout put the grill up in the bow. You have your electric Kenyon right here so you can still grill your fresh fish, but you have a full tackle station, and it doesn't get in the way when you're fishing. Good idea.

Check out Boats.com's full review of the Scout 320 LXF to learn more.

Watch our
" target="_blank">Scout 320 LXF Short Take on YouTube