Back to search results
Season for Boat Improvements: Would $250 Help?
Six stories, 30-plus upgrade ideas, and still plenty of time to enter the Boats.com contest by explaining a little about your planned or recently completed boat-enhancement project.
Editor's Note: Fixing up our boats for the season has been front and center for a few of us at Boats.com this spring. And we know we're not alone, as all across the Northern Hemisphere folks who are fanatics about getting afloat pull off the boat covers...or at least start thinking about it. With that in mind, we have published a series of "inspirational" articles over the last two weeks, suggesting affordable upgrades.


Myself, I've got more than one project on more than one boat underway, and I'll report on some of that soon. In the meantime, my colleague Carol Newman Cronin offers Boats Blog readers a personal perspective on upgrade projects, the series of stories we've recently posted, and a couple of pieces of boat equipment you might want to look at, too.





Apart from their authors, I am usually the first reader of stories that appear on Boats.com. This past month I've lapped up each upgrade piece as it came in, daydreaming about ways to improve my summer boating adventures.

There's only one problem - I'm exempt from entering a contest that could help me pay for all my newly discovered must-haves. Too bad… it's not often that writing about an upgrade can earn a shot at paying for it.

Those of you who remember my coming-out blog here at Boats.com may assume my background (sailing) precludes gadget-lust. I must admit, I'm not likely to mount a rearview mirror on any part of our 1938 Herreshoff Marlin (though properly positioned, it would cover up that big bare spot on the varnished mast). And much as I'd like to be able to see thunderstorms coming, electronics other than a compass violate the one design racing rules on my 15-foot Snipe.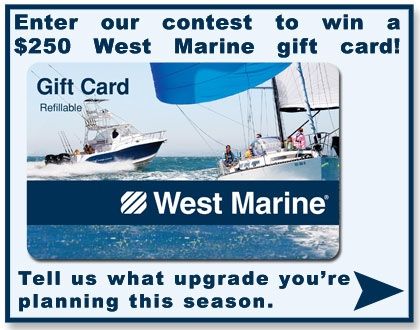 But I've still really enjoyed this series, and its timing has been perfect. As writing projects have eaten away at my usual boat tinkering time this year, learning about potential upgrades has allowed me to pretend I'm making progress toward launching day. Who knew that spending less than $150 for a new fuel filter could save you from ethanol meltdown? Or that a similar investment could save thousands of dollars in corrosion-related damage, caused by just plugging into shore power? Or (most amazing of all) that a sailor could have a good idea for adding zing and bling to a high performance powerboat?

My two favorite items: the solar watch (for myself) and clamp-on vise (for Father's Day). Best of all, investing in those two products will allow me to upgrade my summer boating experience without needing a bailout before Christmas.

Whatever your boating style, there is something in one of these articles that will help jumpstart your season.

Upgrade Series

Great Gear for Under $50
Outboard Expert: $500 Upgrades
Towboat Upgrades for (mostly) Under $500
Electronics Upgrades for Under $1K
Low-Cost Upgrades for Go-Fast Boats
Six Upgrades Anyone Can Afford