Back to search results
Smart Phone Navigation Apps
Navigating with your cell phone has become easier and easier - and it's still improving.
With the latest in next-gen smart phone navigation apps you can practically turn that cell phone into a chartplotter. Will they make your onboard electronics obsolete? Not likely—as long as cell service reliability remains iffy, we'll want a full electronics suite at the helm. But as these advancing apps prove, cell phone navigation is getting better and better by the day—and the best is yet to come.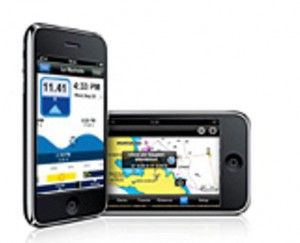 NAVIONICS began ringing the cell-bell last year with the introduction of Mobile software, which can be downloaded from the internet (price varies according to version), and puts charts, maps, and nav data onto iPhones, iPads, and Androids. This year's new version bundles the Marine and Lakes apps, adds wind forecasts, terrain overlays, and panoramic pictures, and updates to 2010's latest chartography. Cool improvements? You bet – but our insider sources tell us there's a lot more in store. Navionics is working on a version that will allow users to input their own information into the data pool. When you find a new sand bar that formed after a storm, for example, you'll be able to send your newer and more accurate depth readings to Navionics. Other users will then be able to update with that info, if they so choose. And when those other users upload new data, you can take advantage of it on your own pocket phone navigator.

There would seem to be a danger of information-overload and the potential for erroneous data to take hold, but the Navionics rep I spoke with said they're currently working on ways to streamline and verify the user-input data as it comes in. The bottom line? If they can figure out how to do this in an effective manner, anyone with a smart phone in their pocket could get chartography on a continually updated basis—just think of the possibilities.

EARTHNC just announced that the iTunes App Store would immediately begin carrying their app, with seamless nationwide nautical charting, weather, and marine data for the iPad and iPhone platforms. The EarthNC database includes seamless chartography of all NOAA Raster Charts covering the US coasts and the Great Lakes, plus some Pacific islands, Puerto Rico, and the US Virgin Islands. Marina, bridge, anchorage, and other service listings are supplied via Marinalife, Cruisersnet, and Waterway Guide's databases. Customizable data displays, trip logs, route and waypoint creation, and real-time tracking are all supported. Comprehensive? You bet. Cost is $24.99.





FUGAWI has also given their cell system services a jolt for 2010, with an X-Traverse compatibility boost. iPhone and iPod Touch owners using the iNavX marine charting app (which allows you to display and navigate on NOAA RNC raster chartography) on their iPod Touch and iPhones can use X-Traverse to seamlessly transfer charting data from their PC or Mac to their phone and vice-versa—no cables or wires necessary. X-Traverse also provides the ability to export waypoints into Google Earth, and upload or share data points and locations with Facebook updates. Now, Fugawi's announcing compatibility with PathAway GPS Software for Windows Mobile and Nokia/Symbian operating systems. Support for Fugawi X-Traverse is now included in both the Standard and Professional Editions of PathAway GPS 5 for Windows Mobile, and in the Express Edition of PathAway GPS 5 for Nokia/Symbian Smartphones. A one year subscription is available for $10.00, and most X-Traverse map regions include a choice of two activations.

INSTAMAPPER now works on Android; this interesting (though potentially creepy) app is a GPS tracking service that keeps tabs on a smart phone's coordinates in real-time, and allows you to monitor the location via Google Maps. Though the possibility for abuse is obvious, the usefulness for safety and group travel is obvious, as well. This app is free (there's a donation button on the site, in case you're feeling generous) but the service uses gobs of data and can swell your phone bill if the plan's not unlimited.

Then, of course, there are those boring land-based navigation apps. Plenty of these are free, though they won't help us boaters very much. There are a few asphalt-centric nav apps that are worth keeping in mind, however. Those with satellite views, like Google Maps Navigation (Beta), TomTom 1.4, or Copilot, can be used to keep tabs on your waterborne location even though you won't see any depth or water feature information. And some, like Navigon or Mobile Navigator 1.6.0, include real-time weather data—useful both on land and at sea.

Which of these apps should you add to your smart phone? That's a judgment call only you can make. But whatever you download one thing is for sure:  If you're half as smart as the phone in your pocket, you'll check 'em all out.



Lenny Rudow has been a writer and editor in the marine field for over two decades and has authored five books. He runs his own web site at HookedOnFishingBoats.com and his syndicated blog appears at Boats.com in the BoaterMouth blog section.