See more articles
Spencer Yachts 70 Enclosed Bridge: Battlewagon Deluxe
This monster sportfishing boat mixes QE II luxury levels, an Orca blood-and-guts attitude, and technology as advanced as the Earthrace.
Walk through the saloon of the Spencer Yachts 70 Enclosed Flybridge  and you might feel like you're in the lobby of some ritzy hotel, or a high-dollar spa. Then check out the cockpit, and suddenly you've boarded a no-nonsense fishing boat that's designed to take on the biggest, toughest gamefish in the ocean. Move on to the engineroom, and BOOM!, you've been transported to a high-tech conclave of the most modern marine machinery on the face of the planet. So just what does this boat embody? Is it a luxury yacht, a fishing machine, or a high-performance boat?

The answer is Yes, to all of the above.





The cabin of the Spencer Yachts 70 Enclosed Bridge is nothing short of spectacular: The upholstery is leather, the sole is white oak, countertops are granite, and custom lighted etched-glass artwork adorns the companionway. Over seventy recessed lights blast illumination from the overhead, and between the off-white headliners, cabinetry glistening with lacquer, and white upholstery, it seems like you're in broad daylight when you're belowdecks. Head deeper into the interior and you'll discover four staterooms (a master and VIP with queen berths, and two with doubles) and four heads, in addition to the saloon's day-head. There's enough space for another cabin, but Spencer wisely dedicates this space to a rod stowage compartment, so your gold reels can enjoy a similar level of luxury.

While boats with this level of opulence rarely perform in a practical manner, the Spencer's cockpit proves that you can give a guy everything he needs whether he's wearing a tux or a slimy blood-covered T-shirt. There are rodholders lining the gunwales, a bait freezer, gaff/mop boxes, chilled drink boxes, and a transom-lighted livewell with viewing port that can do double-duty as a kill box. Surprise features include a rack of four tuna tubes, which fit into the livewell and attach to its plumbing; a fighting chair on a 20" offset; and a built-in cockpit grill for those guys who want their fish cooked as fresh as is physically possible.



Despite the knock-your-socks-off interior and kick-butt cockpit, this boat's heart and soul is found in the engine room. Power comes from triple 900-horsepower Volvo-Penta IPS 1200s.  Yes, triples, and they're harnessed to Volvo's new third-generation pod drives. Control comes via five different joystick stations, and of course everything is electronic. The Spencer also features Volvo's Dynamic Positioning system, which incorporates a pair of GPS antennas to "hover" the boat in position, as necessary, when holding station in a strong current or wind.

Let those 2,700 ponies out of the corral, and the 70 Enclosed Bridge roars up to a 44-mph top end while getting over 0.3 mpg. Volvo claims an efficiency advantage of up to 35 percent with the pod drive system, and when you compare these numbers to other yachts in this size range you'll find that the claims bear out; most get around 0.2 mpg at top-end. And, by the way, they rarely top 40 mph.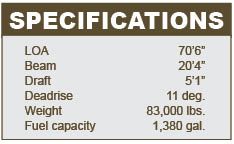 What's the downside to owning a yacht like the Spencer 70 Enclosed Bridge? Naturally, cost is one. To get this boat, you'll need to have a spare five or six million bucks lying around the house. Another is the fact that with a boat of this size and nature, most owners will find it necessary to employ a full-time captain and mate. Costly? You bet. Then again, you are getting the essence of three amazingly different and famous vessels—the QEII, the Orca, and the Earthrace—all rolled into one.

Comparison shoppers will want to see the Jarrett Bay Boatworks 70, Bayliss 68, Tiffany Yachts 72.

For more information, please visit Spencer Yachts.



Lenny Rudow has been a writer and editor in the marine field for over two decades and has authored five books. He runs his own web site at HookedOnFishingBoats.com and writes weekly for Boats.com reviewing new models and covering marine electronics.