See more articles
Sportboat Magazine Gets a Seasoned Editor
Boats.com feature writer and blogger Matt Trulio adds a paper publication to his to-do list.
The high-performance marine industry scratched its collective head last year when Source Interlink, the Southern California-based publisher of more than 100 magazines including Motor Trend and Hot Rod, launched Sportboat magazine.  The high-performance boat world was hurting as it never had before, and it seemed like exactly the wrong to time launch a new magazine related to the market.
Now, with five issues published and its primary competitor Powerboat magazine gone, the folks behind Sportboat, a quarterly publication that focuses on V-bottoms and catamarans primarily from 24 to 34 feet long and includes an array of useful features from do-it-yourself installations to lifestyle getaways, are looking pretty smart -- especially because they've chosen experienced go-fast boat journalist Matt Trulio as editor-in-chief.
The value-themed spring issue of Sportboat reached the newsstands in mid-January and will remain there for several weeks. Approximately 100,000 copies have been distributed to major magazine outlets and bookstores around the country.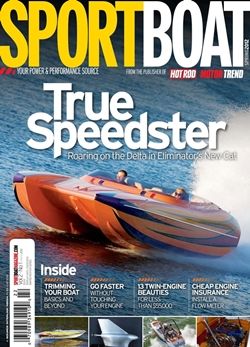 Features in the spring issue include:


Another Way to Skin a Cat—The story of how the owner of an Elminator 27' Daytona catamaran saved $100,000 by acting as the "general contractor" on the boat as it was being built.


Smokin' Hot Twins—A roundup of twin-engine jetboats for less than $55,000 from Yamaha and Sea-Doo.


Go With the Flow—An easy, how-to feature on installing a low-cost raw-water flow measuring system from Livorsi Marine.


Prepping for Power—An inside look at affordable IMCO stern drive installations for a Cigarette 38' Top slated for engine upgrades.


Blueprint for Success—A look at affordable fine-tuning and adjusting techniques for hulls and drives to improve performance.


Proper Attitude Adjustment—An in-depth guide for drivers on the basics of trimming their performance boats.


Down by the River—A then-and-now perspective on the Parker Enduro, one of the last great powerboat endurance races on freshwater.


Additional features include a Gear & Gadgets production section, a news section and a truck review—this issue features a Dodge 5500 Long Hauler—from the editors of Truck Trend magazine.
Sportboat is only offered on newsstands—the publisher will not offer subscriptions until the magazine goes bi-monthly. But raising the frequency of publication is part of the Sportboat plan, so stay tuned. In the meantime, check out the spring issue.
And don't worry -- Matt's just multitasking -- he'll still be writing go-fast features and blogs for Boats.com.
- Eds.