Back to search results
Stingray 208LR: Welcome to the Family
A patented Z-Plane hull and V-6 Volvo Penta power this Stingray to double-nickel speeds, and in style.
It's always interesting to listen to Stingray president Al Fink talk about what it takes to bring out a new model. He's been known to say that it can be a bit like raising a child. Stingray Boats has been in business since 1979, so it's safe to say that Al Fink has raised a lot of them. One of his company's latest launches is the 208LR, a sterndrive runabout with more room and features than the model it replaces.





Like the rest of the Stingray line, the 208LR rides on Stingray's patented Z-Plane hull, which features "inverted" strakes that act as horizontal planing surfaces, letting the boat climb onto a plane quickly. The ZP strakes also allow water to flow toward the drive with minimal aeration and disturbance, which gives the propeller better bite.



Another feature on the ZP hull worth noting is the notched transom, which allows Stringray to mount the drive a bit higher. This reduces parasitic drag and boosts performance. When you drive a Stingray, you notice that time to plane is minimal, it doesn't require a lot of throttle, and the boat really frees itself from the drag of the water surface when you add positive trim.

Inside, the 208LR benefits from a host of advancements, starting at the bow. A new, wider design allows for more spacious lounges and a nice, open walkway—without being so broad-tipped that it looks more like a deckboat than a runabout. The bow also features a molded-in cooler that drains overboard, an anchor locker equipped with rubber stanchions to hold a Danforth anchor, and a recess for a small fender.

Angled grab handles, speakers, and cupholders are standard. The bow sole can be equipped to accommodate an optional $262 dinette table, which also can be mounted in the cockpit. When not in use, the table stows on the underside of the engine hatch. Pretty clever setup.



With a base price of $32,517, the boat comes with a 225-hp Volvo Penta V6 and single-prop SX drive. Because the boat weighs just 2,825 pounds, the V6 provides enough power to push the top speed to more than 50 mph up to 5,000 feet of elevation—even with a three-blade aluminum propeller—according to Stingray's online performance calculator.

In standard trim, the boat is plenty usable and adequately equipped. For example, it comes with a bimini top with isinglass that attaches to the windshield brow. You also get a 180-watt MB Quart stereo, vent windows in the sides of the windshield, a custom steering wheel, bow and stern ladders, indirect LED cockpit lighting, and a transom-mounted trim switch.



We also like the standard walkthrough on the starboard side of the sun pad. The cushion that covers it is a $289 option. Snap-in carpeting is not standard, but at $377, it's a fairly priced option.

You can get a wakeboard tower on the 208LR, but it is the most expensive option you can buy at $2,845. Buyers who can't afford one now can add it later because Stingray equips all 208LRs with the backing plates necessary to mount a tower.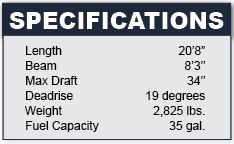 When Stingray president Al Fink sees one of his boats go by on a trailer, or sees people out enjoying the water, it must provide him with a deep sense of satisfaction. After all, his customers, along with the boats he builds for them, are like family.

For more information, visit Stingray Boats



Editor's Note:
Brett Becker
is a freelance writer based in Ventura, CA. He covers the marine, automotive and racing industries for various print and web titles.