See more articles
SunCruiser SS210: More Comfort and Max Fun
Attention to the right details and thoughtful use of materials keep this party boat at a good price, but make it better than a bargain buy.
View the SunCruiser SS210 Boats.com Video Boat Review

SunCruiser redesigned their SS210 Cruiser for 2011, with the stated goal of offering the "finest quality product at a budget-pleasing price." After spending a day on the boat, I'd say that's not just marketing copy—it's a pretty valid description. Street priced at a competitive $22,100 including a Mercury 90 four-stroke and painted trailer, the boat offers all the basic party-barge amenities —couch-like seating, ample stowage, and a passenger-friendly ride. What left the most lasting impression, however, were the above-average details so often overlooked at this price point. Let's get this party started.





Rather than the 23" diameter pontoons often found in this size/price range, SunCruiser went with larger 25" diameter logs, segmented into three individual airtight compartments. Larger pontoons allow the boat to run higher in the water, improve handling and stability, and increase load capacity. Pontoons are attached to the decking via extruded aluminum risers.

These brackets are welded to the pontoon below and through-bolted into the 3¼" tall cross-members above. And rather than a series of individual brackets, the outboard half of each riser is part of one continuous extrusion that runs the length of the boat. It simultaneously acts as skirting, while adding structural integrity. Cross members are beefy extruded-aluminum C-channel, spaced at 24" intervals.



A lifetime-guaranteed, seven-ply marine plywood floor sits atop those members, held with a combination of through-bolts and self-tapping screws. At the highest end of the spectrum, through-bolts are often used throughout. The combination here, however, is an acceptable cost-cutting measure.

Below the deck, several thoughtful touches stand out. At the tip of each pontoon is a 5" welded-on cleat. Cleats are handier for tying up dockside or staking/anchoring bow-in to a beach, and their placement eliminates cleats or U-bolts at the corners of the deck, where they could be snagged by a toe or line. The entire perimeter of the deck is trimmed with an attractive 4¼" aluminum band, featuring an inset rubrail that will ward off damage. SunCruiser also places the fuel tank within the aluminum motor pod, which opens up substantial space for storage above the deck and keeps the center of gravity low and centered. Splash deflectors, as well as a partially enclosed "doghouse" for the engine, keep splashing contained.

Topside, a 26" high, 1¼"-diameter aluminum railing lines the craft's perimeter. It's raised ¼" above the deck to allow for drainage, and is through-bolted in place. An embossed aluminum skin is fastened outside the rails for a sleek appearance; foam tape is used at points of rail-to-skin contact to prevent rattles. To avoid the boxy look of many pontoons, SunCruiser has softened the corner radius forward. It gives the boat a sleeker look, without really compromising space.

Pontoon boats are called party barges for a reason, and the 210's layout plays the role. Seating for 12 is split between two generous forward lounges with sloping, chaise-style backs occupying the port and starboard sides, split at the bow for a gated entry. That gate's 36" opening is oversized in width to accommodate a wheelchair. An additional 24" gate is located behind the forward port lounge, and followed by a wraparound settee aft. An elongated table works well in the space provided, and easily pivots to allow guests in and out.



To starboard is the helm console, with a pivoting captain's chair. At the stern, one more gate occupies the starboard corner, leaving a generous 5' 4" x 3' 8" raised sunpad to cover the remaining two-thirds of the beam. By relocating the aforementioned fuel tank, the area below is left wide open for stowage. For extended time on the water, I'd suggest adding the optional pop-up privacy frame and fabric ($183), along with a porta-potty.

The battery is accessed below the rearmost cushion. All cushions lift on pneumatic struts, avoiding often-finicky latches. An extra-wide, three-step ladder facilitates swimming and reboarding.

Again, particular items demand attention. Take that helm console. At this price, it could arguably have been rotomolded plastic or a wood box covered in vinyl. Instead, SunCruiser opts for an upscale, acrylic console that substantially dresses up the looks of the boat.

Built into the console you'll find a Jensen marine stereo http://www.jensenmarinedirect.com along with a handy MP3 jack, as well as a small indented tray to keep the player secure—and a 12V outlet to keep it charged. A small drain (plumbed overboard) keeps that nook from collecting water. Below is designated space for a 28-quart, removable Igloo cooler.



Seat bases are all rotomolded plastic. As they're covered in vinyl for an attractive exterior finish, wood would have likely been cheaper, but the plastic bases make for a clean, low-maintenance finish for the interior stowage. The seats also feature a nice bolster under the thigh and a slight backward tilt to keep passengers comfortable and secure.

And then there's the standard Bimini top. It's made from premium, solution-dyed acrylic tweed, and supported by a sturdy, 1¼" extruded aluminum frame. Snap-in connectors allow for easy removal and secure the frame when towing.

Performance? Pontoons aren't thought of as speed machines, but it's nice to have the power to tow a ski, wakeboard, or tube, as well as get somewhere in a hurry if necessary. With a Mercury 90 and 13" pitch aluminum prop (engine choices run from 25- to 90-hp, and 115-hp with the optional center log), we initially experienced a 26-mph peak, but noted a tendency for the bow to plow, which resulted in the occasional handling quirk. Switching to a 15" prop alleviated much of the problem, and raised the top speed to 27.6 mph with our light, two-passenger load.

Still, the boat remains sensitive to weight distribution. Handling, however, is surprisingly nimble. I cranked the boat through some impressive turns during our video shoot, wishing only for power-assisted steering to reduce the need to muscle the wheel. It responded in a confident manner.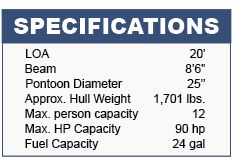 My lasting impression: the SS 210 delivers on its promise. It's an attractive, well-constructed boat with a multitude of features that go beyond the typical "budget" model. It also has the versatility to keep everyone in the family interested, going from cruise to play with relative ease.

Party on, SunCruiser SS210.


For more information, visit Suncruiser.



Jeff Hemmel was a senior editor at Watercraft World with work appearing in Consumer's Digest, Boating, Motor Boating, and more. Jeff has won 17 writing awards, is an inductee into the International Jet Sports Boating Association Hall of Fame, and won its 2008 Lifetime Achievement Award for Outstanding Journalistic Contributions. For more info, visit his website.