See more articles
SunCruiser SS210: Video Boat Review
The boats.com test of this pontoon boat concludes it will do a little bit of everything.





Read Jeff's SunCruiser SS210 Boat Test Notes

Read his review: SunCruiser SS210: More Comfort and Max Fun

VIDEO BOAT REVIEW TRANSCRIPT


You know most of the time you spend in a boat like the SunCruiser SS210, you're going to be cruising along the shoreline looking at the nice homes, relaxing.

But it's nice to know if you want to, that pontoon boat can also go fast!

FEATURES
The SunCruiser SS210 has a number of unique features. One I like is the solid cleat attached to the front of each pontoon. I also like the rail that runs around the perimeter of the boat; it gives a nice attractive finished appearance but also includes this rubber insert that prevents a lot of dings and scratches at the dock.

The third piece is a structural component of the boat. This is called an M-Bracket that attaches the pontoons to the upper deck. Typically it's in pieces. Suncruiser uses a solid full extrusion of aluminum down the entire length of the boat. That adds a lot of strength to the boat, but it also does another thing— it gives it a finished appearance that doesn't require any additional skirting.

Another feature is at the stern of the boat. SunCruiser takes the fuel tank, which typically would occupy some precious space up top, and puts it down within this cone. It lowers the center of gravity, and it also frees up a lot of space up top.

Now to really get an idea of the construction of a pontoon, you need to come down here, underneath the boat. Let's start with these pontoons. SunCruiser uses 25 inch diameter pontoon logs. The idea behind that is it gets the boat a little higher in the water and adds stability. They're attached to the cross members with M brackets, extruded aluminum that's through-bolted to make it one solid piece here. The decking is attached to the cross-members with either through-bolts or self-tapping screws. Ideally I'd like to see through-bolts throughout, but in a price-point boat such as this, mixing through bolts with self-tapping screws is a way to save some money.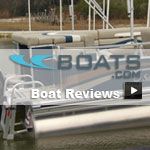 TESTING THE RIDE
During our initial testing, we had a relatively light, two passenger load aboard. One of the things we discovered is the boat tended to plow. We changed the thirteen inch pitch prop out to a fifteen. That lifted the bow a little higher and actually made the ride a lot better. Still, the boat remained sensitive to weight distribution.

PERFORMANCE DATA
Changing to the fifteen inch pitch prop also had effect on the boat's top speed, changing from 26.3 miles an hour to a peak of 27.6. Of course on a pontoon boat, chances are you're cruising more about 15. At that point, you're burning less than three gallons an hour.

INTERVIEW WITH TONY JOHNS, LOWE ENGINEERING
TONY: One of the things that we did do new for this year though was to radius the bow furniture up there and really wrap it around instead of almost just squaring it off.

JEFF: It gives it a much nicer appeal up front than the boxier look that's typical of a lot of pontoon boats. Now how about the ladder, it's a three step—

TONY: Yup this ladder is a three step ladder and it's nice and light, so if you're a big person like me, it definitely helps to be able to put your arms out and pull yourself up, rather than having 'em so close together like so many manufacturers do on a narrow ladder.

JEFF: I noticed when I was out testing the boat you enclose that engine area nicely cause there is a lot of splash in a pontoon boat that's generated in there, but you're keeping that from getting into any of your storage, or deck area.

TONY: Definitely. We refer to that as the doghouse back at the plant, but if there's any spray or anything it catches it. We've also got these spray deflectors that run from under the deck to the motor pod right here; you can kinda see these cables running on top of 'em. That actually directs a lot of water out and to the sides instead of letting it churn up on the back cause there's a lot of water that comes through between the logs and the motor pod.

WRAP UP
Now at this end of the market, a pontoon boat really ideally should do a little bit of everything. Right now we're doing what it does best, cruising the shoreline, out on a sunny day. But occasionally you want to be able to do some of the fun stuff too. Your kids might want to tube, ski, wakeboard, or might just want to run for home if the weather gets bad. It's nice to have the versatility to do a little bit of everything, and I think the SunCruiser does it pretty well.

For more information, visit Suncruiser.



Jeff Hemmel was a senior editor at Watercraft World with work appearing in Consumer's Digest, Boating, Motor Boating, and more. Jeff has won 17 writing awards, is an inductee into the International Jet Sports Boating Association Hall of Fame, and won its 2008 Lifetime Achievement Award for Outstanding Journalistic Contributions. For more info, visit Jeff Hemmel's website.