See more articles
Suzuki 115 SS Outboard: First Look Video
Better low-end torque and higher top-end rpms mean better performance for the bass boat market.
The first thing that caught our eye when we looked at the new Suzuki 115SS outboard engine was its new, stealthy appearance. A matte-black cowling treatment, along with enhanced and enlarged graphics, give this new addition to Suzuki's lineup a smart look.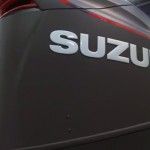 Great new looks aside, Suzuki has added some performance features that the professional bass boat guys will love: more low-end torque for better out-of-the-hole performance and a higher rpm range for faster top-end speeds.

Take a few minutes to get to know the new Suzuki 115SS by watching this first look video, which we filmed at the Miami International Boat Show during the motor's launch event.