See more articles
Sylvan Explorer 1600 DC: Video Boat Review
According to reviewer Lenny Rudow, this boat makes him want to go fishing.




Read Lenny's Sylvan Explorer 1600 DC Boat Test Notes

Video Boat Review Transcript

You know what's tough about reviewing a boat like Sylvan's 1600 DC? I get on it and I open up something like this seven foot rod box and I don't want to work, I want to go fishing!

Check out what other things this boat has to offer anglers. Up on the foredeck, there's a fifteen gallon live well right here, and extra stowage space right here. There are pedestal seat mounts forward and aft, and there's a plug for your trolling motor right here on the bow.

Now it's interesting to note how they linered this compartment. It's a rubberized material which is nice for keeping your gear from banging around, but it does allow sound to transmit through the hull which of course could scare fish.

The helm's designed really nicely. Look at how slick that gauge package looks. And you have an electronics flat. There's another room here for a 5-7" LCD screen.

If you're anything like me you like to haul a lot of fishing rods. Well don't worry, as well as that box up front, there's a stowage box right here that you can use to hold rods or other gear.

One thing I love is this non-skid. Look, you can't make yourself slip on this stuff. One thing I don't love so much? These cupholders. It's nice to have 'em, sure, but the first time someone kicks that by accident, the plastic's a goner.

Construction

So what is this AIRS thing I keep hearing about?

Greg Yarborough, Sylvan Boats: That is our Advanced Integrated Rib System and what that is it's hand-formed machined ribs that run longitudinal, providing excellent quality as far as performance and construction in the boat.

People complain about the way aluminum boats look. But they won't complain about the way the Sylvan looks. What's going on?

Greg: We used a twice-baked enamel process on this. We use our basecoat finish which is our white, and we use our highlight finish over the top which in this instance is black. And we also fully paint our gunnels on this boat, to give it a nice clean look on the water.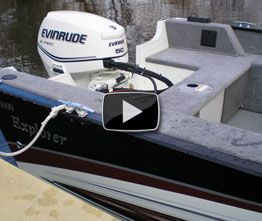 Performance

The best thing about running an E-TEC? The wicked fast hole shot.

Historically, four strokes were more fuel-efficient than two strokes. But when we ran the numbers on this E-TEC we found it was right about the same as a four stroke, which is true of many models in the line up. What's new?

Bill Clauser, Evinrude Outboards: Well in many cases the E-TEC is more fuel efficient than the current four strokes. We've got one injector per cylinder so we only put in as much fuel as we need to make a power stroke. And we make a powerstroke on every revolution.

Now as much as I like the E-TEC, there's a couple things that I think are drawbacks. One is the smoke they create, and the other is maybe some of those low-rpm vibrations. But there are some other advantage to running them too. Such as...

Bill: Well all E-TECs are three years, three hundred hours, no scheduled maintenance. Drive it like you stole it. No break in, right out of the box. No oil changes, no going back for valve adjustments... buy the boat, we don't want to see you for three years.

Running at 4500 rpm, the Sylvan Explorer 1600 DC made about 22.1 mph. We only burned 2.6 GPH, for a whopping 8.5 mpg. Sweet. Top end? 30.3 mph.

Wrap Up
One of the other nice things I noticed while reviewing this boat is this great rod locker here. It has room for six rods, with a full length hinge along the bottom. And what I really like is it locks.

All right, that's a wrap! Come on, let's go fishing!

—Lenny Rudow