Back to search results
Talk Talk Talk: Magnus Olsson
Even those of us who never met Magnus Olsson will remember his unique ability to entertain.
When I read of Magnus Olsson's death, my first reaction was utter surprise—he seemed so young.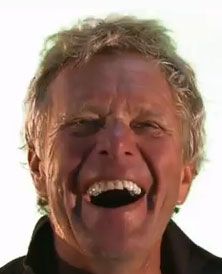 That's been a pretty universal reaction around the world. The other universal reaction has been to remember his winning smile.

But my strongest memory of Magnus (known to his friends as "Mange") goes back to a video taken during the 2009-2010 Volvo Ocean Race, aboard Ericsson Racing. Everyone copes with the boredom of long offshore legs a different way, Magnus explains. "Me? I talk, talk, talk."

The wind had gone light for the final days of this leg from China to Brazil, a leg that the Ericsson Racing Team had started days behind because of hull repairs. After a well-thought-out flyer, the team jetted into the lead, eventually drifting into the finish days after their food supply had run out.

I'm sure this video was intended more to fill in the boredom and take everyone's minds off their growling stomachs, not to become a "keeper." But looking back now, as Magnus is remembered around the world, its timelessness still makes me laugh. Somehow this legendary Swede gives us all a sense of the boredom, teamwork, drudgery, thrill, and skill of racing sailboats around the globe—while entertaining us at the same time.

We'll all miss you—even those of us who only "met" you through video and photos.



Read The Passing of a Smiling Legend by our UK editor, Gael Pawson.