See more articles
Ensign Sailboat Returns
Classic Alberg-designed keelboat has a new builder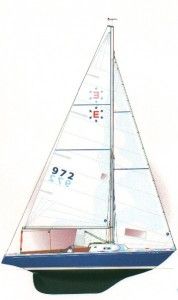 More than 20 years since the last new Ensign was built, a Florida company has begun production of new boats using the original molds.

Ensign Spars has been producing parts and rigging for Ensigns since 1995, when owner Zeke Durica broke a mast on his own Ensign and was unable to find a replacement at a reasonable cost. The initial goal of the company was to secure all the parts needed for the boat; then to work with the class association (which owns the hull and deck molds and the rights to build the boat) to ensure quality production of class-legal hulls. The company has now completed those tasks, has orders in hand, is about to begin building boats.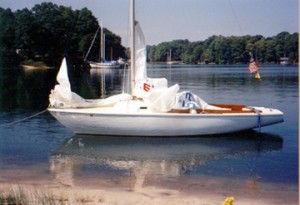 Thousands of sailors now in their 40s grew up sailing Ensigns in the 1960s with their families. In my case, it was out of Three Mile Bay, Chaumont Bay and the eastern end of Lake Ontario. A dozen Ensigns from the Crescent Yacht Club would venture down to Henderson Harbor and kick the stuffing out of another dozen Ensigns from the Henderson Harbor Yacht Club and the Rochester Yacht Club. At least that's how I remember it.

The Ensign was the perfect boat for our family. All five of us at the time could easily fit into the cockpit. There was a small cuddy cabin where we could stow food and gear, it had a hatch that kids could pop their heads out of and watch the waves and the jib. The boat was stable, took a while to get up to speed, and was forgiving for sailors just learning their skills. It didn't have lifelines, but we all wore lifejackets and found it a lot easier to get in and out of the boat without stanchions and a bow pulpit. It was so easy to rig and sail that my parents soon let my brothers and me take the boat out on our own.

Nearly 1800 families bought Ensigns from 1962 until 1983, when Pearson Yachts ceased production of the boat. Over 20 years later, the Ensign is still the largest full keel sailboat class in North America. The class association holds four regional championship regattas and a National Championship each year.

The Ensign began life as the Electra Daysailor, designed by Carl Alberg. Pearson commissioned Alberg to design a 22-footer with a simple rig, small cabin with a galley, head and bunks. 250 Electras were sold in 1962, the first year of production.

Dealers found that many owners and potential buyers would have preferred a smaller cabin and a larger cockpit, as they intended to do a lot more daysailing than overnighting. Alberg was commissioned to build a daysailor based on the Electra hull; thus was born the Ensign.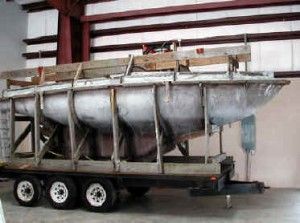 The boat was an immediate hit. Over 66 fleets sprang up all over the United States and Canada. While some of these fleets have faltered and failed in the past 20 years, there are still upwards of 43 active fleets, with 4 new ones formed in the last year alone. The class association has vigorously opposed many requests for go-fast modifications. While this has driven some owners into more race-oriented classes, it has also kept the boat affordable and simple for those who wish to race it. Of the 1778 originally built, at least 1500 are still sailing.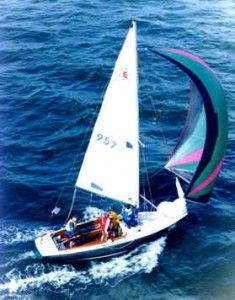 Sailing the Ensign is a mix of keelboat and dinghy techniques: without lifelines the boat can be roll tacked, crew can hike out. The boat is heavy and takes some time to get going, but holds speed and headway. There are two cardinal rules in racing an Ensign: sail it flat and keep it going.

Ensigns have proven to be a great investment. Used boats in good condition are hard to find and can sell for over $10,000. The hulls are nearly indestructible, parts and rigging are available and affordable. By class rule, all sails are Dacron; the entire inventory (only one set of sails can be added annually) consists of a mainsail, #1 genoa, #2 genoa, working jib, blade jib and spinnaker.





Durica's New Classic Ensign, as it's being marketed, has a number of subtle but significant improvements over the original boats. The core is closed cell foam, rather than balsa. There is a removable floor, a fiberglass rudder (the original was wood and gained weight!) and built in circuit panel and battery box. The sailaway price (and it's a REAL sailaway setup, with trailer, main, jib, spinnaker, depth sounder and other electronics) is about $38,000.

The enduring popularity of this classic keelboat bodes well for the new builder, who has 36 years of experience sailing and rigging Ensigns. To become a part of small boat history, contact Ensign Spars and inquire about getting your family a perfect boat.

Specifications
| | |
| --- | --- |
| Length | 22' 6" |
| Beam | 7' |
| Draft | 3' |
| Weight | 3000 lbs. |
| Mainsail | 140 ft2 |
| #1 Genoa | 150 ft2 |
| #2 Genoa | 111 ft2 |
| Working jib | 61 ft2 |

Ensign Spars
Zeke Durica
736 Scotland St.
Dunedin, FL 34698
Phone: (727) 734-1837
Fax: (727) 734-0880
Email: ensignsp@gte.net
Web: www.ensignspars.com
Class association: www.ensignclass.com