Auckland designer Steve Thompson was his own client when he designed the Thompson 590, although he conducted extensive market research in Australia and the United States before drawing the lines on his CAD programme.

His aim was to design a boat for intermediate sailors which would introduce the thrill factor without too much of the fright factor - in other words, gennakers made easy.
The boat Thompson envisaged would represent the next step up from a Laser, with three or four crew, although two crew could manage the boat as long as they had the necessary body weight. He was aiming for a production build boat, retailing at around US$20,000. The length was already determined, 5.9m, to fit into a ship's cargo container for export.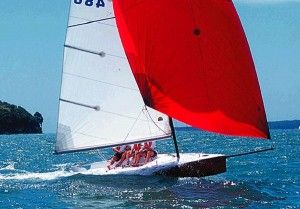 Surprisingly, Thompson's quizzing of other sailors saw him talked out of a jib, on the basis that it could be intimidating for first time crew. All they would have to do during a tack was move from side to side, the reasoning went, rather than worry about "Let that rope go, now pull hard on the other one". Being jibless also allowed Thompson to achieve greater simplicity on the T590 but it robbed him of horsepower, and since he wanted to keep the mainsail a manageable size, it was even more important that the hull be fast.

"The whole concept of the boat is that it doesn't have form stability," he says. "It creates stability by going through the water so it's fine in the bow to go through the chop." Form stability is gained through the shape of the hull and although the boat does flatten out in the aft sections, it is much less so than a boat designed for downwind speed. The designer opted not to favour one point of sailing over the other and while flat sections aft tend to suit downwind running, they compromise a boat's ability on the wind.

The gunwales flare out wide either side of the cockpit to become wings to keep the crew weight well outboard. Having the crew weight outside the waterline makes the boat more tender but there is sufficient ballast in the bulb that, Thompson claims, the boat will always self-right. "You'll never dip the mast," he says; two buoyancy tanks below decks add to the safety factor.

However, the boat does have that slightly unnerving habit of dipping over to windward occasionally when the wind suddenly eases. "It's like a fourteen-footer, when you go around the top mark somebody has to go to leeward," Thompson says.

On his first sail, Thompson admits he wondered if he had overdone the thrill factor, describing the boat as more "tweaky" than he would have liked; on the second sail, however, boat and crew were more used to each other and he was happy with the result.

A boat's balance and helm balance depends largely on placement of the mast. Thompson describes the T590 as a cross between a Laser, which he has sailed extensively, and his own design, the Thompson 650. To determine placement of the mast, he took his measurements from the Laser.

His self-imposed brief for a non-threatening boat demanded a simple deck layout and management of lines. A small boat set up for racing with every possible line installed and duplicated on either side can quickly resemble your grandmother's knitting; the T590 is so sparsely adorned with cordage it looks half finished - but simple to operate.
The only lines in the cockpit are for the traveller and mainsheet, which pivots on a cleat amidships. The outhaul control is on the boom. All other lines - gennaker halyard, prod control, main halyard, main cunningham and vang, - run from their source to the base of the mast and then beneath a cover to exit at their cleats lined up at the for'ard end of the cockpit. The gennaker halyard is endless, running down through the centre of the gennaker, so as the crew pulls the centre of the gennaker to drop it, they are also hauling the halyard down - more on that later.



We launched the boat at Westhaven Marina in Auckland, after spending 10 minutes trying to find a dollar coin to lift the new toll bar, having used up all coins in the pay and display car park, and getting suitably disgruntled about it. On return, it was another great hunt for a dollar coin to bring the car and trailer back into the launching area. From now on, it seems, dollar coins are a crucial part of trailer sailing from Westhaven.
Launching the boat 200kg boat was easy. The lifting keel with its 100kg of lead in a bulb was supported by a gantry in the cockpit. The gantry's pulley system drops the keel to its draft of 1.5m and lifts it again before going back on the trailer. The removable gantry stays on land while sailing.

The keel bulb is a low drag, elliptical shape and pinned athwartships for easy removal for export. Until the keel was down, the boat was pretty tippy in the water; after it was down, it was still a touch tippy but the spacious cockpit gave lots of confidence.
Thompson's 2hp outboard had decided to sulk that day - he says it pushes the boat at 6kts - but lack of engine power never mattered as we left the dock and sailed up Waitemata Harbour in about 12kt of breeze, among the classic boats heading out for the Logan Regatta. When the outboard is used, it can be laid down in the centre cockpit locker while sailing.

It seemed strange having no jib as we set off on the wind, battling the chop of a busy harbour. The sharp, plumb bow certainly cut through the waves and even one-metre wash from the ferries was managed easily, although the for'ard crew copped some of the wet. A nice touch: the spinnaker cleats in the gunwales are recessed for comfortable seating.



Another unusual feature of the boat is a positive boom vang with full air strut so that it remains pretty much under control when motoring or dropping the mainsail at the end of a day's sailing. Gennaker management is probably where the T590 best displays its trait for simplicity. The gennaker is set up while still on the trailer: the crew hoists the gennaker first, then releases the halyard while hauling on the part of the gennaker halyard in the cockpit which is now the chute cord, to pull the gennaker into the chute, or tunnel. This runs beneath the deck from the bow to the cockpit. The chute cord runs through the tunnel and is pulled from the cockpit. By the time all the gennaker has disappeared into the bow, half of it has appeared in the cockpit but it is easily bundled back into the tunnel out of the way, ready for hoisting.

To hoist the fractional gennaker, relatively small for the size of the boat, the gennaker crew pulls out the prod, by pulling on the appropriate line from the cockpit. Since the prod retracts automatically courtesy of a bungee cord, it takes a bit of extra grunt to free it - no doubt something you'd get used to. The crew then hoists on the halyard while the helmsperson or mainsheet hand sheets on and hands the sheet to the gennaker crew once they've cleated the halyard.

Although the set up of the controls means the gennaker crew has to move into the middle of the boat to work, he or she can kneel in front of the cleats to operate each line in sequence - Thompson's daughter, Kim, decided knee pads would be helpful next time.

Gybing was easy, although we managed one wineglass through not sheeting on quickly enough as we went on to the new board.To drop the gennaker, the crew releases the prod, which retracts automatically on its bungie, and hauls on the chute cord to bring the gennaker in through the tunnel. As first timers to the boat, we had a couple of whoopsies with the gennaker but they never translated to breakages or near-disasters. Besides, what is the point of a boat without a learning curve?



On the wind, the groove was a little elusive, particularly amongst the messy chop, but once I'd settled in the boat sat on around seven knots, as recorded by the Boating New Zealand Haines Hunter camera boat, in about 6-8 kts true windspeed. The helm is finger light, even in the gusts, and the boat likes to be sailed fairly flat so it is best if the mainsheet had pays close attention on the wind. Thompson has done several rum races in the boat and found the pointing angles comparable with other lightweight designs on the harbour, such as the Ross 780.

Like any boat, the T590's most pleasant point of sailing is not hard on the breeze but it was worth it to be be able to turn downhill and experience the thrill factor
In the process of avoiding the offshore powerboat championships, the classic yachts in the Logan Regatta, the 12ft skiffs racing and a Laser regatta, we got in some awesome reaches under gennaker. On one, we had only about 8kts and things were a bit quiet - only about 11kts boatspeed - but once the wind picked up the boat began to sing. Thompson estimates 20kts downwind with plenty of breeze would be possible "although a scary thought", although we probably managed around 15kts. Throughout, the helm felt perfect: light and well in control with good steerage around the other boats.
The transom-hung rudder is vertical lifting in a cassette. Although the prototype has carbon gudgeons, the production boats will have stainless steel gudgeons - all the boat's fittings can be bought straight off the chandlery shelf.

The boom is reasonably long for the length of the boat at 3.7m but the mast height is 9.4m. The forestay is well back from the bow and fairly low on the mast, which means it is unlikely to foul the gennaker. The side stays attach higher up the mast.
Initially, Thompson had wanted a free standing rig for simplicity's sake but it was going to cost as much as the boat for the amount of carbon fibre required, so he opted for single spreader. "With a heavy crew, You'd pull the lowers on a bit to straighten the mast and get more power," he says. "You set the mast up for the day although it's relatively easy as you adjust it with pins in the lower shrouds."

The centercase is like a traditional dinghy centercase except the top of the board is tapered so that the keel locks in with four bolts holding it in case the boat tips over. There is a hook in the top of the keel; the boat balances around this point when lifted by a crane to be put into a container for shipping.

Construction is in E-glass foam and epoxy resin. As the prototype this boat, currently named T590, was built on a male mould but female moulds will be taken off this for production at Concept Marine in Nelson. Doyle Bouzaid Sails made the boat's only sails, the mainsail and gennaker. The mainsail is in cross-cut Dacron with medium roach, although Thompson concedes that by US standards it's maximum roach. There is one full, fibreglass, flat batten at the top.

"I had thought we would have to go to to special battens because of the way we bend the mast a lot at the top," he says. "This is particularly so upwind as the forestay is very short so there is a lot of bend in the rig upwind. I thought because we have so much tension on the mainsheet we would need a lot tougher batten." A recut of the luff round was necessary but Thompson and the sailmakers expected this, having built in a margin for adjustment while they examined the bending characteristics of the mast.
The sheets are Spectra sheet, for strength, with the halyards in Vectran, which stretches less.

Thompson's main market is the USA and Australia, although he sees New Zealand as an ideal development area because of its concentration of expertise. In particular he acknowledges the support he had, financial and advisory, from Ronstan, Mike Rees Casting, Awlcraft, Doyle Bouzaid Sails and Concept Marine. "It is really great to see our industry pulling together to develop potential export market earners," he says.
Having done his market research, Thompson is confident the T590 will sell well in his chosen markets. "I expect to see a thousand of these boats on the water in Australia and the States in the next three years," he says.

The retail price in the USA is $19,900 and includes boat, rig, sails and trailer.

Specifications

| | | |
| --- | --- | --- |
| LOA | 5.85m | 19.19ft |
| LWL | 5.4m | 17.71ft |
| Beam | 2.2m | 7.21ft |
| Crew limit | 230kg | 617lbs. |
| Ballast | 100kg | 220lbs. |
| Outboard Suzuki | 2hp |   |

Suppliers to T590 - Concept Marine, Nelson, builder; SeaSpar: mast; Ronstan: deckgear; Awlgrip: paints; Hi Modulus: resins, foam; Doyle Bouzaid: sails; Sailor's Corner: spectra and vectran ropes; Southern Rigging: rigging.

Thompson Performance Design
PO Box 34-540 Birkenhead
Auckland, New Zealand
Phone +64 9 419 0922
steve@tboat.com
www.tboat.com

Thompson boats are imported into the USA by:
Thompson Marine USA
PO Box 4856
Middletown RI 02842
Phone: (401) 662 0855
Email: trice@tboat.com
www.tboat.com

This article courtesy Boating New Zealand magazine. For subscription inquiries, email Rebecca Hayter at rebecca.hayter@boatingnz.co.nz