Back to search results
Throwback Thursday: Snipes Old, New, Borrowed, and Blue
A rally brings together Snipes from every decade since the 1930s.
Last weekend I went to the Winchester Invitational and Classic Snipe Rally. Admittedly, I originally showed up because there would be tight racing between old friends in new boats. But that turned out to be a sideline to the main event of the weekend: making new friends who owned old boats.





Organized by spark plug Art Rousmaniere, the Snipe Rally was designed to celebrate the long and colorful almost-eight-decade history of this small sailboat. Owners (and borrowers) dragged boats to the Winchester Boat Club from as close as a neighboring town and as far away as Rochester, NY. The eventual collection of 10 classics represented every decade since the first Snipe appeared, back in 1936.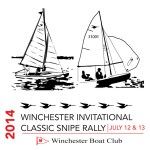 There in front of us we could see the evolution of the cockpit (from a very small oblong, to the open area we know today); the evolution of the centerboard (from guillotine to removable daggerboard); and the evolution of mast design (from square wood box to tear-shaped tapered aluminum). We've come along way, baby.



Best of all, some of the classics went sailing. At the competitor's meeting, we were told that "old boats have the right of way," but when the racing began 25 boats ranging in age from 1 to 73 years of age lined up bow to bow as equals for the same race start. And yet 20-something sailors (including the winners of the actual regatta) still make sailing this classic design a priority. That's a real tribute to the strength of slowly evolving one design rules, which have modernized the boats enough to keep them exciting without sending older boats completely out to pasture.

Old friends, new boats... new friends, old boats. It's all possible in the Snipe class.

For more photos and details about the event, visit SnipeToday.