See more articles
Tiara Coronet 3900: Luxurious Day Boat
With its Coronet series, Tiara set a goal to take day boating to the next level. And it has, with this brand new 3900.


Yes it's a day boat, for fishing or cruising, but this Tiara also has some really awesome accommodations below. And check out the decor; it's not a traditional yacht. This has some classic woods, with some contemporary furnishings.

There's a neat feature here on the bridgedeck for your passenger. This is a settee; lift it up, set it down, and now you've got a place to stand, comfortably, forward, while you're underway.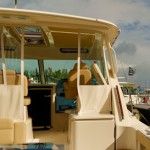 So the cockpit is made for fishing definitely, with rod holders and rod boxes, but it's a great entertainer too. Check out the mezzanine seat. It's made so that it's low to to the sole, so when everyone's hanging out here, we're all on one level and having a great time.

For more information, visit Tiara Yachts.

Watch our Tiara Coronet 3900 short take on YouTube: