See more articles
Tigé RZ Series Boat Test Notes
Jeff Hemmel shares his detailed notes form the Tige RZ Series Video Boat Review.
Watch the Boats.com Tigé RZ Series Video Boat Review

Concept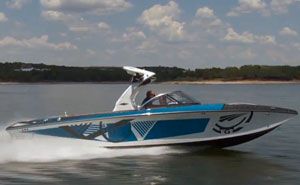 Wakeboard/wake surf-oriented models focused on delivering ideal wake size and shape.


Large passenger capacity to bring plenty of friends along for the ride.


Versatile hull, trim tab, ballast combo tailors wake size and shape.


Construction


High-density, closed-cell foam, injection-molded stringer system precisely follows inner contours of hull.


Engine mount beams and floor systems manufactured from Penske Xtreme composite panel, reinforced with both strand and woven fiberglass.


Engine mounts thru-bolted on 2" Penske beams fitted with structural aluminum saddles.


Hull, core and floor components laminated and joined before fully cured, forming primary bond. Hull and deck chemically bonded; hand-laid fiberglass backs entire hull-deck joint.


Exceptional lifetime hull replacement warranty.


Performance


Top speed: 43.4 mph with 409hp PCM 5.0-liter V-drive engine.


Best fuel economy: 3.2 mpg at 25 mph.


Extremely responsive, sports car-like handling.


Strong acceleration, minimal bowrise.


Handling


Convex V hull design features wakeboard-like rocker. Naturally settles to produce a large wake at wakeboard/wake surf speeds.


TAPS trim plate can be lowered to push bow down, produce ski-friendly wake sizes, as well as further fine-tune wake shape for board riding.


Lack of directional thrust requires brief learning curve around the dock.


Driving with fully loaded ballast requires care in sharp turns.


Features


Picklefork bow style avoids tight confines of traditional V bow shape, opens up passenger room.


Tige Touch; iPad-like touchscreen controls all the boat's vital functions, including speed control, ballast load, sound system. Cool, but can be hard to see in occasional glare.


Water ballast further increases wake size, can be distributed to fore, aft, starboard and port tanks to personalize wakes.


Cast-aluminum Alpha Z tower exceptionally solid. Spring-loading makes raising, lowering tower one-man job if necessary.


Wet Sounds speaker system features power amps and tower speakers for big sound quality.


Well-designed transom activity center offers place to gear up for skiing or riding, wet stowage compartments double as coolers.