See more articles
Piper One-Design: Tomorrow's Pipers
Piper: Cornish Crabbers recreates a classic Scottish One Design


A yacht broker is surely in the best position to find the boat of his dreams; the only difficulty, I would imagine, being which dream to choose. James Green, Proprietor of Armada yacht & Power Brokers in Plymouth for some ten years, knew how to choose. He wanted a boat for family daysailing in Plymouth Sound; one to provide fun, interest and excitement for 11 year-old and adult alike and one he would look at with pride. When the details of Solitaire, sail no.2 of the Piper one Design class landed on his desk, he know he'd found all this and more. Just how much more he is still discovering.

The 24'5" (7.4 m) Piper class, designed by David Boyd in 1966 for GRP construction, was built by Alex Robertson of Sandbank, Scotland for one-design racing on the Clyde. One wooden prototype, Sandpiper was used as the plug for the mould which produced 57 glass Pipers, some of which left home waters to form small fleets in other parts of the Commonwealth and in the USA. Piper no 2 was built in 1968 / 69 as Peter Piper - hence the class emblem of the white square on a blue background, the Blue peter flag - and sailed successfully on the Clyde until 1985 when she was sold away south of the border to spend her next 13 years as Solitaire on the Tamar between Devon and Cornwall.

Which is where james came in. She'd been laid up for 3 years at Weir Quay but under the moos and verdigris, she was Structurally sound and with her elegant overhangs and slim, clean lines, potentially a little stunner. Sold, to the man with the dream! But as the renovation progressed, it became apparent that there were dimensions to this dream far beyond those of the original.

A close neighbour of Armada at Queen Anne's Battery Marine is Cornish Crabbers Ltd. CCL's Frank Colam admired the burgeoning little beauty, the principles of whose construction details so closely resembled those of the Crabber range - the use of modern materials to produce a timelessly classic hull shape, trimmed with enough top quality timber to be visually pleasing without unduly affecting the ease of maintenance associated with GRP. The possibility of a fleet of Pipers down in the West Country began to take shape.

Peter Piper

But first to the details of James Green's pride and joy. She has a well-raked bow and a counter stern, giving her a waterline length of just 16'3" (4/95,) her beam is 6'3" (1.9m); her draught 3'6" (1.1m); her displacement about 3,560 lbs (1,616kg), with 2,100 lbs (953kg) of lead ballast encapsulated in her fin keel.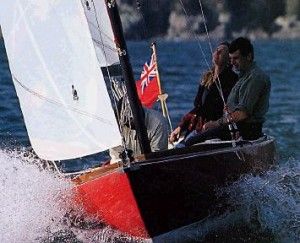 She is essentially a racing daysailer, three-quarter decked with an open cockpit and deep well. She has a moulded GRP hull and deck, strengthened by ring frames at each end of the cockpit, around the mast and the stern post. Comings, foredeck splashboard and sidedeck toerails are teak and it is surprising how such a small amount of wooden trim can enhance the look of a GRP deck. There is a centre thwart to which is attached the mainsheet block, and another, ingenious, sliding thwart aft which is there for the helmsman to sit on or not, as conditions warrant. Both these thwarts are positioned so that, when not sitting up on the weather deck, the crew can see easily over the comings yet are well protected from the elements. At the moment, shelves under the sidedecks provide the only relatively dry storage space but there is perhaps potential to install a buoyancy compartment in the box which might form the base for a couple of bunks.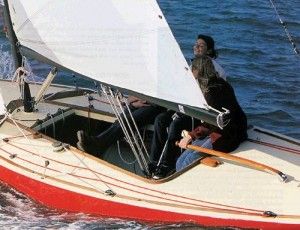 She has a fractional sloop rig, setting 220 square feet (20.4 sq m) of mainsail and genoa and a further 325 sq ft (99 sq m) of spinnaker. The mast is black anodised alloy with stainless steel standing rigging and is stepped through the foredeck onto the keel. For gorilla-power, there are tow bronze Lewmar sheet winches on the sidedecks and a halyard winch at the base of the mast. She has a varnished spruce tiller pinned to the post of the keel-hung rudder. A cantilevered side bracket on the port sidedeck is a standard fitting to accommodate a long shaft outboard.

A Beautiful Little Thoroughbred

James had originally been hoping to get Peter Piper sailing in April but with the expansion of the dream and the usual exponential incrase in th expected time length of any such job, it was autumn before she was ready to roll. When the invitation came for me to join Peter for the very first wetting of the new sails in early November, I had visions of a very wet, grey sail indded. As it turned out, there was a record- breaking high pressure system sitting over the south of England, giving us absolutely wonderful sailing conditions with 15 to 20 knots of wind and a cloudless sky.

Added to all this glory was the boat. What a beautiful little thoroughbred she looked, riding high at the Queen Anne's Battery Marine - definitely a vessel to be proud of, as James so patently was. With the outboard in place, we motored out of the yacht basin into the river where I took the tiller as James and katie, the third member of our crew, sorted out the sails. Having the engine on the side like that does affect the steering but luckily there was a wide open space in which to get used to it. With all its - to me - high assistance, the mainsail went up speedily, the genoa was unfurled with the twitch of a line and we could switch off the engine and stow it away under the foredeck along with its bracket.

It was a dead run over to Cawsand on the Cornish side, so in went the genoa and up went the spinnaker. It's many years since I sailed a boat with a spinnaker - and it was great! James and katie sorted out barber haulers for the sheets, while I just sate there blissfully, with one finger on the tiller, keeping the wind in the sail.

Leaping Like a Homing Salmon



Before we know it, we were south of the Devon border and it was time to reverse the action, down spinnaker and out genoa, then harden up to see how she went on the wind. And go, she certainly did. There was plenty of power in th ewinches to harden the sheets right in without undue strain and in the gusts, she put her lee rail under and flew along in the flat water inside the breakwater off Drake's Island. By now we were all sitting up on the weather sidedeck, feet firmly braced against the opposite comaing, a perfectly comfortable position if only I'd remembered to wear my oilskin trousers. With a zippy little boat like this, it's impossible to avoid water running down the sidedeck, though it decently stayed out of the deep cockpit well. We had a cracking sail back into the river, taking smartly between two naval supply vessels and leaping over their wakes like a homing salmon. In the lee of the schooner-rigged Carrie, we headed up into the wind, whisked away the genoa and dropped the main while James replaced the outboard, a surprisingly quick and fuss-free operation. The only disadvantage I can see is that under outboard one can only come alongside on the starboard side, which seems a small price to pay considering the other options: an outboard well in the hull or the drag of an inboard's propellor. In fact, she handles so well that I would think that it won't be long before James just sails her straight in without using the engine at all.

New Girl on the Block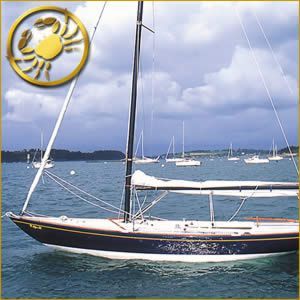 Over a welcome cup of coffee, we compared impressions with Frank and Chez who had been shadowing us in the Cool Cat, Frank's innovative yellow catamaran. There was unanimous agreement on the quality of hte Piper, both from the sailor's point of view and from the spectator's. Frank told us what an amazing sight she made as she reached huyll speed, the curvature of hte wave harmonising beautifully with that of the hull. I'm looking forward to seeing the photographs. My verdict: she is light and willing on the helm, steady in the wash of the power boats - and fast!

And so to our happy ending... She is going up to the London Boat Show to gaugue the response of today's sailors to her as Cornish Crabbers' potential new girl on the block. Knowing Cornish Crabbers, I shouldn't think it will be long before there's a whole fleet of Pipers flitting about Plymouth Sound. I already have my name down to go racing with them.

Specifications
| | | |
| --- | --- | --- |
| Length overall | 24 ft 5 in. | 7.44 m |
| Length waterline | 16 ft 3 in. | 4.65 m |
| Beam | 6 ft 3 in. | 1.91 m |
| Draught | 3 ft 6 in. | 1.07 m |
| Displacement | 3,560 lbs. | 1,616 kg |
| Ballast | 2100 lbs. | 953 kg |
| Sail Area | 220 sq. ft. | 20.4 sq. m |

Contact:
Cornish Crabbers Ltd,
Rock,
Wadebridge,
Cornwall,
PL27 6NT
England

Tel: 01208 862666
Fax: 01208 862375
Sales E-mail: sales@crabbers.co.uk
Web: www.crabbers.co.uk