Back to search results
Video Boat Review Insider Clip: Sea Ray Console Wiring
Sometimes it's the details that really get our engines revved, like this smart wiring on the Sea Ray 240.
Our experts are always looking for the good, the bad, and the ugly during our boats.com video boat reviews.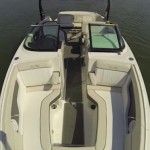 And sometimes there's so much we want to tell you about a new boat that we have to leave some of the good stuff out. Here's an outtake from Lenny's review of the Sea Ray 240 Sundeck console, demonstrating how well the console wiring is configured.

What small (but significant) features do you look for in a new-to-you boat? Do those features really make a difference?