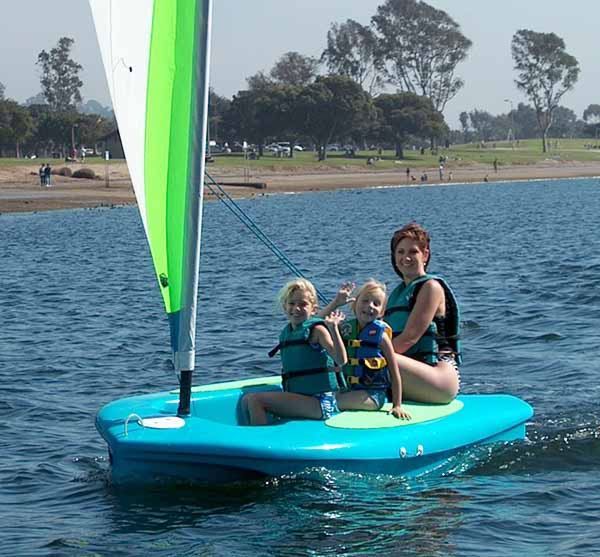 It's super easy to sail, it looks cool and it performs like a much bigger boat. The most striking feature of the boat is its shape. The Wahoo looks like it just crawled onto the beach for a rest before plunging back into the ocean. The colors are outrageous and mock traditional yachting pretense. Pink, purple, lime green and orange are just a few of the colors plucked from the designer's palette for the hull, sails, and pads.

Stability is Wahoo's greatest attribute. The M-shaped hull allows maximum stability with surprising efficiency. The Wahoo actually uses the bow wave on the lee side of the boat to make the boat really hard to capsize. If the boat does tip over, the skirts (wings) provide convenient leverage points to right the boat.

Gone is the centerboard. The hull automatically provides the side force needed with its wing-like leeboard, or skirts. The more the boat heels, the better the skirt grabs the water. Without the centerboard, you can sail right onto the beach without worry.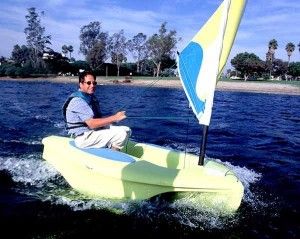 The sail is designed for simple and safe sailing without compromising performance. The boom is part of the sail, making it very easy to rig while preserving a very aerodynamic sail shape. The sail is controlled by a single line and comes with a self-tensioning boom-vang (bungee cord) to automatically maintain the best sail shape for all types of sailing. For safety, the freestanding mast automatically bends to spill the wind from the sail when it blows too hard.

The Wahoo is fun because it has many different shades of performance.

For the novice sailor, it is very forgiving. The large rudder allows the boat to be quickly and easily paddled or turned. The boat naturally turns into the wind for safety when the tiller is released.

For the experienced sailor, there are many tricks to make the Wahoo go even faster. Moving your weight around can reduce wetted surface area, create spinning tacks, and pop the boat up on a plane.

A big part of having fun on a boat is comfort, and the Wahoo delivers.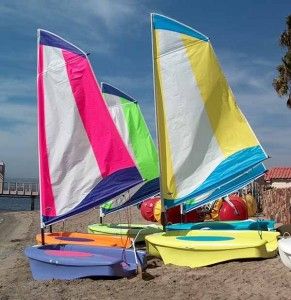 The seats are high providing a comfortable and dry sailing position. Thick neoprene pads define the seatingarea and provide cushion in the cockpit for knees and toes. The high sail position allows plenty of room to accommodate one, two, or even three people and the open transom provides an easy way to board the boat from the water.

The Wahoo makes sailing fun because it is safe, simple, and fast.

Colors: Seaspray Blue, Hot Pink, Orange, Neon Tetra Green, Purple Wave Eater

Specifications

| | |
| --- | --- |
| Length Overall | 8 feet |
| Sail Area | 65 feet |
| Beam | 4 feet |
| Draft | 6 inches |
| Draft with Rudder | 18 inches with rudder down |
| Weight | 100 pounds |
| Passengers | Up to 400 pounds |

Mangia Onda Company
401 West A Street, Suite 1650
San Diego, CA 92101
Tel: (619) 232-8937
Fax: (619) 232-8759
info@mangiaonda.com
www.gottawahoo.com