See more articles
Wyliecat 17: Bob Perry Design Review
The Wyliecat 17, a performance daysailer
Tom Wylie of San Francisco gives us a high-performance, self-righting daysailer for a crew of two or three. The Wyliecat 17 is being built by the famed builder Ron Moore of Santa Cruz.





The 17 uses the features of successful boardsailer rigs for a simple and effective sailplan, although a halyard raises the sail. The key to this rig is the engineered bending characteristic of the carbon fiber mast. The mast was designed and built by Composite Engineering to bend two or three times as much as earlier carbon fiber masts. This allows the sailor to depower the rig by increasing mast bend and reducing draft in the sail. The wishbone rig has the advantage of eliminating the need for a boom vang. Beginners will now just get thwacked by the foot of the sail in an unexpected gybe instead of being bashed upside the head with the boom. With no conventional boom to come flying across, the jibing process loses much of its threat.

The cockpit of the 17 is deep enough that you have the feeling of being in rather than on the boat. The mainsheet is led forward down each side of the cockpit so that it can be reached from either side when you are hiking. Sailing the 17 is a one-string operation. This makes the boat ideal as a trainer. The open transom is convenient if you need to scramble back into the boat after taking a dip. The foredeck and small raised trunk will help keep the 17 drier going to weather. The rounded side decks make hiking relatively comfortable.

The rudder and keel both lift for easy trailering. The all-up weight of the 17 is less than 400 pounds.

Simplicity in design always attracts me. This boat strikes me as a good "old man's boat." I like the idea that it is self-righting, but I think I would have to see that to believe it. My own Wylie Wabbit was also supposed to be self-righting, but my own experience did not happen that way. The self-righting capability of this design may be a critical function of exactly where the crew ended up when the boat went over. The first Wyliecat 17 will be introduced this month at the Annapolis show. May I please have a ride?

A simple design with several features that make it an ideal trainer.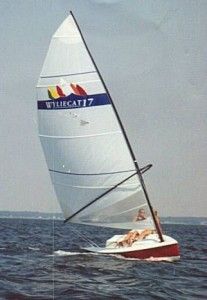 Specifications
| | |
| --- | --- |
| LOA | 17'6"; |
| LWL | 15'10"; |
| Beam | 6'1"; |
| Draft | 4'1"; |
| Displacement | 390 lbs.; |
| Ballast | 100 lbs.; |
| Sail Area | 197 sq. ft. |

Wyliecat
25 Grove Street
Watsonville , CA 95076, USA

Tel 650 948-2204 or 925 376-7338
Fax 650 948-1864 or 925- 376-7982
Email wyliecat30@aol.com
wyliecat.com



This story originally appeared in Sailing Magazine, and is republished here by permission. Subscribe to Sailing.