See more articles
Yamaha Provides Info for Boaters
Articles on the Yamaha Outboards site offer a broad range of tips and advice
The Yamaha Outboards Boater's Log is a series of informational articles sent to the media about once a week. Some are a little self-serving towards Yamaha product, but most of them are pure information and quite useful. Last week the topic was marine wiring, and I've got to say I learned a few things from the article.





Yamaha also parks an archive of the Boater's Log on its website where anyone can read them. You need to drill down a few layers into the site to find them, but this link takes you right to the page.

I receive a PDF version of the Boater's Log (see photo). In the wiring article, for example, I learned that there is electrical wire specific to marine applications, and how to select the correct gauge of wire for an application. There's other good stuff here.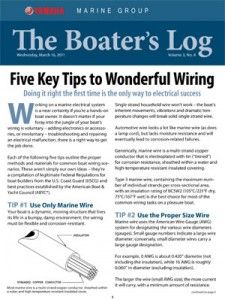 Yamaha also publishes articles about salt-water and fresh-water fishing, which rely on input and advice from its sponsored tournament anglers and guides. These are posted on the Yamaha site in the same location as the Boater's Log entries.

These links go directly to the most-recent Boater's Log entries, on marine wiring and on stocking a safety "ditch bag".

Yamaha does not have a way to offer the general public the email distribution of Boater's Log it offers the media. But make this area of the Yamaha site a spot you visit once in awhile, and I think you'll enhance your boating knowledge base.