See more articles
2014 Stamas 289 Tarpon: First Look Video
This classic builder has updated its 270 center console.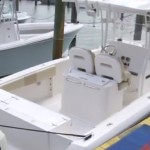 For the 2014 model year, Stamas has re-named its 270 Tarpon as the 289. We took a look at this boat's latest incarnation and jumped aboard for a test run, at the Miami boat show. Reviewer Lenny Rudow found plenty to like about this boat, including touches like dual bilge pumps, stout construction, and the latest in power and controls - a pair of Suzuki 175 four-stroke outboards hitched to digital throttle and shift.


This is a 28 foot boat, so there's too much going on here for a quick First Look Video to tell the whole story. So check out Stamas 289 Tarpon: Bread and Butter Fishing Boat. In the full review, Rudow will dig deep beneath the gel coat, and tell you the rest of the story—the positive and negative traits of this boat, how its constructed, what changed when it morphed from the 270 Tarpon to the 289 Tarpon, and why it may or may not be the right boat for you.