See more articles
Best Pontoon Boats in 2021
Affordable pontoon boats that don't scrimp, lavish craft with flashy features, this year's crop has it all!
Pontoon Boat Reviews

Pontoon boats have become one of the hottest, arguably most exciting segments of the boating market. From entry-level models perfect for the family or sunset cruise, to mixed-audience offerings that add fishing amenities, to craft that rival a performance or watersports boat (while simultaneously fitting in at the yacht club), there's literally something for everyone. In fact, with pontoon manufacturers infamous fondness for floorplans, there's lots — and lots — of somethings for everyone. Here's a sampling of our favorite models from 2021.

2021 Bennington 24 R Bowrider Swingback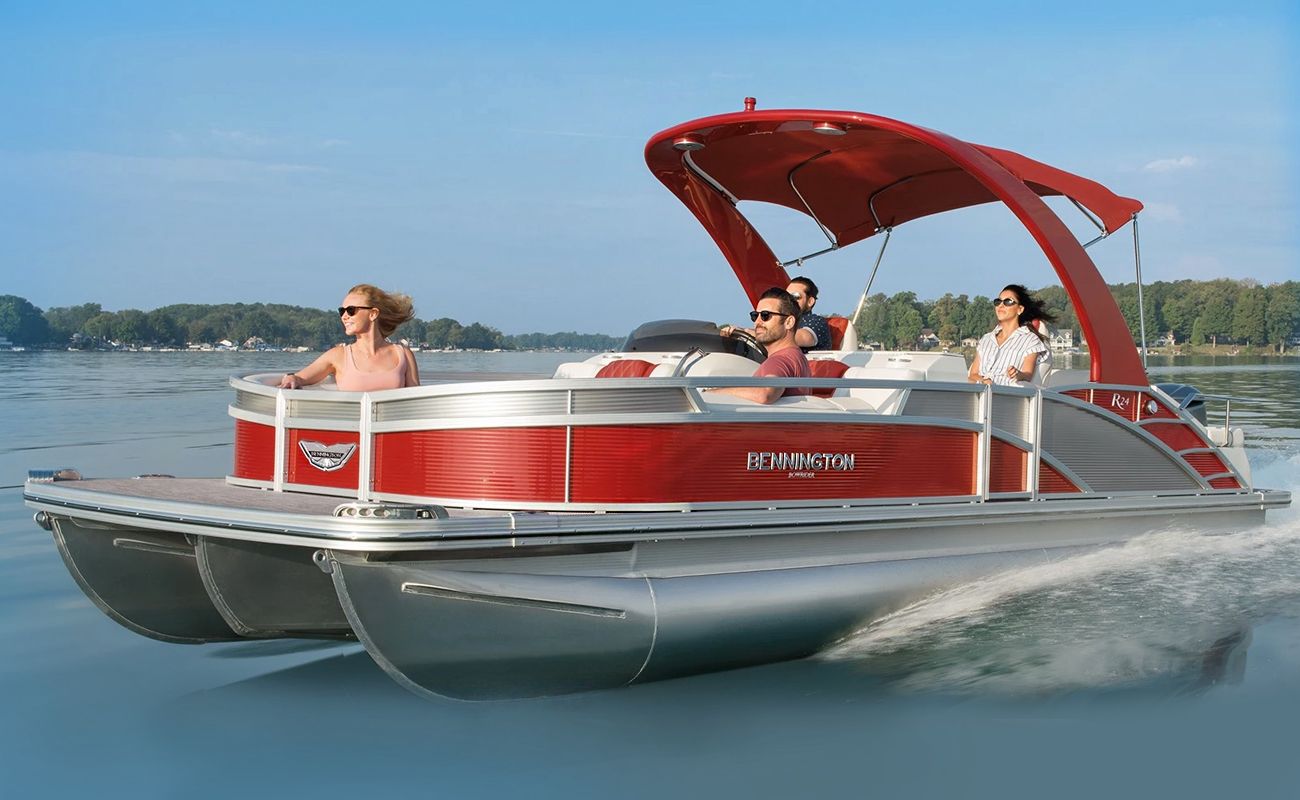 2021 Bennington 24 R Bowrider Swingback. Image credit: Bennington

With an abundance of impressive models on the market, we give extra points to those that push the conventional limits. Bennington's 24 R Bowrider may look like a standard, aluminum-fenced pontoon from a distance but step aboard and you'll take another step — down — into a recessed bow cockpit. Bennington created that space below the traditional deck height with its Integrated V-Hull Performance Package, a central, V-hull-like center pod that allows for that dropped foredeck while adding lift, stability and enhancing the craft's agility in the turns. Passengers feel more secure, while the captain enjoys a clearer view over seated crew that often block vision forward, especially when docking. Aft, multiple seating options are available but we like the Swingback, a combination of stern bench and aft sunpad, made more versatile with a multi-position backrest.

View Bennington Pontoon Boats for sale on boats.com today.

2021 Sun Tracker Party Barge 18 DLX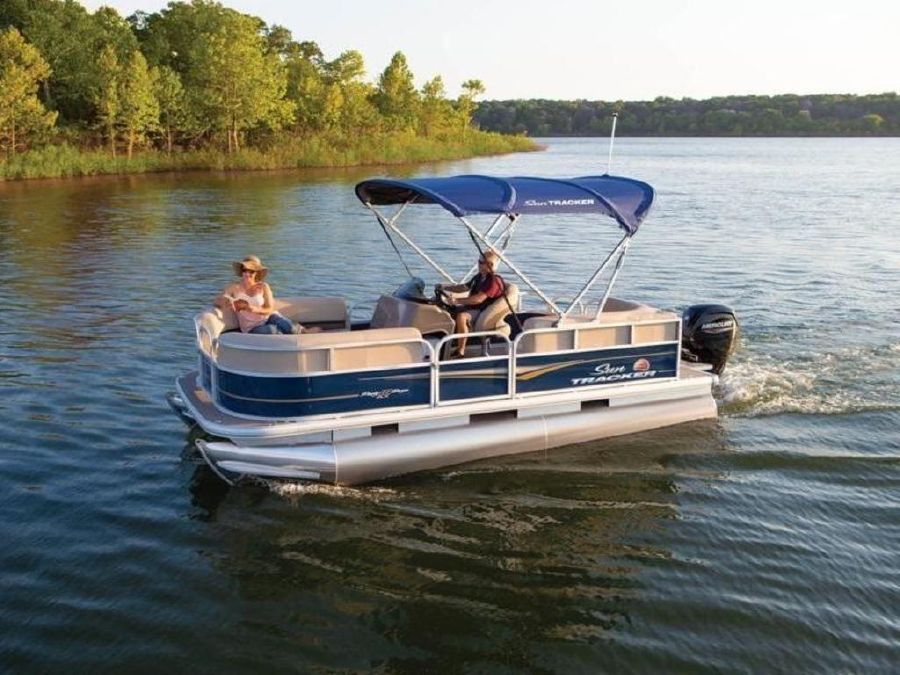 2021 Sun Tracker Party Barge 18 DLX. Image credit: Sun Tracker

For those looking for an affordable entry into the pontoon lifestyle, Sun Tracker's 20' Party Barge 18 DLX can be optioned with a Mercury 40hp outboard for less than $18,000 (without trailer). That bargain price tag doesn't equate to a stripped, bare bones boat, either. Standards include a fiberglass console with open cooler storage; 9' Bimini top with LED courtesy lights, storage pockets and a handy optional drop down privacy curtain; Bluetooth-equipped stereo; nicely bolstered furniture; and low-maintenance, rotomolded furniture bases with plenty of onboard storage. Twenty-four-inch pontoons feature multiple chambers and internal bracing for added strength. Construction details include full-width, extruded deck supports thru-bolted to M brackets, U-channel reinforcement behind deck trim and extruded aluminum deck edging with polished aft corner covers.

View Sun Tracker Pontoon boats for sale on boats.com today.

2021 Harris Crowne 270 SL TE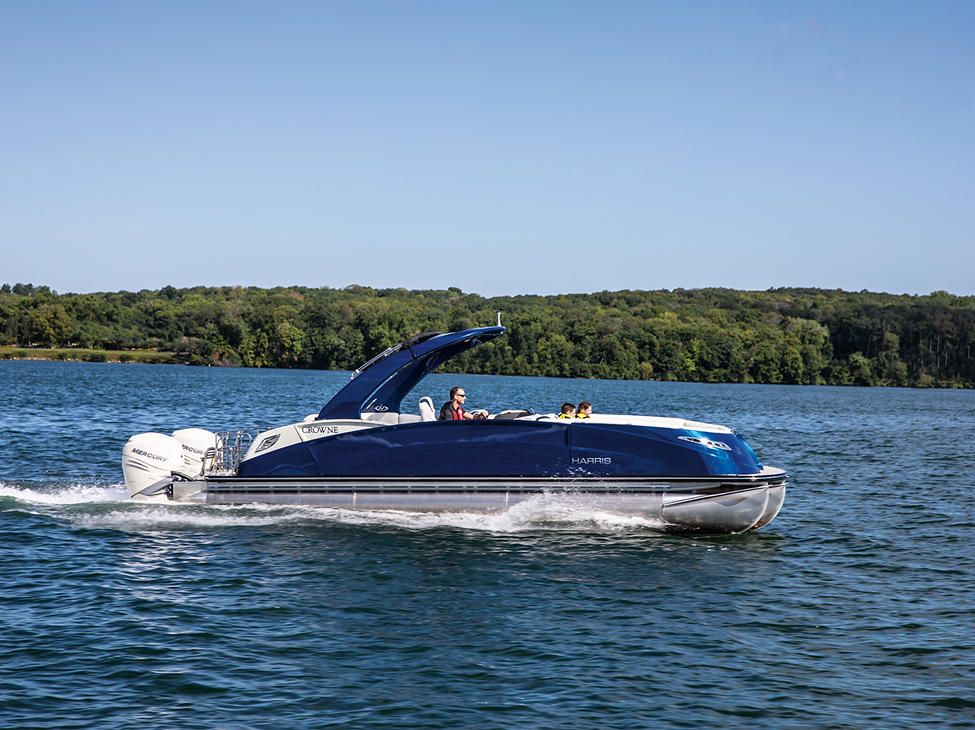 2021 Harris Crowne 270 SL TE. Image credit: Harris Crowne

Harris threw out conventional pontoon norms in 2013 with the introduction of the Crowne, a model that blurred the lines between a traditional pontoon's somewhat mundane aluminum fencing and a V-hull's sexy fiberglass curves. That feat was accomplished by introducing fiberglass modules that formed the majority of the boat's exterior walls while simultaneously incorporating interior furniture bases. Amazingly, seven years later the design remains just as fresh. The flagship Crowne 270 SL TE can be outfitted with a pair of 400hp Mercury Verado outboards, a tour de force capable of pushing this substantial craft to top speeds over 60 mph. Oversized, 27" pontoons carry the load with ease and deliver an agile ride thanks to performance-minded lifting strakes on both sides of the center tube and the inside of each outer pontoon.

View Harris pontoon boats for sale on boats.com today.

2021 Ranger 200F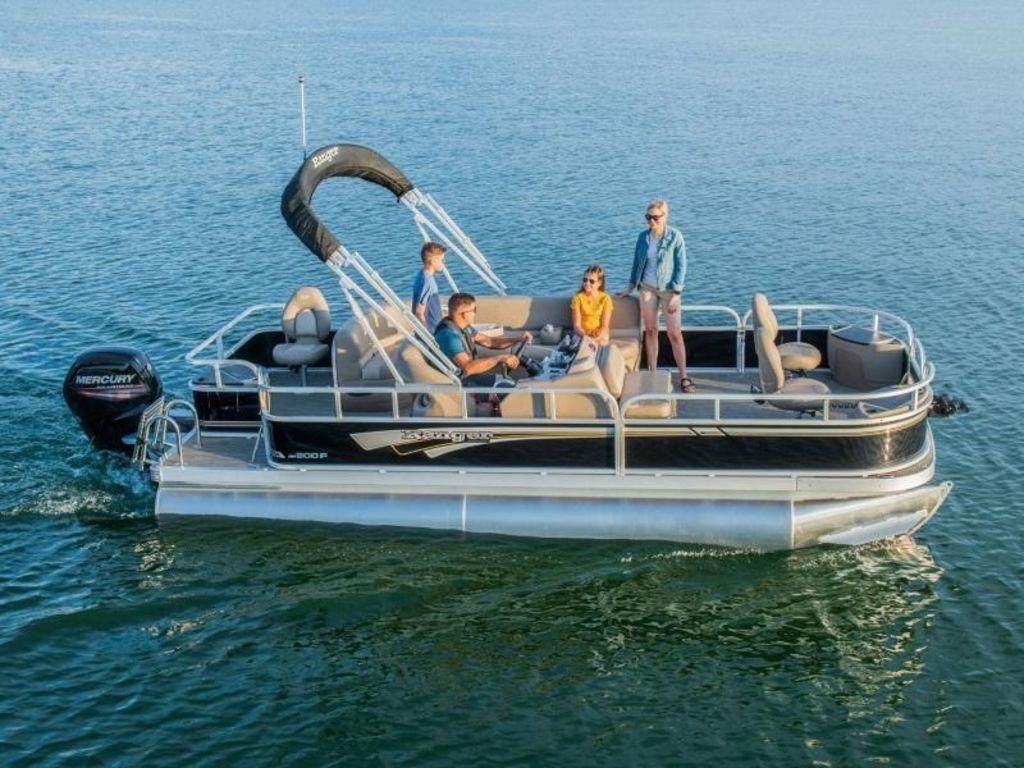 2021 Ranger 200F. Image credit: Ranger

Ranger's 200F (starting below $22,000, $27,595 with a 90hp Mercury outboard) is an attractive option for buyers that want to blend the three Fs — family, fishing and, uh, 'fordability. Passenger accommodations include an L-shaped lounge, with removable table for snacks and drinks, and an additional double-wide seat forward of the helm. Captains will note a better-than-average fiberglass helm that blends style with practicality. It's the abundance of legit fishing features, however, that leave the lasting impression. Two swiveling, fold-down fishing chairs occupy the bow, each with its own corner storage unit set up with rod and tool holders and built-in measuring boards. Swivel aft and a livewell waits under the forward console seat; a second livewell is found in a similarly equipped station like those forward. All that's standard. Upgrage to the optional fishing package to add a Minn Kota trolling motor and Lowrance fishfinder.

View Ranger Pontoon Boats for sale on boats.com today.

2021 Tahoe 2585 Grand Tahoe QL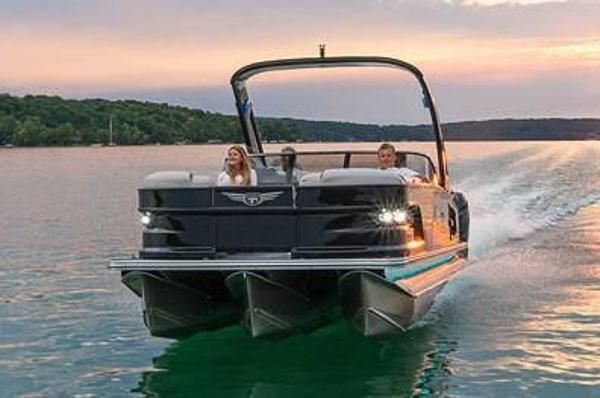 2021 Tahoe 2585 Grand Tahoe QL. Image credit: Grand Tahoe

Another flagship model, Tahoe's 2585 Grand Tahoe QL impressed with its combination of the conventional and modern. The former is found in what appears to be a traditional fence enclosure, but upon closer inspection is revealed to be sleek painted aluminum panels with sculpted style lines, seamlessly blending into fiberglass modules aft. It's a combo paired with a fiberglass day-boat trait, a wraparound windshield spread across dual consoles that offers welcome protection from the elements underway. A helm complete with multiple touchscreen displays, plush couches lining the perimeter, and Tahoe's trademark ventilated, aluminum-framed seat bases round out interior offerings. Below, the Waveglider High Performance Package includes triple, 27" pontoons with extruded lifting fins featuring a cupped design to reduce drag, plane higher on the water and deliver a fast, smooth ride.

View Tahoe pontoon boats for sale on boats.com today.

2021 Barletta C24UC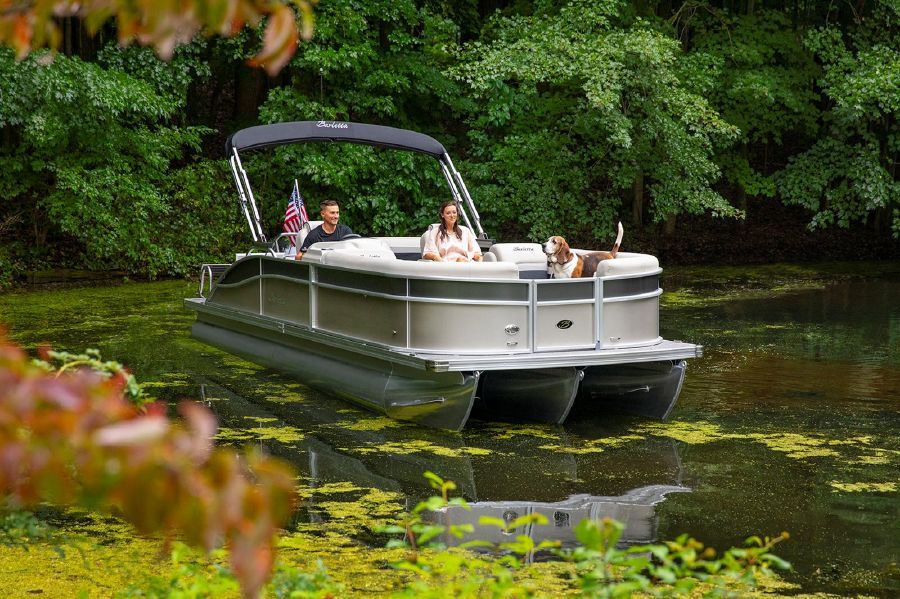 Barletta C24UC. Image credit: Barletta

Barletta considers the "C" class to be their first entry-level offering but don't expect to see obvious cost cutting. Furniture features familiar plush vinyl with pillow tops and under-thigh bolsters, the helm is fiberglass with chrome-rimmed analog gauges and an upscale wheel, and standards are many, including a powered Bimini top, Lowrance GPS fish finder, wide EZ Entry stern ladder and, of course, Barletta's trademark, pull-out pet food and water bowls integrated into the helm. Not-as-obvious construction details include I-beam crossmembers bolted to welded risers, and polyurethane rubber isolation pads between aluminum components to quash rattles and vibration. Accommodations? The Ultra Lounge stands out. A bench seat combined with an aft-facing sunpad, its backrest pivots forward to make an aft-facing recliner or lowers fully flat for a spacious 6' x 5' sunbed.

View Barletta pontoon boats for sale on boats.com today.

2021 Starcraft CX 25 DL Bar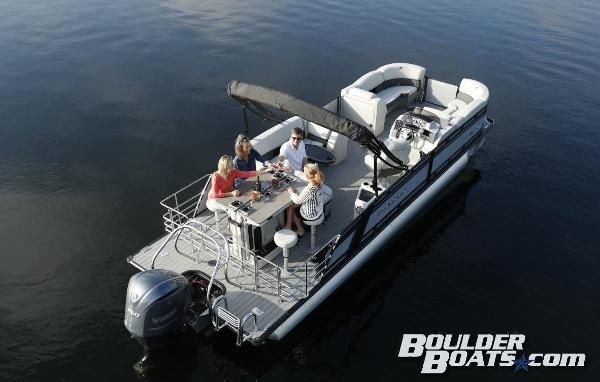 2021 Starcraft CX 25 DL Bar Image credit: Boulder Boats

Pontoons with actual "belly up to the" bars have been done before, but the emphasis on the cocktail in cocktail cruise often results in losing precious interior space when it's not party time. Starcraft's CX 25 DL Bar manages to offer up the best of both worlds. Aft, it features what looks like the familiar setup of stern bench backed by large, inviting sunbed but pull up to the dock or sandbar, lift each half of that divided pad upwards toward the centerline and voila, up pops a bar, with faux-granite countertop and six oversized cupholders. Rail-mounted stools are ready to be popped into a pair of floor mounts on port and starboard sides. When cocktail hour is done, lower the bar back into position and relax on the sunbed, or one of the multiple lounges surrounding the perimeter.

View Starcraft pontoon boats for sale on boats.com today.

2021 Manitou 25 Legacy SL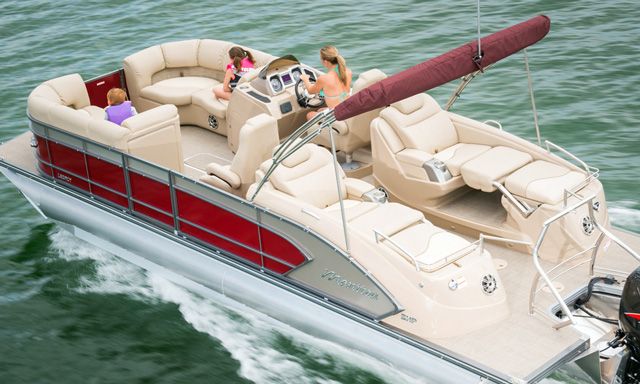 Manitou 25 Legacy. Image credit: Manitou

Outfit Manitou's 25 Legacy SL with V-Toon technology and Sport Handling Package, carve a powerful turn and you just may forget you're on a pontoon boat. Consisting of twin 25-inch outer pontoons and a 27-inch center pontoon that sits over 5 inches lower in the water, V-Toon gives the boat the feeling of a V-hull, allowing it to bank into turns with a fun, intuitive inside lean. The SHP package adds positive-angle lifting strakes, SeaStar power-assist steering and a performance-minded transom design to complete the sportboat-like feel. Looks match the performance. The aggressive dash features a 7-inch Garmin touchscreen display, surrounded by Manitou's trademark billet accents. Passenger accommodations include a stern lounge with multiple positions, from forward-facing bench with enclosed sunpad behind to aft racing mega-recliner.

View Manitou pontoon boats for sale on boats.com today.

2021 Princecraft Vectra 21 RL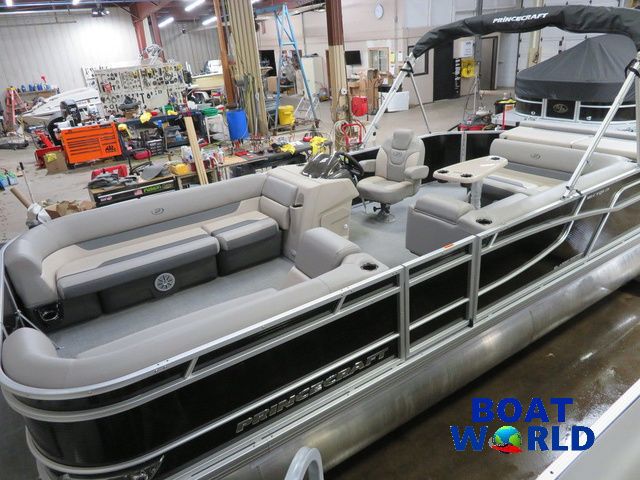 Princecraft Vectra 21 RL. Image credit: Boat World

Looking for an affordably priced pontoon in the 20' range? Princecraft's Vectra 21 RL starts under $21,000 in its base, 40 hp configuration; option the boat as high as 150hp. No matter what your speed, you won't feel as though you're on a basic model. The helm may be rotomolded plastic, but it adds an acrylic top and molded dash panel, complete with lit aircraft-style toggles and Bluetooth Jensen stereo. The Bimini is standard, the four-step stern ladder gleaming stainless steel. Below deck, choose from double or triple pontoon configurations. Multiple floorplans are available but we like the new-for-2020 rear lounge. It combines an interior bench with an aft sunpad outside the perimeter fencing. Pivot the backrest forward for a spacious, aft-facing recliner.

View Princecraft pontoon boats for sale on boats.com today.