See more articles
Best Pontoon Boats of 2023
Mollie Rudow rounds up the best pontoon boats of the year.
Pontoon Boat Reviews

Pontoon boats have become one of the hottest, most exciting segments of the boating market. Entry-level models perfect for a family outing or sunset cruise embrace classic pontoon features, whereas mixed-audience offerings add amenities for fishing and watersports outings. And with demand high for these versatile boats, you can find pontoons that'll fit in at the yacht club alongside more traditional craft. This year, the pontoon scene is flourishing with a variety of innovative boats embracing varied propulsion options and features.

Here's a sampling of our favorite pontoons in 2023:












2023 Bennington 30QX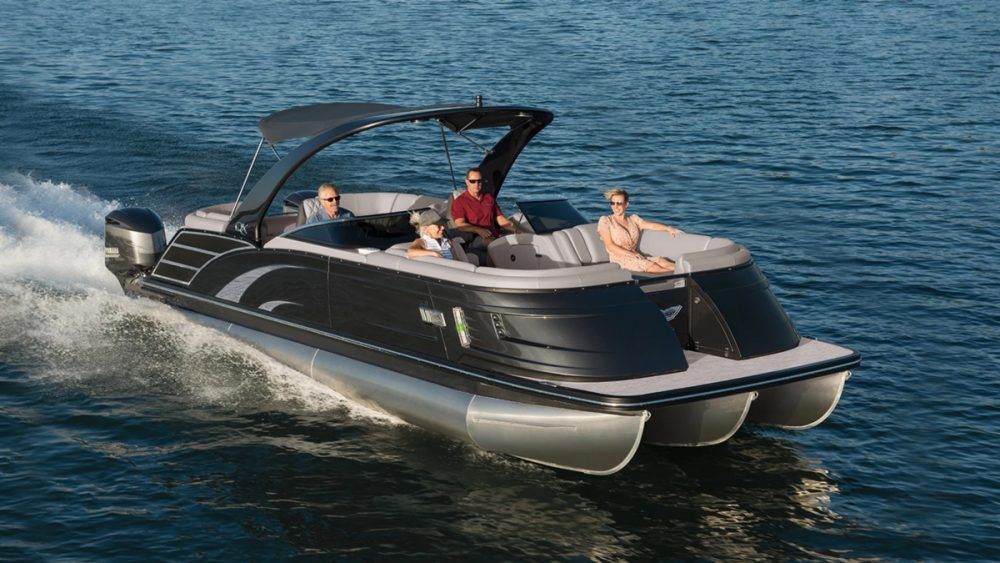 Sticking to the top of our list of best pontoons this year is Bennington's 30QX. Known for its distinctive style, she can fly across the water at speeds of over 60-mph with powerful twin-engine options. This energetic fiberglass-clad pontoon features over 20,000 different possible color combinations to adorn the frame, a curved bow with stainless trim, and composite glass skin.

The emphasis Bennington places on enhancing the passenger experience is evident across the 30QX model. The incorporation of low-profile windshields and a dual-console design ensures sufficient protection during cruising. Additionally, the 30QX has the unique ability to convert into a floating boombox, boasting an impressive array of 13 color-illuminated speakers that extend beyond the confines of the boat's interior. The 2023 updates bring forth remarkable new features that cater simultaneously to performance and comfort. These enhancements include the introduction of standard-beam twin-engine models, SX Pillowtop furniture featuring thicker foam, fastback pods, as well as console pockets designed to hold cups and phones conveniently.

View Bennington Pontoon Boats for sale on boats.com today.

2023 Sun Tracker Sportfish 24 XP3

Last year we had a Party Barge 24 DLX on our list, but for 2023 Sun Tracker decided to shuffle the deck a bit and he biggest Party Barge the builder makes is now the 22. The 24 has become the Sportfish 24 XP3, a tri-toon model with fishing features like a 7'6″ rodbox, a 16-gallon livewell, rod and tool holders, and fishing chairs.



Serious anglers will probably opt for the Fishing Package, which adds a 24-volt electric trolling motor and a Lowrance Hook Reveal 5x fishfinder and Split Shot transducer. This isn't just a large fishing pontoon, it's also a sporty one. The stock 150-hp motor will get you speeds in the mid-30s, and you can hang up to 250 horses on the motor pod.

View Sun Tracker Sportfish 24 XP3 pontoon boats for sale on boats.com.

Visit Sun Tracker Boats for more information.

Harris Grand Mariner 250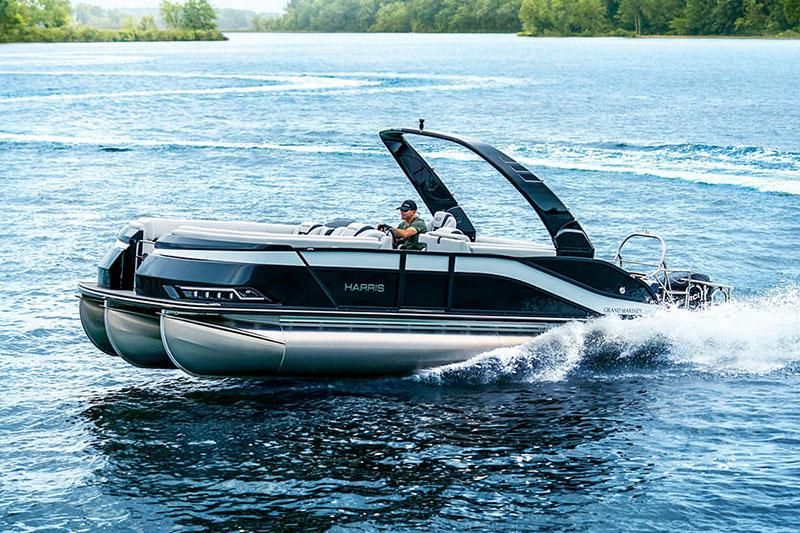 The Harris Grand Mariner series underwent a complete redesign for the 2022 model year, and in 2023, the Grand Mariner 250 continues to capture attention as a preferred choice. The model now showcases bold lines, graceful contours, an elegant electric tower adorned with captivating lighting that adds flair to nighttime voyages and an interior adorned with opulent soft-touch vinyl, enhancing the overall sense of luxury.

These pontoon boats provide an exciting fusion of opulence and an exhilarating pontooning experience. Occupants are treated to a luxurious interior featuring soft-touch vinyl furniture that ensures the utmost comfort, available in various accent colors, along with the addition of a new sun lounger. The boats also come with considerate features like generous under-seat dry storage and strategically placed USB ports throughout the boat, offering convenient charging options for devices ranging from cameras to cellphones.

For captains, there's ample legroom at the helm, and owners can choose between two new tower options: manual and power-operated, available in four colors that can be coordinated with the boat's exterior. The technological advancements on the Grand Mariner are equally impressive. The boat is adorned with integrated LED lighting, an all-electric tower, a fully digital dashboard at the helm, and a newly crafted JL Audio sound system, all controllable from a distance through a key fob. The Mercury outboard engine provides ample power for engaging in water sports at a moment's notice. The Grand Mariner line is accessible in three size options: 23 feet, 25 feet, and 27 feet, ensuring a range of choices to suit individual preferences.

View Harris pontoon boats for sale on boats.com today.

Ranger 2500LS Pontoon



Last year we featured a Ranger 200F, but this year we're keen on the supreme luxury that the Ranger 2500LS pontoon boat delivers. The current flagship pontoon from Ranger, this boat leaves nothing to be desired, from a pontoon boat owner's perspective. Each element has been meticulously crafted to redefine the level of opulence and satisfaction one can experience during a day spent on the lake. From the indulgent overstuffed pillow-top seating and the ultra-premium upholstery to the speaker housings that can change colors to set the mood, as well as the drink holders, the 2500 LS model introduces a level of sophistication uncommon even on today's luxury pontoon boats.

The helm features a touchscreen multifunction display that empowers you to manage every aspect of your boat's operations, and a rear-facing camera activated in reverse provides a clear view of what lies behind. Ample storage can be found beneath every seat and seatback with Ranger's DoubleUP™ lounges, and for added security, a pair of lockable compartments offer peace of mind. The trio of powder-coated pontoon logs collaborates seamlessly with the PowerPod™ motor extension, delivering an invigorating getaway whenever desired. The fences, boasting a high-gloss, rattle-free finish and adorned with stainless steel accents, radiate a majestic design that lives up to the esteemed Ranger name.

View Ranger 2500LS Pontoon Boats for sale on boats.com today.

Tahoe 25 Grand Tahoe QL Windshield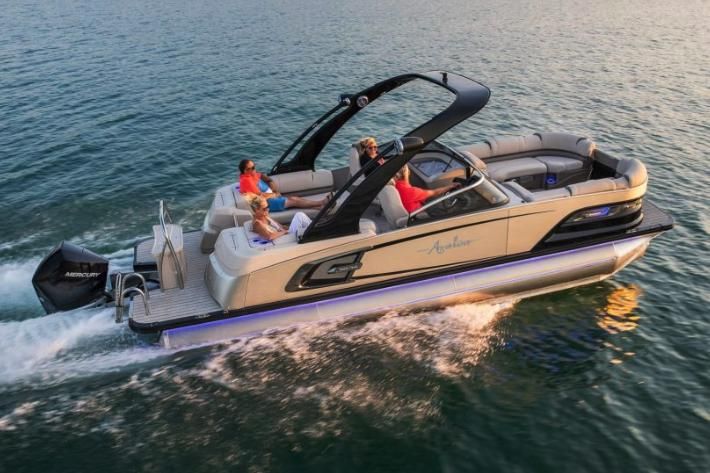 Another flagship model, Tahoe's 25 Grand Tahoe QL Windshield impressed us with its combination of the conventional and modern. The former is found in what appears to be a traditional fence enclosure, but upon closer inspection is revealed to be sleek painted aluminum panels with sculpted style lines, seamlessly blending into fiberglass modules aft. It's a combo paired with a fiberglass day-boat trait, a wraparound windshield spread across dual consoles that offers welcome protection from the elements underway. A helm complete with multiple touchscreen displays, plush couches lining the perimeter, and Tahoe's trademark ventilated, aluminum-framed seat bases round out interior offerings. Interior and exterior multi-color RBG lights are programmable. Below, the Waveglider Performance Package includes triple, 27" pontoons with extruded lifting fins featuring a cupped design to reduce drag, plane higher on the water and deliver a fast, smooth ride.

View Tahoe pontoon boats for sale on boats.com today.

Barletta Cabrio 24UE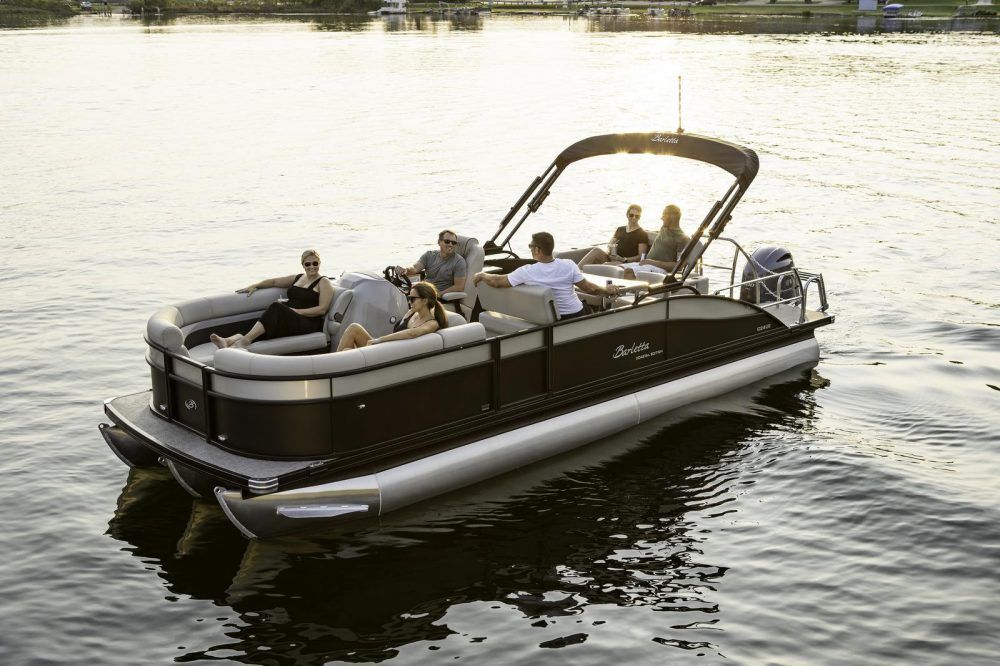 Barletta's Cabrio 24 Ultra Entertainer certainly lives up to its name, designed with the intention to bring people together on the water. A high-topped table, dual swivel stools, and adjacent bench port of the helm are this vessel's center point, providing ample space for conversation and play. Chaise-lounge style seating can be found forward, concealing a stow-away table and quickly accessible additional stowage compartments. The 24UE's most sought-out spot, though, might be its one-of-a-kind Ultra-Lounge. Found at the stern, the Ultra-Lounge offers five different seating positions to relax in. Barletta offers a diligent array of optional extras that allow 24UE owners to customize the boat to their needs. Some of our top picks are the exterior lighting package, ottoman with a built-in cooler and storage, changing room in place of the chaise table, and table with "Yeti-Ready" cup holders. For those interested in watersports, a tow bar is an option extra to consider.

View Barletta pontoon boats for sale on boats.com today.

Starcraft CX 25 DL Bar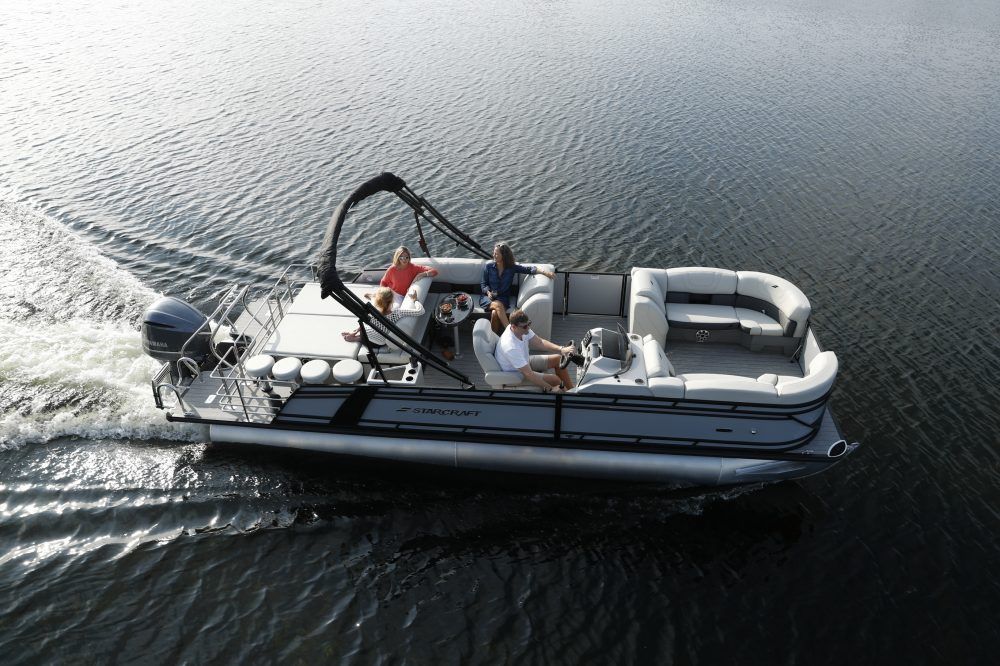 Pontoons with actual "belly up to the" bars have been done before, but the emphasis on the cocktail in cocktail cruise often results in losing precious interior space when it's not party time. Starcraft's CX 25 DL Bar manages to offer up the best of both worlds. Aft, it features what looks like the familiar setup of stern bench backed by large, inviting sunbed but pull up to the dock or sandbar, lift each half of that divided pad upwards toward the centerline and voila, up pops a bar, with faux-granite countertop and six oversized cupholders. Rail-mounted stools are ready to be popped into a pair of floor mounts on port and starboard sides. When cocktail hour is done, lower the bar back into position and relax on the sunbed, or one of the multiple lounges surrounding the perimeter.

View Starcraft pontoon boats for sale on boats.com today.

Sea-Doo Switch Compact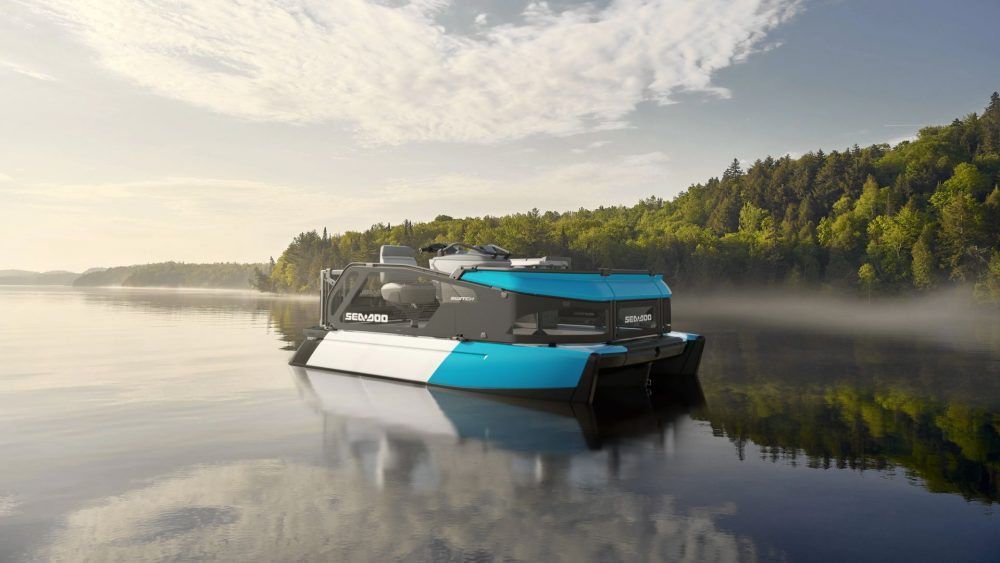 Sea-Doo managed to send waves through the pontooning world last year when they launched the Switch, the manufacturer's first pontoon. Although there haven't been significant alterations (except for pricing) for the 2023 model year, the Switch continues to assert itself as a highly transformative presence within the realm of pontoon boats. It stands alone as the sole pontoon boat driven by jet propulsion and balanced on three of Sea-Doo's Polytec tubes.

Sea-Doo's history as a PWC manufacturer shines through in the Switch's many innovative aspects— most notably, that it's the only pontoon propelled by jet power, skimming the surface aboard three of Sea-Doo's Polytec tubes. The Polytec tubes are made of the same lightweight and easy to repair material as their jetskis. At the helm, you'll find further PWC influence in the controls, as its steering system closely resembles that of a jetski. The Switch further strays from traditional 'toons, but still embraces the pontooning culture of community in its innovative modular deck design. The floorplan can transform as owners' outing call for, with furniture and accessories the modular tile system. Another great aspect of the Switch is its price point: the Compact, the smallest Switch at 13-feet, starts at a base MSRP of $17,999, including the trailer.

View Sea-Doo pontoon boats for sale on boats.com today.

Princecraft Vectra 21 RL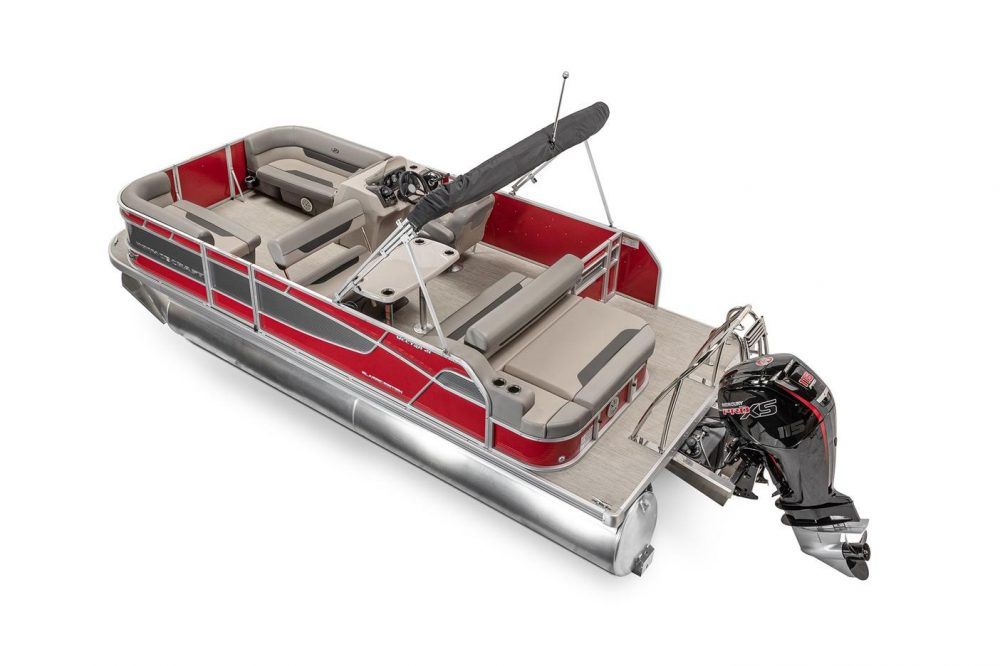 Looking for an affordably priced, highly-customizable pontoon in the 20' range? Princecraft's Vectra 21 RL delivers, with prices ranging based upon location and chosen options, such as engine configurations, which range from 40 hp to 150 hp. No matter what your speed, you won't feel as though you're on a basic model. The helm may be rotomolded plastic, but it adds an acrylic top and molded dash panel, complete with lit aircraft-style toggles and Bluetooth Jensen stereo. The Bimini is standard, as is the stainless steel four-step stern ladder for easy access to the water. Below deck, choose from double or triple pontoon configurations. A tow bar is included among the plentiful options for owners, leveling up this vessel's watersport's capability. A removable table with four built-in cup holders, a deluxe driver seat, and a safety railing are a few options that truly allow captains to craft this vessel into their own.

View Princecraft pontoon boats for sale on boats.com today.

Pontoon enthusiasts interested in buying a new boat have many excellent options with this year's line-up, from vessels that focus on accommodations for fishing and watersports, to embracing the classic party-barge lifestyle that pontooners love. Hopefully, one or more of these will fit the bill for you!