See more articles
Best Starter Boats In 2021
Lenny Rudow helps new boaters find the best starter boats for their needs.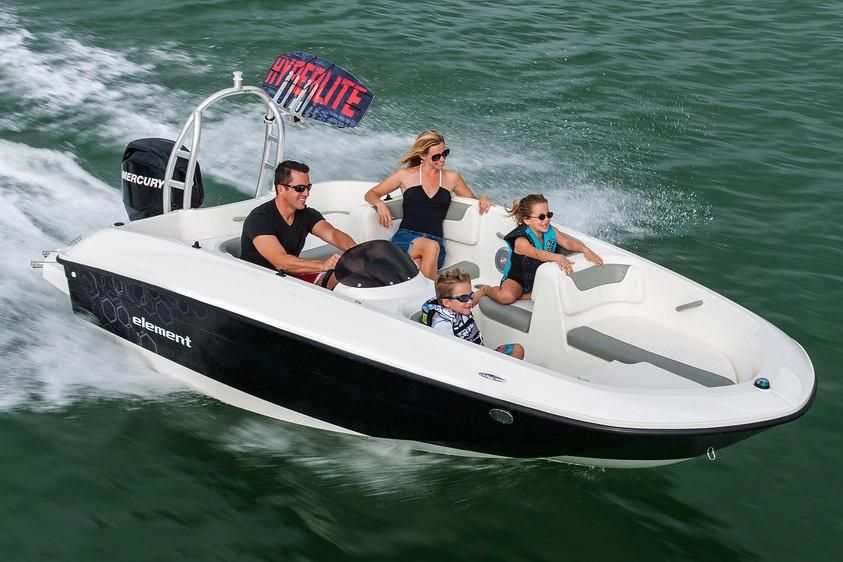 Bayliner Element E16. Photo: Bayliner.

Many people equate cheap boats with starter boats, but for a beginner boater, shopping by price alone is not the best way to find the ideal starter boat for your needs. Factors like reliability, ease of ownership, and ease of operation should all come into play as well. How will you sift and sort through all the details? Never fear future boaters, we're here to help. Step number one is figuring out just which genre of boat best fits your lifestyle. If you haven't already come to a decision, check out Which Type of Boat is Right for You: Top 10 Choices for Boaters.

Then, consider the top contenders below.



Bowriders and runabouts are an excellent choice for beginner boaters, especially small models which are relatively inexpensive and easy to operate. You can find plenty of outboard, stern drive, and jet boat models, and bowriders and runabouts are ideal for day-cruises, basic watersports, and casual fishing trips.

Some top contenders for starter boats include:



Bayliner Element E16 – This is one of the smallest, least expensive but fully functional bowrider you'll find. Its unique feature is Bayliner's "M" hull design, which planes easily and provides exceptional stability. It's also "garage ready" with a package length of under 20 feet on the single-axel galvanized trailer.


Glastron GT 180 – While it is a bit larger and more expensive than some starter boats, the Glastron GT 180 will be a solid pick for those who want to up their watersports game a bit and get accessories like a wakeboard tower and a larger powerplant (up to 150 horsepower).


Tahoe T16 – Another easily affordable bowrider for starter boaters, the Tahoe T16 is unusual in that it offers a full-length aft sunpad, a feature usually reserved for larger boats. Yet even while setting aside room for that sunpad, the T16 has seating for six people.



See bowrider boats for sale and runabout boats for sale listed on boats.com.

Best Starter Boats for Cruisers

Cruisers are generally thought of as being for more advanced boaters, but that doesn't mean you can't find cruisers that are simple and affordable enough to serve as starter boats.

Here are some prime starter boat cruiser examples.



Carver C34 Coupe – While this will be a large starter boat and you'll want to plan on spending some time getting familiar with its systems and functions, the C34 is still small enough to not be overwhelming — yet it has all the luxuries of yacht-quality craft. If you want to start cruising in complete comfort from day one, this will be a top pick.


Jeanneau NC 695 Series 2 – The NC 695 has everything you need for short-term cruising and weekending, including a berth for two, an enclosed head, a dinette, and a mini-galley including a sink and refrigerator. However, it also has a beam of just 8'4" which means it can be easily trailered.


Ranger Tugs R-23 – Although it's a bit pricier than many starter boats this is a great choice for first-time cruisers. The R-23 not only has full sleeping, dining and food prep, and private head facilities, but also boasts a very unusual mid-cabin berth under the dinette. That means you can enjoy private sleeping accommodations for two couples, despite the boat's diminutive nature.



See the current cruiser boats for sale on boats.com.

Best Freshwater Fishing Starter Boats

Freshwater fishing and freshwater fishing boats are one of the ways a huge number of people get into boating in the first place, so it won't be a surprise that there are virtually countless options out there. Standing apart from the crowd for their own different reasons, each of these top picks would surely help you scratch your freshwater fishing itch.



G3 Sportsman 1710 – The Sportsman 1710 has all the rigging to serve as a good bass boat (including a sectioned aerated livewell, a rod box, a bow-mount trolling motor, a fishfinder, and elevated fishing seats). But it also has enough V in the bow to take into open lake water where other species prowl. Plus, the Sportsman 1710 has seating for five people, a rarity in freshwater fishing boats this small.


Lowe Roughneck 1760 – The beauty of this boat lays in its simplicity. There are virtually no systems beyond the tiller-steer outboard, so there's virtually nothing to malfunction or break. Yet it can carry up to five anglers to the fishing grounds and help you load the cooler with perch, walleye, or whatever you'd like. On top of that, it's simple outfitting means it weighs next to nothing as far as boats go (hull weight is just 631 pounds) so it can be hauled by even the smallest tow vehicles.


Tracker Pro Guide V-16 SC – With a relatively sharp V-hull, a 23-gallon livewell with removable bait bucket, a bow-mounted electric trolling motor, a Lowrance Hook2 fishfinder, and an included custom-matched trailer, the Tracker Pro Guide V-16 SC can be used in just about any lake, river, or reservoir to chase after just about any species of freshwater fish. Added bonus: the price tag is well under the $20,000 mark.



See current freshwater fishing boats for sale on boats.com.

Best Saltwater Fishing Starter Boats

Saltwater anglers tend to be quite dedicated to their sport, and fishermen new to boating will want to think carefully before signing on the dotted line to purchase a new saltwater fishing boat. As you do that thinking be sure to consider these options, because each will prove to be an excellent starter saltwater fishing machine.



Cobia 201 CC – Center consoles are a top pick of saltwater anglers, and the Cobia 201 CC is a great example why. It offers a deep, family-friendly cockpit, all the features you need for a day of fishing out on the bay, and a 20-degree deep-V hull bottom that will slice open the waves.


Robalo R180 – The Robalo R180 is a relatively small, simple center console saltwater fishing boat that seems at first glance to be more or less like a lot of the competition in this size range. But look closer, and you'll find that this is one of the smallest saltwater fishing boats around which offers an enclosed head compartment inside the console. And thanks to the forward opening door it's easier to access than many of the head compartments found on boats with more LOA.


Sportsman Masters 207 Bay Boat – Inshore and backwater anglers who are family fishermen will find the Sportsman Masters 207 an ideal bay boat. It checks all the fishing must-haves (including elevated casting decks, fishboxes, multiple livewells, and plenty of rodholders). But it also has some perks to keep your family comfortable for long days out on the water, like forward seating with removable backrests and a fold-up aft bench seat upholstered with soft but tough Sileather marine silicon fabrics.



See saltwater fishing boats for sale right now on boats.com.

Best Starter Sailboats

Sailors are a breed apart from power boaters, so obviously, their choices for starter sailboats will be quite different from the others in this round-up. Still, beginner sailboaters will have plenty of options to choose from. Included on the list should be these three that caught our eyes as top picks.



Beneteau First 14 – If you want to learn how to sail like a pro, there's no better boat to start off with than a Beneteau First 14. It's relatively inexpensive and has fairly simple sail rigging, however, the rigging can be modified to accommodate every skill level from beginner to expert. That means the boat can be changed to match your own skills as you learn more and more. Plus, the First 14 can be sailed single-handed or with a partner.


Catalina Capri 22 – If you want a starter sailboat that has a cabin you could overnight in, the Cataline Capri 22 would be an excellent choice. The rigging can remain simple or you can add a racing package to squeeze out the most speed from every puff of wind, and the basic cabin includes berths, stowage lockers, and a removable cooler. If you want to get into more adventurous cruises, enclosed head and galley modules can be added.


Hobie 16 – The Hobie 16 is a hands-down classic among sailing aficionados, and countless enthusiasts first learned how to sail on one. It can support a crew of up to four people, and is known for providing rather thrilling rides when the wind kicks up and you "fly" one of the hulls out of the water. In fact, the Hobie 16 even earned a spot in the Sailboat Hall of Fame.



See current sailboats for sale right now on boats.com.

Best Starter Speedboats

Everyone loves feeling the rush of wind through their hair while blazing across the water at fast speeds, but professional-level speedboats do require a knowledge base that can only come with experience on the water. That said, there are still some speedboats out there which may not break any records but do have enough zip to provide new boaters with a safe yet exciting ride. If that sounds like a great time to you, here are three starter speedboats you'll want to check out.



Baja 24 Outlaw – With 300- to 380-horses under the hood, Baja's 24 Outlaw is an ideal way to enter the speedboat game. But unlike some dedicated performance boats, the Baja is equipped with plenty of features to make boating a party, like an ear-bending sound system, a swim platform, a sunpad, and a cabin with a V-berth and portable MSD.


Donzi 16 Classic – They call the 16 "Classic" with good reason, as many water-loving speed-demons got their start with this model. First built over 50 years ago there are countless "sweet 16s" on the water today. Modern versions are available with either 200 or 250 horsepower stern drives, can get up into the 60-mph range, and are sure to leave those who feel the need for speed grinning from ear to ear.


Sea Doo RXT-X – Although a PWC might seem like an odd choice for a starter boat, if you want to go as fast as possible as quickly as possible there's no better way to do it than seated on a supercharged, intercooled, 300-horsepower RXT-X. You'll go from a dead stop to 60-plus mph in just a few seconds, with neck-snapping acceleration that's faster than even the quickest sport bikes, much less automobiles.



See speed boats for sale right now on boats.com.

Best Starter Pontoon Boats

If you're up for some serious lounging at the lake, a pontoon boat can't be beat. The three party barges below are all top picks for people new to boating.



Godfrey Sweetwater Cruise 1886 C – Don't let the model name fool you, because this pontoon boat is bigger than it sounds at 19'11" LOA with an eight-foot beam. More importantly, it delivers what many people love about pontoons: maximum seating and lounging space. It features a huge aft L-lounger and two center-facing couches forward, plus the captain's chair. It can handle a dozen passengers, and up to 115 horsepower on the transom.


Sun Tracker Party Barge 18 DLX – With a sticker price under $20,000 the Party Barge 18 DLX is one of the few pontoons out there that keeps pricing low while providing capacity and seating for a full-sized party. It can take up to nine people aboard, and comes with party-time goodies like an AM/FM Bluetooth stereo with two speakers, two couches and an L-lounge, a swim platform, and courtesy lighting. Bonus Feature: the Party Barge 18 DLX also has a wheelchair-accessible gate in the port side.


Qwest Gillgetter 7515 Fishmaster – Pontooners who want the option to cast a fishing line now and again will be interested in the Qwest Gillgetter line and the 7515 Fishmaster in specific. This model has fishing must-haves like a livewell, fishing seats, and rodholders. But it also has those comfort features that non-fishing pontoon boaters want like a lounger, vinyl decking, and a Bimini top.



See pontoon boats for sale right now on boats.com.

Best Starter Boats for Watersports

Watersports lovers have plenty of boats to choose from, and while some are "tuned" specifically for one single form of sport like water skiing or wake surfing, there are others which feature a multipurpose design. Whether you prefer cutting back and forth behind the boat with a mellow attitude or performing aerial tricks that will make an onlooker's jaw drop, one of these three top picks will likely make the grade.



Chaparral 21 Surf – Although Chaparral is best known as a builder of runabouts, thanks to new tech they can turn their boats into watersports machines. On the 21 Surf, Volvo Penta's Forward Drive moves the prop forward several feet so it's under the boat where surfers can't fall into it. And the addition of the Malibu Surf Gate means you can adjust the size and shape of the wakes you create with a few swipes on a touch-screen.


Heyday WT-1SC – Since being purchased by Bayliner the Heyday line has continued its mission to deliver boats that create ideal wakes for wake sports lovers, in an affordable package that can fit into the average American garage. To this end, the WT-1SC has a hull designed to displace as much water as possible, while delivering as much seating as possible, but all in a package under 20 feet long.


Yamaha 212 XE – Many new boaters like the idea of propeller-free jet boats, and Yamaha makes an entire line of them intended for watersports. The 212 XE is the smallest, least expensive option, and probably will be best for most beginners. Yet it still offers advanced features like Connext touchscreen controls, a folding wakeboard tower, and swiveling wakeboard racks.



See watersports boats for sale right now on boats.com.

Considering all of these options, there's sure to be a starter boat in this mix that's ideal for you. As you focus in on a target or two be sure to check out our Boat Buyer's Guide, to get a look at the complete boat-buying picture.