See more articles
Hot New Wake Boats For 2021
A look at some of the hottest new wake and surf boats heading into 2021.
Move over Hansel. To paraphrase a quote from the Ben Stiller comedy Zoolander, it's wake and surf boats that are "so hot right now." And the reason is mostly just pure fun factor. Wake and surf models deliver massive wakes that boost wakeboarders into the stratosphere, while letting a massive legion of surf fans ride the endless wave…no ocean required.

The tricks of the wake trade? Hull design and ballast are a large portion of the equation. The more water the boat can displace, the bigger the resulting wakes that trail behind it. Additional modifications like movable tabs and plates make sure that wake has an ideal shape and fine-tune it to please both recreational rider and pro. Surf-specific mods emphasize and clean up that wake face on either side of the boat, and deliver the push that riders require to truly surf without a towrope.

While V-drive models still produce the best results overall (and as such dominate this list), they're no longer the only show in town. Manufacturers who embrace Volvo Penta's Forward Drive or jet propulsion have also found they can produce a wake/surf boat with surprisingly good wakes…and no prop in close proximity to the rider.

Ready to air it out, or catch a wave? Here's a look at some of the hottest new wake and surf boats heading into 2021…

Super Air Nautique G23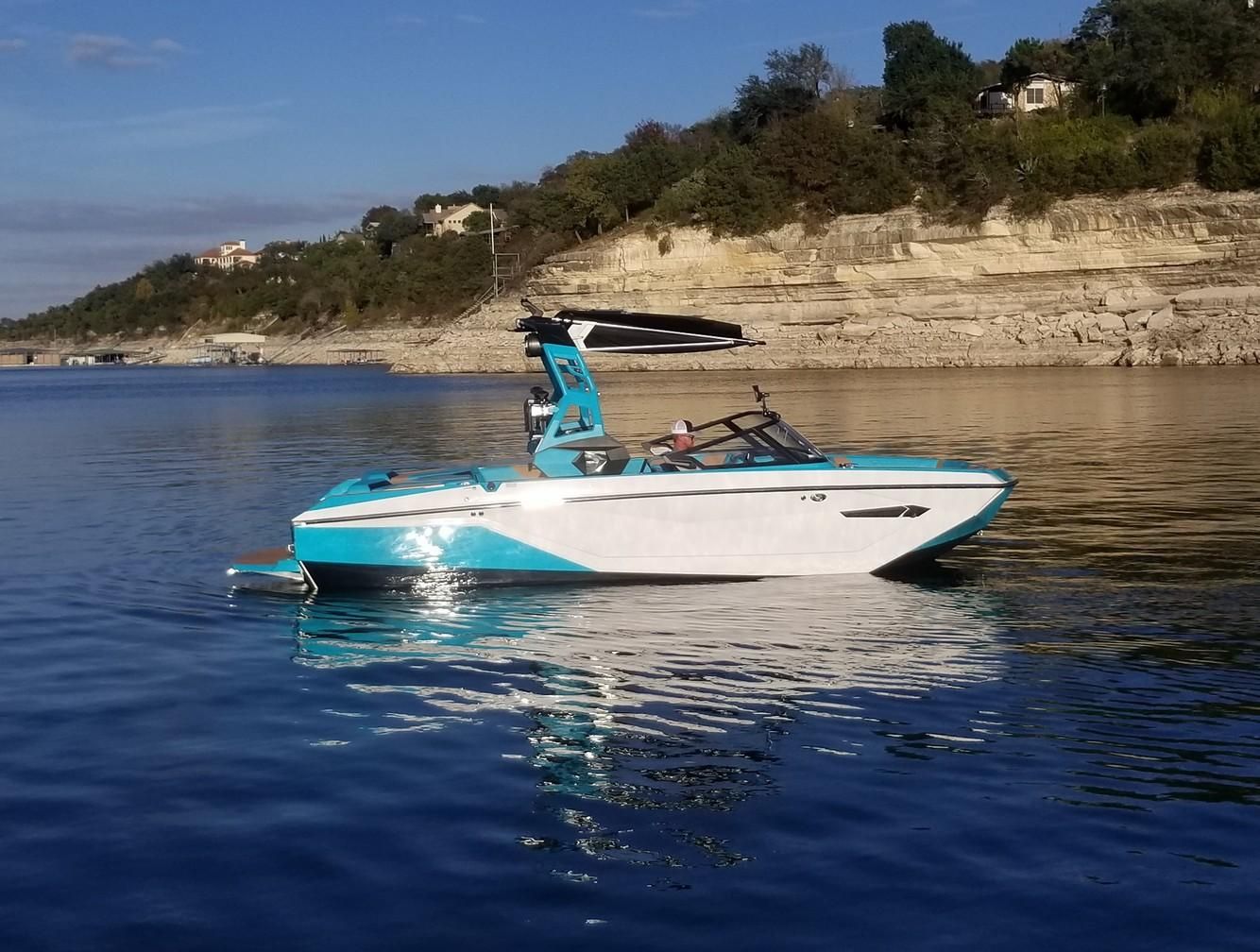 Super Air Nautique G23. Photo: MarineMax Sail & Ski Austin.

The Super Air Nautique G23 has long been one of the premier wake and surf boats on the market. The reinvented G23 builds upon that reputation, with a new look, more amenities…and yes, an even better wake.

The new G23 is clearly influenced by Nautique's flagship G23 Paragon, with faceted hull sides above the waterline and smooth-riding, deep-V entry below. Surf/wake amenities include 2,200 pounds of subfloor factory ballast; Nautique's tooled-into-the-hull Surf System featuring actuated transom plates that move outward to disrupt water flow and create a surf wake; the Nautique Configurable Running Surface (a large transom trim tab that can adjust the running attitude to further control the shape of wakes for both wakeboarding and surfing); the Nautique Surf Pipe that directs exhaust emissions underwater; standard folding wake tower; and the intuitive Link Panaray touchscreen helm control.

In the plush cockpit, look for wraparound seating (total capacity 16), with a rear-facing transom seat and flip-up bench backrests to take in the action in the wake.

Malibu M220

Malibu's flagship M240 gets a sibling for 2021, the 22' 5" M220, built to perform in a smaller size class while still offering all that buyers loved about the M240.

One glance and you'll recognize that M line DNA. The M freeboard is the highest in the Malibu line, offering passengers a secure feel, key in a boat that will frequently be loaded to the max in both ballast (up to 3,660 pounds) and passengers (max capacity 15). The deeper hull also handles more confidently in rough conditions.

Customize the M220 to your liking with a vast array of options, including choice of two towers, two windshields, three interiors, three gelcoat options, and of course, multiple stereo upgrades. eMLS ballast pumps fill and drain faster than average. A third-generation Power Wedge III hydrofoil and Malibu's renowned Surf Gate build and shape the wake to near perfection.

MasterCraft NXT24

MasterCraft's new NXT24 promises big-boat thrills — like 16-passenger capacity and the wake-boosting potential of the flagship X line — but at a more value-oriented price point.

The interior is classic MasterCraft, the bow cockpit benefiting from a picklefork design for added room and seating ringing the perimeter of the main cockpit. A convertible rear seat turns aft to focus attention on the wakes. Below nearly all, spacious storage awaits, including a pass-through port console. Overhead, the standard ZFT2 watersports tower can be outfitted with optional Bimini.

MasterCraft's Gen 2 Surf System includes 2600 pounds of factory ballast, combined with custom wake-shaping devices (unique to each model) at the transom and the software to tie it all together presented in intuitive form on a 4.3" LCD color screen at the dash with a simple five-button interface. Use it to fine tune wakes from mild to wild for both wakeboarding and wakesurfing, or customize to individual rider's liking.

Tige 23 RZX

With a wide, picklefork bow design, Tige's 23' 23 RZX offers room for 16 passengers and all the comfort and upscale touches buyers have come to expect from the brand.

Tige's wake and surf performance starts with the Convex X hull, a patented design that gives a Tige hull the continuous rocker of a surfboard. Combined with the adjustable TAPS 3T trim plates at the transom — a central plate to affect running attitude, planing and maneuverability and twin outer plates to pump up and shape surf wakes on a rider's preferred side — TAPS 3T "trims" the hull to settle deep into the water for board sports, fine tune wake shape for beginner to advanced rider, or even run more level for slalom skiing. The massive, 11" Tige Clear touchscreen display, with convenient GO presets, simplifies all settings.

Cool feature? The surf locker, a trunk under the transom seats that will keep boards readily at hand.

Axis Wake A24

At 24', Axis Wake's A24 is the largest boat in the brand's lineup, offering Malibu's familiar quality build and features but at a more affordable price point.

The A24 offers space for as many as 18 passengers divvied up between its wide, picklefork bow and wraparound main cockpit seating. The freshly tweaked Wake-Plus hull is designed to ride softer and sit deeper in the water at wake speeds, naturally enhancing wake size. Passengers will appreciate rear-facing Chill-Ax seating and four added inches of freeboard for 2021, a depth that not only increases storage space but also adds a significant amount of passenger security. Add the optional, multi-position sliding SkyBox seat to create rear-facing stadium seating for passengers taking in the action. Added touches for 2021 include a new dash with billet accents and tactile soft-touch buttons.

As to that all-important wake, build and shape it to your liking with a choice of manual or Power Wedge hydrofoil, Plug n' Play ballast, and Malibu's trademark Surf Gate.

Regal LS2 Surf

V-drive boats may produce the ultimate surf wakes, but sterndrives often prove more versatile for all-around boating. The catch, of course, is that sterndrives locate the prop dangerously close to those plying the wakes in close proximity to the transom. Volvo Penta makes its Forward Drive surf-friendly by positioning counter-rotating props in front of the drive, tucked well under the hull. All while retaining another benefit of sterndrives — the ability to trim to compensate for load, water conditions, or achieve greater top-end speed.

Regal's LS2 Surf is one of the best, most affordable Forward Drive surf boat we've tested to date. Regal tweaked the running surface to clean up water coming off the hull, then turned to Wake Worx for the wake-influencing tabs, modified to Regal's proprietary specs. Add in 1,800 pounds of ballast split between aft storage compartments and the ski locker, the integration of a Volvo Penta touchscreen for integrated control, and yes, that trim to further boost and shape wakes, and the result is a surprisingly large, clean wave with plenty of forward push…

…all from a 22' bowrider!

Centurion Ri245

The Opti-V hull on Centurion's 24' Ri245 is designed to displace more water with less weight, a key to wake and surf success. Featuring a 30-degree entry at the bow, it easily handles rollers and chop. The 20-degree transom deadrise further smooths out the ride, while flat, triangular pads at transom corners promise symmetrical wakes. Yet, for all that chop-busting and wake-boosting prowess, it's one of the most efficient models in its class. The proof is in the real-time fuel consumption and range readouts, incorporated into side-by-side 12" touchscreens at the helm.

The Ri245 locates ballast in as many as seven different locations, including two sub-floor tanks that can add 2,650 pounds of water in as little as 90 seconds. Total ballast potential is 5,650 pounds. Centurion's Silent Stinger Wake Plate is designed to further alter the wetted surface of the hull, changing both running attire and wake shape while directing exhaust through internal baffles to reduce noise level. Long-blade, Quick Surf Pro plates displace more water for improved surf wakes. Overhead, a power Roswell DropZone tower is stylish, strong…and rattle-free.

Yamaha 255XD

Jet propulsion is yet another surf-friendly source of power, but jets aren't typically known for their stellar wakes. Yamaha's flagship 255XD could change that reputation by combining ballast and speed control with a unique wake-enhancing system tailored specifically to jet power.

The 255XD's hull is designed to sit lower at the stern to displace more water and naturally boost wake size. To that hull Yamaha adds the WakeBooster system, integrated, electronically controlled plates that lower below each corner of the swim platform to influence water flow and both boost and shape the wake on a rider's preferred side. A total of 1,600 pounds of ballast further augments wake size. Fill and empty the ballast, control the WakeBoosters, and set speed and acceleration preferences via a massive 12.3" Connext touchscreen at the helm.

Other highlights? A unique paddle system on the steering wheel controls forward, neutral and reverse during docking or other slow-speed maneuvers. Yamaha's Stadium Seating configuration on the swim platform is also ideal for coving or time at the sandbar.

ATX 20 Type-S

The ATX name may still be relatively new to the wake sports market, but the company behind them is one of its biggest players — Tige. That means models like the new-for-'21 20 Type-S feature much of the same features, construction and style that make Tige a perennial favorite, but at lower cost of entry.

The 20 Type-S boasts cockpit space for 12 passengers, an impressive feat given the boat's 20' LOA. Crew forward benefit from a picklefork bow shape that maintains much of the boat's 8' 6" beam. Behind the windshield, scatter the rest along a wraparound perimeter lounge, with an abundance of storage space below.

Type-S models feature Tige's familiar Convex V hull, which naturally squats at the stern at board riding speeds to beef up the wake. TAPS 3T wake plates further increase the size and definition of wakes for both wakeboarding and surfing, but can also level the hull when it comes time to hand the towrope to that slalom enthusiast in the crowd. Other standout features include a gas-shock-assisted tower, Wet Sounds audio system and 7" touchscreen with simplified presets.