See more articles
RIB Buying Guide and Tender Considerations
With such a wholesale change in leisure RIBs over the last decade, picking the right one can be a challenge—here's three things to think about when purchasing and managing a RIB.
The Benefits Of Owning A RIB

When is the little boat as important as the big one? Just about anytime you need a car to cruise the anchorage, a lifeline to shore and a carryall for provisions, people and pets. Too often, the dinghy plays second fiddle to the mothership but without a proper way to get about, cruising would be much less fun and who needs that?

Tenders come in flavors. Most boaters like inflatables or rigid-bottom inflatables (RIBs), which are often lighter and more stable than hard dinghies and can be deflated for storage or passagemaking. They're easily towed and generally have good carrying capacity. Hard dinghies have their own benefits. It's easier to row them in straight line due to their keel, and you can usually drag them across a beach without too much damage. There is no ideal dinghy but a RIB is a good start. It's all about how and where you boat so if you're eyeing a new dinghy, here are some things to consider when buying and using your perfect tender.



Size, Materials and Power

Choose the largest dinghy you can afford, carry on your big boat and manage with your crew. A 12-foot RIB can carry a lot of provisions but pulling one up the beach after a shore landing with only two people will be tough. Size and weight are tradeoffs. Single skin bottom RIBs are lighter (10-20% lighter) but they don't have a storage locker in the bow. Double floored-RIBs stay drier but their weight will stress smaller crews. Be sure to pick a design with lots of handholds so you can push, pull and handle the dinghy from all sides.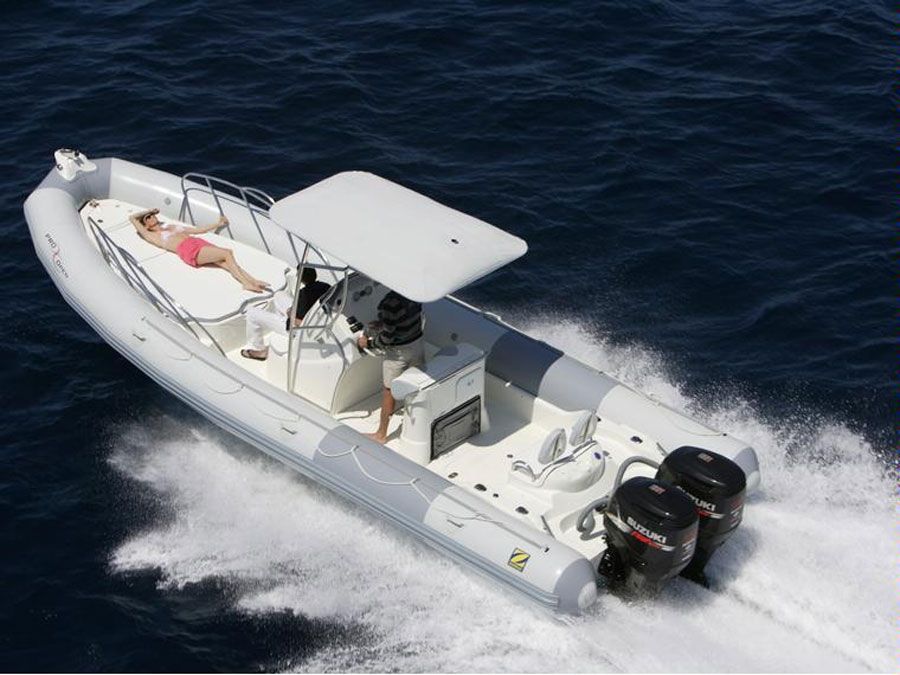 The Zodiac pro 850. Unlike many RIBs, the Zodiac Pro 850 Optimum is clearly designed for recreational use, from the ground up. Image credit: Zodiac.


RIB bottoms can be aluminum or fiberglass. Aluminum is light and rugged but can be noisy and may be too light for rough water conditions. Popular brands include Highfield and ABInflatables' Ultralight. Fiberglass bottoms are heavier, quieter and steadier but can be scratched and dented if grounded and they are typically more expensive. Bestsellers include Achilles, Zodiac, Walker Bay, Avon and Caribe.

Most cruisers prefer RIB tubes with a large diameter for lots of buoyancy and better protection from waves and spray Most RIB tubes are made of PVC or Hypalon and both of these materials come in grades from low to high. Hypalon has better UV degradation resistance so it may serve cruisers longer but it's also more expensive. PVC tubes have welded seams so they don't leak air and generally are more affordable.

Finally, consider the size of outboard your dinghy can carry. For most cruisers, the bigger the better so the dink will plane. For easy engine management, people tend to choose outboards of 3-6 hp but some carry 8-15 HP motors. Popular small gas engines include Honda, Yamaha, Suzuki, Tohatsu and Mercury. You can also opt for propane-driven models like Lehr or electric ones like Torqeedo. The latter two mean that you won't need to carry gasoline if your primary vessel runs on diesel. Another option is an inboard jet drive like the high-end Williams jet tender that can serve as both an uber-dinghy and PWC/tow boat.



Stowing and Towing

For powerboats with a cradle on the swim platform, it's better to carry the RIB rather than to tow it. Some motoryachts or sportfishers have a crane to winch the dinghy onto the flybridge or the bow, while sailboats often have davits that make quick work of lifting the small boat out of the water.

It's not ideal to tow a dinghy because much can go wrong. Lines can foul, hardware breaks and the weather may not cooperate for a safe tow. But for short hops, you may be able to tow. First, make sure the tender is empty–remove paddles, PFDs and any other equipment. Close off and remove an external fuel tank. Check to make sure the plug is installed securely. Remove the outboard that can add drag and will slow your progress significantly. If you can't remove the engine, tilt it up so the lower unit is out of the water and tie the head with lines going to padeyes or handles on either side of the dinghy so the motor stays up.

For very short distances, a RIB with a slightly V'd bottom tracks well. You may be able to get away with attaching a single line directly to the padeye at the stem so the bow rides high. For all other tows, it's best to rig a bridle.

Try to tow with the dinghy at the center of the mothership. The big and little boats should be in sync, riding the crests and troughs of waves at the same time, just one cycle apart. In open water on lengthier tows, longer lines will create a catenary to lessen shocks as the two boats may come out of sync. To help the dinghy track better, attach the bridle as far down on the bow as possible although this may be dictated by the position of the D-rings.

Layout and Comfort

Dinghy layout seems to divide along power and sailboat lines. Cruising sailors like open dinks into which they can stash a lot of stuff as well as bodies. Passengers sit on the tubes. The outboards are usually tiller driven and fueled by an external tank tucked up against the transom. Power boaters on the other hand like center console arrangements with wheel steering and actual seats that may hide the fuel tank. There are also bike-style RIBs where the driver rides a center console that's more like personal watercraft seat.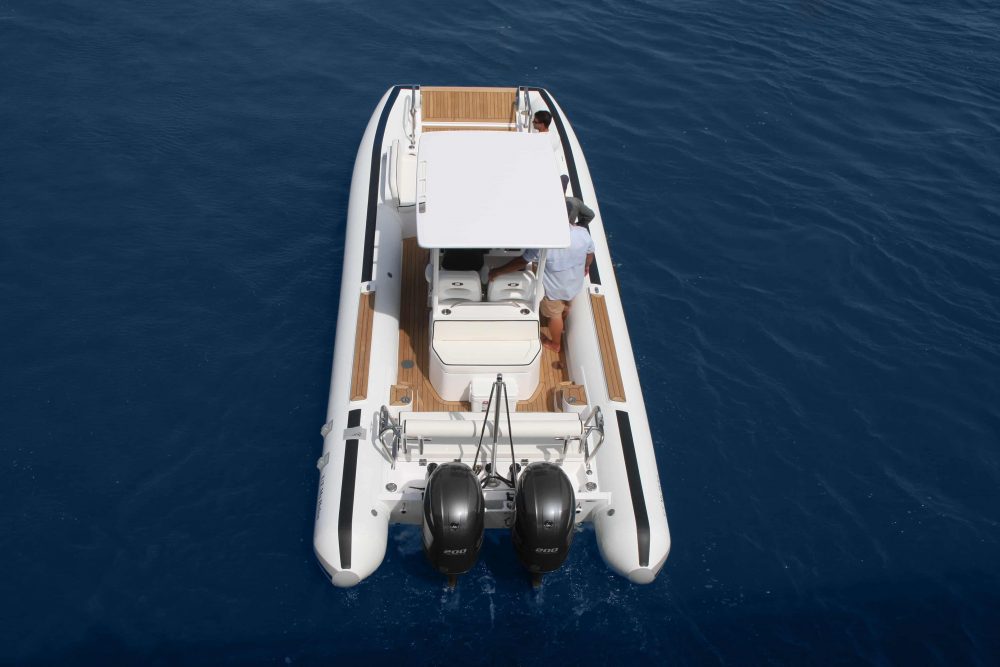 Novurania Catamaran 28. Image credit: Novurania

For owners of large yachts, a nice tender is the Novurania Catamaran. With a Volvo Penta inboard diesel, this model is available in lengths 18-28 feet. At wide-open throttle, this speedster will do 45 MPH and it comes with an electrically activated bow that lowers for easier boarding and loading. Now you can make a statement with your superyacht and your tender.

Consider what you'll be doing with your RIB tender. Will you be weekending with friends, shuttling to the yacht club for dinner or ripping up the anchorage at 30 knots? I bet there's a RIB out there that will fit the bill. To learn more, visit our Tenders and Inflatables explore pages.

Editor's Note: This article was published in April 2012, July 2018 and updated in April 2021.