Featured Express Cruiser Brands
Express cruiser boats for sale
Express Cruiser
Ideal for overnight cruising and day cruising these Express Cruiser boats vary in length from 20ft to 87ft and can carry 6 to 20 passengers. These powerboats use the following propulsion options: inboard engine or stern drive engine. There are a wide range of Express Cruiser boats for sale from popular brands like Sea Ray, Regal and Tiara Yachts with 945 new and 4,428 used and an average price of $129,224 with boats ranging from as little as $10,000 and $2,481,644.
Express Cruisers Guide
Maybe you're stepping up from a cuddy cabin boat, maybe you're stepping down from a motor yacht luxury cruiser, or maybe you're about to buy your first boat of any kind. In any of these cases, if you know you want a boat that looks sleek and sexy, offers sporty performance, and has a cabin worthy of long cruises, an express cruiser may well be in your future. Just what defines a boat as an express cruiser? Let's take a look at the factors, in All About Express Cruisers: Sleek, Sexy, and Speedy.



If, after watching this, you're 100-percent sure an express cruiser is exactly what you need, then it's time to hone down the choices. You still need to decide:



Your budget


The ideal size and number of staterooms you require


How important is speed and sporty handling


Whether you want traditional styling, or a more modern look


What type of power system you like most; stern drives, inboards, pod drives, or outboards


Your Budget

Obviously, this will have a huge impact on the boats you'll be looking at. If your budget is on the thin side, you may want to focus your search on used boats as opposed to buying new. But "used" doesn't necessarily mean "cheap". In fact, if you search for used express cruisers on boats.com listed from old to new, you'll see that a $1,500 32-footer appears right across from a $179,000 classic that's just two feet longer.

If you decide to limit your search to new boats, remember that there's still going to be a huge spread of choices, even in a relatively limited budgetary range. Let's say for example that you do a search for new express cruisers between $100,000 and $200,000. You'll find boats ranging from 28' all the way up to 36'. The bottom line? Your budget is what it is, and no matter how large or small it may be, there's probably going to be a slew of different express cruisers for you to consider.

Size and Staterooms

Just how much cabin you need depends on how you plan to use the boat, and how many people are in your family. Or, possibly how many friends you plan to haul along for the ride. In either case, there are some express cruisers that emphasize deck space over cabin space, and vise-versa. Which is better for you depends on just how often you think you'll go over-nighting, versus how often you'll be day-boating. If you'll only sleep on the boat once or twice a year, choosing a boat with more cockpit space and a more open saloon, for example, would be a better decision. But if you think you'll do lots of sleeping aboard, it makes sense to choose a boat with a larger proportion of its foot-print dedicated to a cabin. And if more than one couple is involved, that cabin should be divided into multiple small rooms.

You can see a great example of how different boats place a different emphasis on over-nighting versus day-boating, by comparing the Cobalt A40 with the Cruisers Cantius 41. The A40 has a huge open bridgedeck, cockpit, and swim platform, plus a pair of loungers on the foredeck. A relatively small area of the boat is dedicated to the cabin, which doesn't have any separate staterooms and has a maximum sleeping capacity of just four. This design is ideal for someone who wants to maximize fun in the sun, and doesn't plan to sleep aboard very often nor for an extended period of time.



Cobalt A40: Elegant Subtlety.



Now, consider the Cruisers Cantius 41. This model has an open cockpit but the bridgedeck is enclosed, and has a saloon with a settee and dinette. The boat has a full galley on a lower level where you'll also find private forward and aft staterooms, each with their own private head.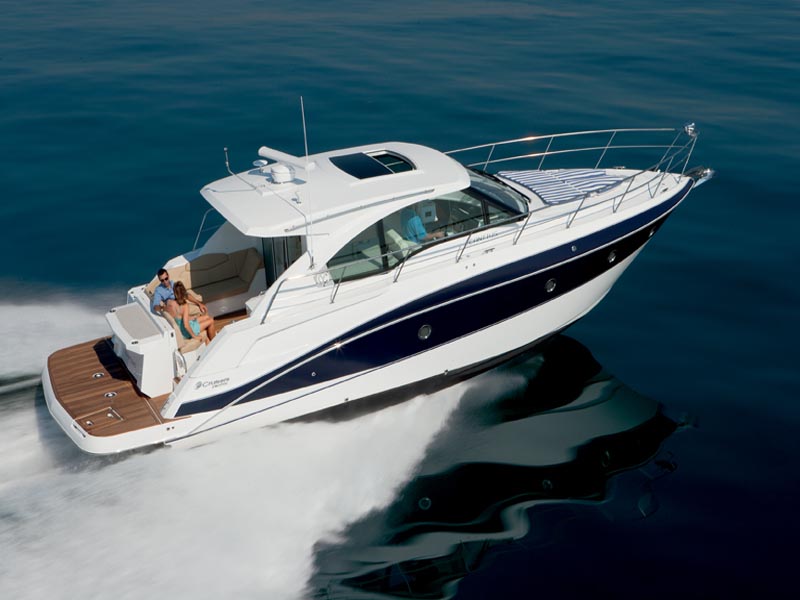 Cruisers 41 Cantius: Entertainment Value.



Both of these boats are express cruisers. Both are in the same pricing neighborhood (you'll find them new in the upper $600,000 to mid $700,000 range, depending on power and options). Yet they have vastly different uses of space and will be "ideal" for very different styles of boating. Which is more appropriate for you depends entirely upon how you personally plan to use your boat—an important factor to think through, before you start shopping seriously.

Speed and Handling

Express cruisers appeal to a wide audience, so naturally, the emphasis a builder puts on performance varies quite a bit. Some boats offer neck-snapping acceleration, eye-watering speeds, and sportscar-like handling. Others prioritize fuel efficiency and comfort. Many boats try to find a happy medium, but generally speaking, you do have to make trade-offs for these different attributes. Extremely fast, sporty express cruisers do not commonly have the best efficiency. A loss of interior volume may also be a trade-off for high performance, since many performance-oriented boats are narrower than boats focused more on luxury.

A look at the Formula 370 Super Sport versus the True North 38 gives us a clear look at these sorts of choices. The Formula cruises in the mid 40's and tops out at 54 MPH. Throughout the range, it gets around one mile to the gallon. The True North, on the other hand, cruises at 25 MPH and tops out just under 30 MPH—but gets about 40-percent better fuel efficiency at cruise. The True North also has a separate forward stateroom and an enclosed dinette and galley on the bridgedeck, while the Formula combines these areas into a single space belowdecks.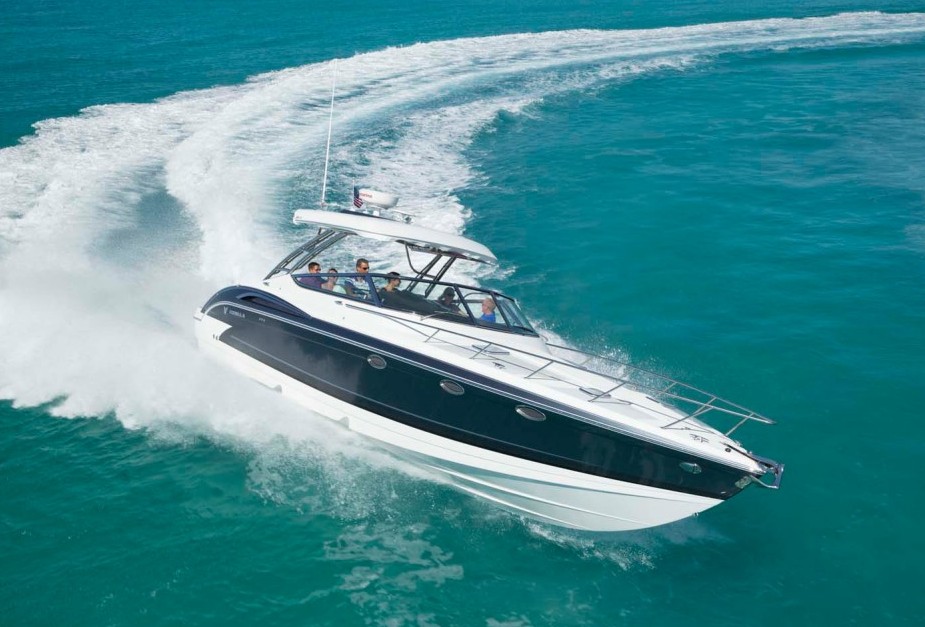 Formula 370 Super Sport.
Traditional, or Modern?

Perhaps no two express cruisers so clearly exemplify the split between classic looks and modern appeal as the Hunt 44 Express Cruiser, and the Four Winns H440. The Hunt's lines scream "classic," while the Four Winns looks radically different. The Hunt's interior glows with high-gloss varnished wood and marble countertops, but the Four Winns cabin is best described as like a modern studio apartment.

The Four Winns H440 is, we admit, a rather extreme example. As the first of its kind—dubbed a "bow cruiser"—this model is more than a little bit forward-thinking. The bow of the boat has been scooped out to create a bowrider-like forward cockpit, complete with seating, sunpads, cupholders, and a stereo system. There's absolutely nothing quite like it afloat. But it's also proof-positive that boats can be as innovative and different as the imagination allows, yet still fit the definition of what is an express cruiser. That Hunt 44, meanwhile, shows us that traditional looks and classic lines are also prevalent in express cruisers built today. Which one's right for you is, of course, a completely personal choice.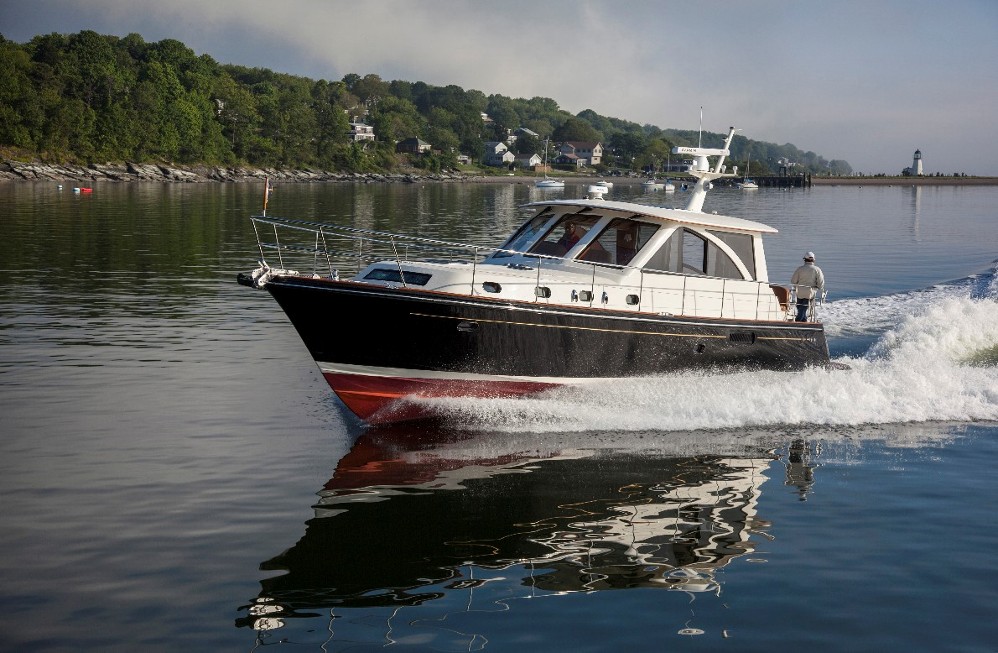 Hunt 44 Express Cruiser.
Power Systems

Express Cruisers are one of the few types of boats on which you're likely to see all of the different power choices. Many have stern drives, many others have straight-inboard power, plenty of new models feature pod drives, and there are even a few which run on outboard power or jet drives.

Stern drives are usually seen on small to mid-sized express cruisers. Their articulating drives give them good handling characteristics, and many modern stern drive systems can be optioned with joystick control for easier dockside maneuvering. Straight inboards are common on larger express cruisers, which require big diesel powerplants. But they're quickly being supplanted these days by pod drives, which offer better handling and increased fuel efficiency. Learn more about this relatively new power system in All About Pod Drives: Volvo Penta IPS, MerCruiser Cummins Zeus, and ZF Marine.

Outboards are rare on express cruisers, but the efficiency and reliability of modern four-strokes is appealing to many boaters. This is especially true of those who are stepping up out of smaller runabouts powered by outboards, since they're already accustomed to dealing with this power system. At this time there are two main competitors in the outboard-powered express cruiser market: Sea Ray, and Pursuit.

Good luck, fellow boater, in your quest to find the ideal express cruiser. Consider all the factors we've mentioned above, do lots of research by reading these reviews and watching these videos, and look at as many listings as possible here on boats.com. We know that sooner or later, you'll find the express cruiser that's perfect—for you.
Filter Boats By
Condition
Boat Type
Make
Price
Length
Year
Location
Country
Activities