House Boat
Ideal for living aboard these House Boat vary in length from 23ft to 128ft and can carry 4 to 59 passengers. These powerboats use the following propulsion options: outboard engine or stern drive. There are a wide range of House Boat for sale from popular brands like Gibson, Custom and Sumerset with 184 new and 437 used and an average price of $149,423 with boats ranging from as little as $9,149 and $1,719,298.
Houseboats
The 1960s and 70s was a time for hippies, disco, tie-dye, bell-bottom jeans, the fight for equality, and you guessed it, houseboats. OK, so maybe you didn't guess houseboats, but during this time period there were actually three manufacturers leading the way for the growth of the industry: Sumerset (first known as Somerset), Stardust, and Gibson. From there, you began to see new names join the houseboat scene such as Horizon Yacht, Fantasy, Majestic, Lakeview, Sunstar, Thoroughbred, Bravada Yachts, and Holiday Mansion.

While there are still a number of houseboat manufacturers operating today, the business has consolidated and declined over a long period of time. And yet, you can find hundreds of houseboats for sale from all of the major brands on boats.com. Whether out of love, loyalty, or tradition, there are many folks who keep these unique vessels fresh and floating for buyers who continue to trade in and trade up, drawn by the appeal of houseboat living.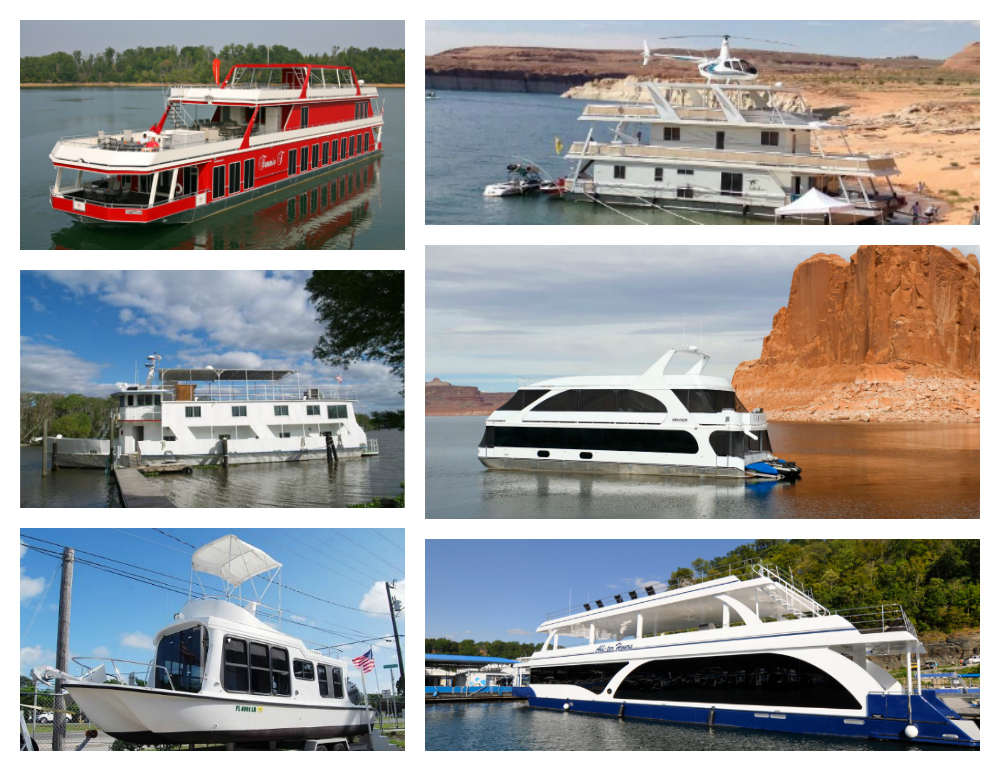 Feeling nostalgic? The design and style of many houseboats might give you the feeling that you've been transported back in time to the 1960s or 70s.
The lifestyle

Houseboats provide an easy escape from the world and a simple way of living. Capable of leaving the dock under power, these boats have hulls, engines, fuel tanks, electrical and ventilation systems, navigational equipment, and everything you would expect from a typical seaworthy vessel. On top of all that, they provide all the comforts of home. While very few are used for full-time living, most houseboats are purchased as a second home or vacation home.

"People are looking for a more relaxing lifestyle," said Terry Miller, owner of Houseboats Buy Terry. "Either to spend their retirement, or families who want to get their kids outside in a clean environment—in other words, away from the electrical devices and back to the 'good old days.'"

So where can you find houseboat living at its finest? Head over to the Pacific Coast to Northern California, Seattle, and Portland, or find your way to the Great Lakes, Lake Powell in Arizona, Lake Cumberland in Kentucky, Lake Travis in Texas, and multiple other spots along the Eastern seaboard and Gulf Coast. Many of these areas also have ample houseboat rental opportunities for weekends or extended vacations, which is ideal for those interested in dipping a toe into the houseboat lifestyle. Another way to get a taste of the good life? Share stock in a multi-owner houseboat (similar to a timeshare), or visit a Houseboat Expo.

Houseboat manufacturers and accommodations

From central heating and air conditioning to washers and dryers, icemakers, full-size kitchen appliances, large bedrooms and living spaces, full- and half-size bathrooms, and much more, every houseboat is different but every houseboat is designed to accommodate. In many ways, buying a houseboat is just like buying a house. Buyers must decide what they want in their new home and prioritize those items as they begin to scan the market—and there's plenty of room for questions: how many bedrooms do you want, how many bathrooms, how much outdoor space, what appliances do you need, do you want a large gathering space, is there space to carry a PWC or two, and what's the overall square footage and overall length–which then raises yet another question: Where are you going to dock your houseboat when it's not in use?

Although it may sound like a lot, it's no more or less than what's required of a second home, except it comes with an array of advantages. These boats not only provide mobility and unlimited water access, but you can ditch the lawnmower and snow shovel. "What makes houseboats unique, unlike a land home, is that if you don't like the neighbor's barking dog then you can just start the engine and move on down the street," Miller said. "You can have a different view of the lake every weekend and still have all your same amenities."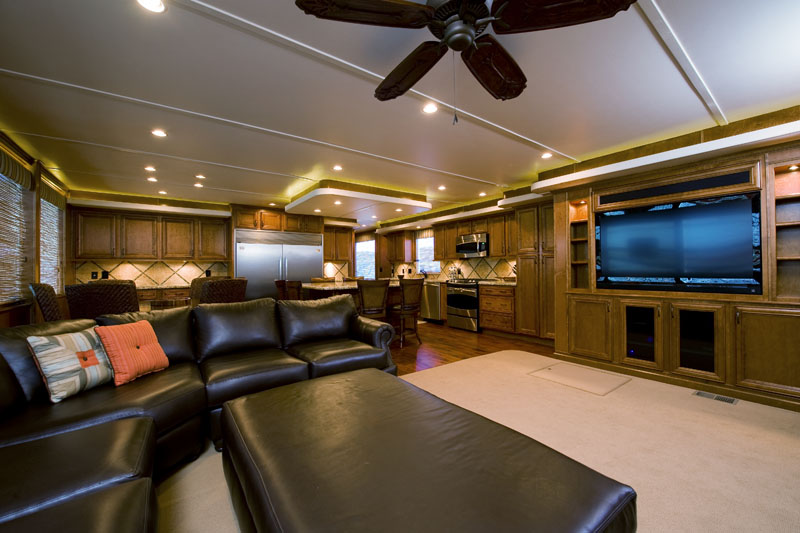 This may not be a superyacht, but Bravada Yachts designs their houseboats to exhibit all the comforts of a luxury home. Photo credit: Bravada Yachts.



For those buyers who are looking for a little extra bang for their buck, it is possible to build a custom houseboat just like building a custom home; however, custom houseboat design is not as common as it once was during the glory days of the industry.

"In the days when the economy was booming, there was a six-month waiting list to get a [custom] boat," Miller said. "I used to build spec houseboats just like people built spec homes. Now many of the manufacturers in the area have shut their doors. Monticello, KY was once called the 'Houseboat Capital of the World,' and there used to be about 10 or more builders to choose from. Today, there are only a few that could build you a boat."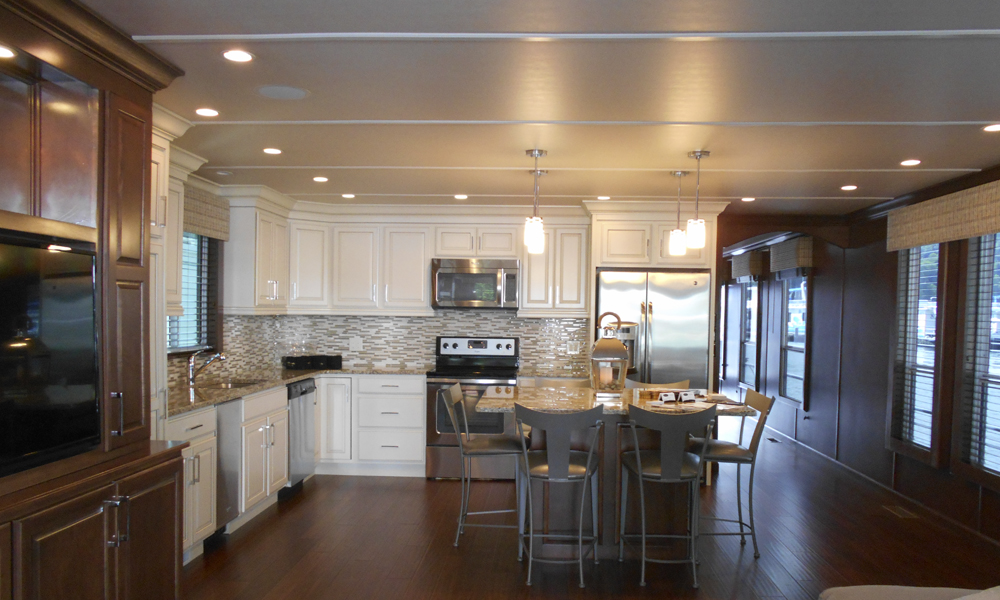 It's hard to believe that this large open floor plan along with this beautiful kitchen stocked with full-size appliances actually lives within the walls of a Thoroughbred Houseboat. Photo credit: Trifecta Houseboats.



A few of the leading manufacturers, including Thoroughbred Houseboats, Stardust Cruisers, and Sumerset Houseboats, still offer custom design and have now joined forces to form Trifecta Houseboats. Consolidating the three brands under one roof, Trifecta was able to expand its manufacturing facilities in Monticello. According to the company, "Each brand will keep its own identity, but will be able to pull their power in the industry together, sharing their vast knowledge and experience."

To learn more about custom houseboat design or renovations from any of these three brands, visit Trifecta Houseboats.

How much do houseboats cost?

With hundreds of houseboat listings on Boat Trader and more than 350 houseboats for sale on boats.com just in the US alone, the houseboat market holds a wide variety of options and styles for buyers to choose from. Almost 95 percent of all houseboats are bought as used, and when it comes to buying a brand new houseboat there are very few left on the market. As of this publishing date, there are only 13 new houseboats listed on boats.com and 17 on Boat Trader—making these floating homes a rare and expensive commodity.

The cost of a four-bed and two-bath houseboat with central heating and air conditioning, full size appliances, and a washer and dryer would typically run about $150,000, but prices can range anywhere from around $1.5M on the high end to between $500 and $1000 for the lowest of the low—depending on the make, model, year, overall amenities, and whether or not it is a multi-owner boat. The houseboats shown below are just two of many listings that provide a good example of the price disparities between different sizes, styles, and years of houseboats.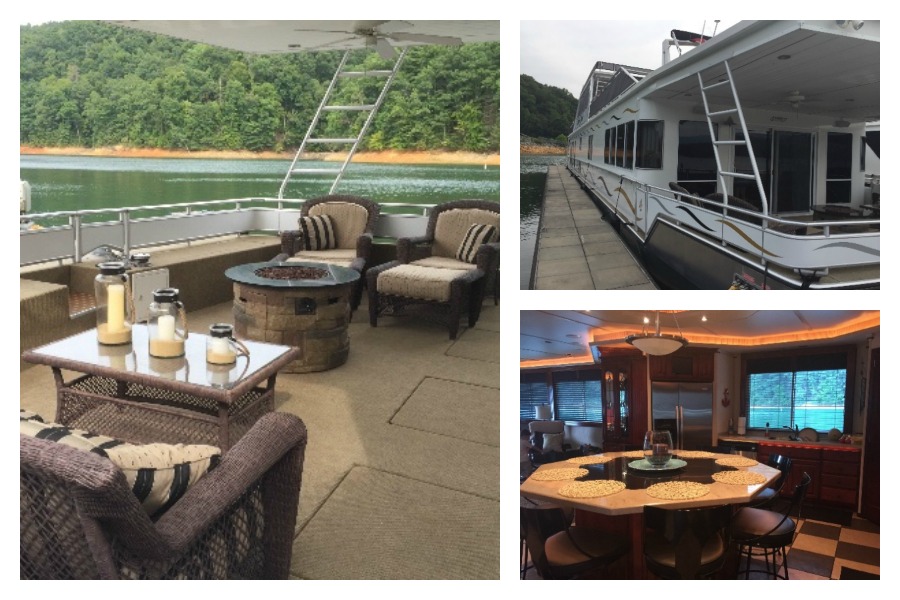 This used 2008 Fantasy Houseboat is listed at $649,000 and is 105' in length. This boat includes four bedrooms with two master suites. View the
Fantasy Houseboat
on Boat Trader.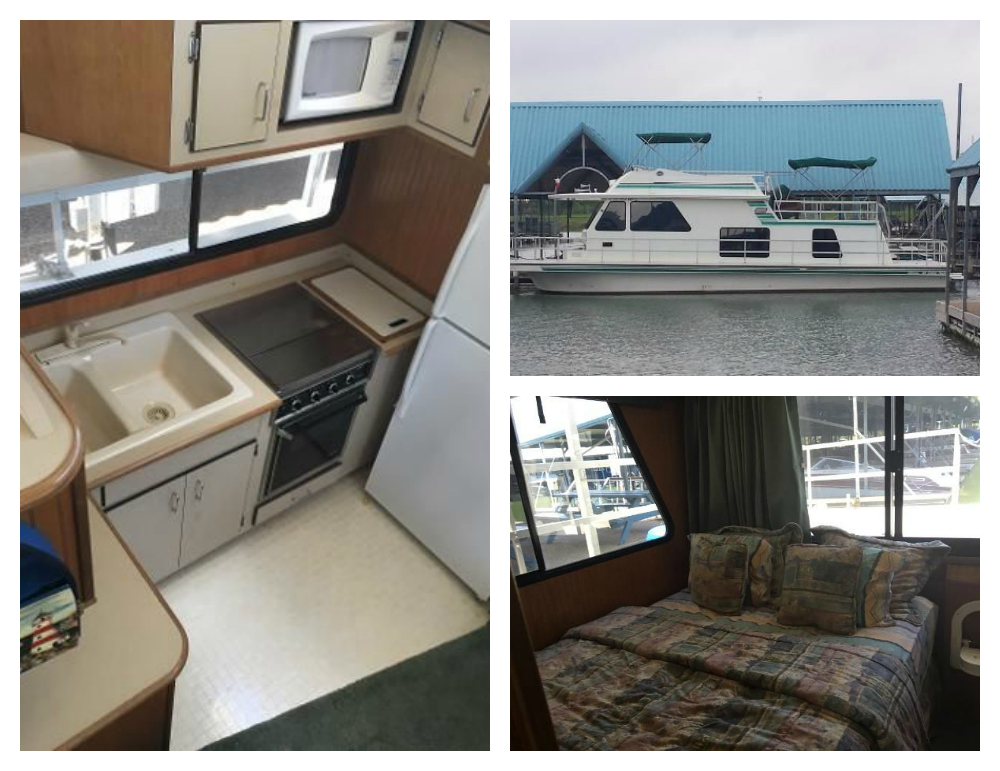 This used 2001 Gibson 44 Houseboat measures 44' in length and is listed for $69,950. It includes a four-seat dinette, a full bathroom with a shower, and a full size bed.

View the Gibson 44 Classic

on boats.com.



Now let's take a look at the financing. Typically a houseboat can be financed with a boat, yacht, or recreational vehicle (RV) loan, but there is another option available which would be considered a floating-home loan. If a houseboat is considered a primary or secondary residence, then your loan is tax deductible. Generally, buyers will need to provide a 20% to 35% down payment, and the mortgage interest rates are usually much higher than a normal home.

Is the houseboat life the life for you?

Call these houseboats what you wish—a boxed yacht, a fancy, upgraded pontoon, or maybe just a relic from decades past. No matter what you call it, there are many loyal owners across the cross the country that call these boats 'home.'