See more articles
Boat Buying for Absolute Beginners, Part I
Ready to buy a powerboat but not sure what would be right for you? Here's how to figure out the right type for your needs.
There is no cure for powerboat fever. Once you catch it, it remains in your blood for the rest of your life. Symptoms include a rabid compulsion to spend every free moment you have on the water and, for the newly infected, every penny you have on the first boat you see.





Try to control yourself. After all, you lived this long without a powerboat. A few more weeks of research won't kill you, and will help you get the most enjoyment for your hard-earned dollars. Too many first-time buyers let their enthusiasm overwhelm their good judgment, and that leads to a big mistake: buying the wrong boat.

Buying a boat is vastly different from buying an automobile. Cars are (pretty much) cars. Whether you buy a subcompact or a sedan, all autos have four wheels and can be used for either getting to work or taking the family on vacation.

Boats are different. A fantastic wakeboarding machine is not well suited for vacation cruises. Nor is an open-bow runabout the best choice for running wild offshore.

With cars, you are limited to three choices of drivetrain: front-wheel drive, rear-wheel drive or all-wheel drive. No matter which of these you choose, the engine will be inside the frame of the car beneath the hood. The choices of power for boats can be bewildering. There are conventional inboards, traditional outboards and inboard/outboard (I/O) stern drives. There are even jet drives and exotic surface-piercing drives. (Relax — we'll tackle power in the third installment of this series.)

If the late Carl Sagan were to describe all of the possible combinations of choices involved in buying a boat, he would probably say you have "billions and billions" of options. The problem is sorting through all the possibilities to find the right boat for you.

What Is Your Goal?



Not long ago, Jennifer (not her real name) announced that she was buying a new 13-foot Boston Whaler. On a whim, she had visited an in-water boat show. It was a somewhat unusual choice of entertainment for a single woman who had never owned a boat in her life. At the show, she fell in love with the diminutive boat.

"It's perfect for my first boat," she said. "I can't wait to get it."

Jennifer earned every one of her gray hairs, which she proudly displays. In other words, she's not a youngster. I pointed out that mature persons often find the low seats typical of 13-foot boats uncomfortable after a few minutes of riding in smooth water, much less the rough stuff.

"Oh, I never thought about that," she said.

"Have you looked at the 15-foot Whaler?" I asked.

"No, I just fell in love with the smaller one," she said.

A day or so later she examined the slightly larger boat and found it was just as "cute" but a lot more comfortable. Jennifer will be tooling around in a 15-footer next season.

The point? Examine all of your options before you make the final purchase. Jennifer never looked beyond the smaller boat. Had she hauled the 13-footer home, she quickly would have found it too uncomfortable for the river cruising she had in mind. However, the slightly larger boat will suite her perfectly with only a modest increase in cost.

Desires and designs



Ask yourself these questions and answer them honestly before signing that purchase contract. Do you want something you can put on a trailer and haul from waterway to waterway? Is entertaining guests with cocktails at sundown the primary motivation for your purchase? Will you do a lot of overnighting? Do your kids have plans to water-ski and wakeboard? Each of these is a valid reason for buying a boat. Each will lead you to a different boat. Consider the activity you'll pursue on the water, such as:



Waterskiing and Wakeboarding— Calm, protected waters are best for these "get-wet" sports. Conventional water-skis continue to give way to wakeboards that allow skilled riders to perform a variety of tricks and aerial stunts.


Dockside Entertaining— There is no better place to enjoy snacks and cocktails with friends than in an open cockpit of a boat. Moveable dock parties are common weekend events in many marinas.


Weekend Cottage— Whether at its home dock or in a quaint port down the coast, a boat can be an excellent summer cottage. The advantage over a cottage is that a boat doesn't have a permanent address.


Vacation Cruiser— The age of exploration didn't end when Columbus "discovered" America. A family vacation discovering new ports of call can be every bit as much exciting as discovering a "New World."


Runabout— For many folks, the only reason to own a boat is to "runabout" on the water. Often, they want to explore shallow backwaters or trailer to a variety of new adventures. Runabouts are usually small, trailerable boats that reflect their owners' personalities.


Time to consider



Remember Jennifer? Her busy schedule as an executive in a large corporation limits the time she can spend on the water. For her, a trailerable boat makes perfect sense. She won't be paying for a permanent dock all those weeks when she's out of town on company business. The boat will be waiting for her in her brother's rent-free garage not far from a launching ramp.

Retired folks like Sam and Bev (again, not real names) often enjoy fishing as a summer pastime. Not only is it pleasant out on the water, but a freezer full of fresh fillets is a boon to anyone on a fixed income. Both Sam and Bev are still spry, but neither wants to go through the work of launching a trailerable boat whenever they decide to go fishing.

So, the retired couple chose a pre-owned Sportcraft 25 for their retirement boat. Designed just for fishing, this boat has a hardtop for weather protection and a large, open cockpit for easy handling of fishing gear. Sam especially likes the live baitwell installed by the previous owner. Bev blushes slightly when she admits the private toilet in the cuddy was what caused her to choose this boat.

Docking their fishing boat in the water at a nearby marina allows the couple to be off for the fishing grounds within minutes of when they arrive at the boat. The only work that Sam does to get the boat ready, aside from loading the bait and Bev's legendary picnic lunches aboard, is removing the canvas cockpit cover.

Ted (another pseudonym) inherited a small family business. For 20 years he never got around to taking a vacation as he nurtured his father's idea into a corporation employing several hundred people. Now, Ted wants to play, and he has the money to play in style. His first boat was a 32-foot Sea Ray express cruiser.

"It was fun, but we wanted more room for the whole family," he said.

In truth, Ted wanted a yacht. He now pilots a mid-50-foot Hatteras motoryacht. Last year, his family (including his grown daughter, her husband and his first granddaughter) spent nearly four weeks on the boat exploring the East Coast. After he retires (two years, he says), Ted wants to cruise the eastern seaboard of the United States.

Jennifer, Sam, Bev and Ted all picked different boats to suit their needs and personalities. For the moment, each thinks he or she has the "perfect boat." But all of their boats are different. The moral of their stories is that "perfect" is a relative term that depends upon what you plan to do with your boat.

Money matters

There is often a tremendous difference between how much money you want to spend on a boat and how much you can afford. Even though Sam and Bev are retired, they are probably in a better position to afford a boat than their children who are in the process of buying houses and raising children.

However, their goal is to go fishing, not to impress the neighbors. A modest-size pre-owned boat suits their needs perfectly without causing them to worry about their modest retirement income.

Some of Ted's motivation for buying a motoryacht was to show off his success. That's OK; he earned the right to brag. Plus, he picked a boat for the serious cruising he wants to do. Finally, Jennifer chose her 15-foot boat not on the basis of cost, but because it fits her busy schedule (and, it's "cute").

Skills and confidence

Boating is an enjoyable activity, but no one is born with the skill needed to accomplish a crosswind docking on a dark night. It takes time to learn how to judge the way a boat will respond to its helm or the distance it will coast forward after the propeller is shifted into neutral.

Most people are a little timid when it comes to handling a large boat. The small size of her new craft was a prime attraction to Jennifer who, in her mid-40s, had never owned or operated a boat previously.

"I want to learn on something small that I can handle before I think about a really big boat," she said.

Ted was also a beginner when he purchased his first 32-footer. However, throughout his life he has been willing to take risks after carefully studying what he was about to do. He treated boating the way he did the everyday risks associated with running a small corporation. Ted attended a safe boating class and studied several books on powerboat operation, such as Reed's Nautical Companion and Chapman's Piloting, during the first winter after he bought the boat. He scratched the fiberglass a couple times in bad docking approaches, but Ted considered those incidents as part of his personal learning curve.

Sam and Bev are an "old-fashioned couple," meaning Sam does all of the driving while Bev enjoys the sun and fresh air. They had owned a variety of boats ranging from their original 16-foot Lyman to a 30-foot twin-propeller Bayliner. Ted enjoyed operating all of them, especially the largest boat because its two propellers made docking easy. Going back to a single-prop boat forced him to re-learn some boat-handling skills.

Sam's first few docking attempts were anything but beautiful. However, he spent an afternoon practicing until he got a feel for his new vessel. And, while Bev refuses to learn how to dock the new boat, she has learned how to operate the controls in case something happens to Sam when they are offshore.

A case for love

The best piece of advice to anyone — beginner or old shellback — is to never buy a boat unless you have fallen in love with it first. You don't want to be blinded by this love into making the wrong choice, but you need to have it. It will sustain you during the frustrating times that come with powerboating.

There is something mystical about the relationship of an owner to the right boat. Jennifer was simply looking for a way to spend a fall afternoon when she spied that 13-foot Whaler. It was love at first sight. True, she has moved up to a 15-footer, but she is still in love with her purchase.

Ted bought his Hatteras because of its classic, yacht-like appearance. It was exactly the sort of boat he could see himself piloting. Sam and Bev were a lot more pragmatic when they picked out their Sportcraft. Yet, they also have a certain fondness for their fiberglass fishing platform.

It's a matter of the heart, a case of love. Just don't let it blind you into making the wrong choice.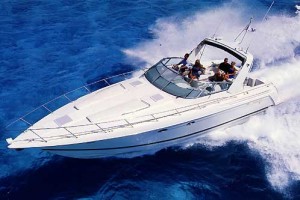 Links to all articles in this series: