See more articles
Five Books for the Do-It-Yourself Boat Owner
Winter is a great time to brush up on your skills. You can do just that by picking up any one of these great, do-it-yourself titles.
I've almost always found boat repairs easier than anything that ever comes up at my house. Maybe that's because of the necessity for self-sufficiency back when I was living aboard, but it also has a lot to do with my well-stocked do-it-yourself (DIY) boating library. Thanks to a handful of books, I've done everything from re-bedding a keel to completely rewiring my boat's electrical system.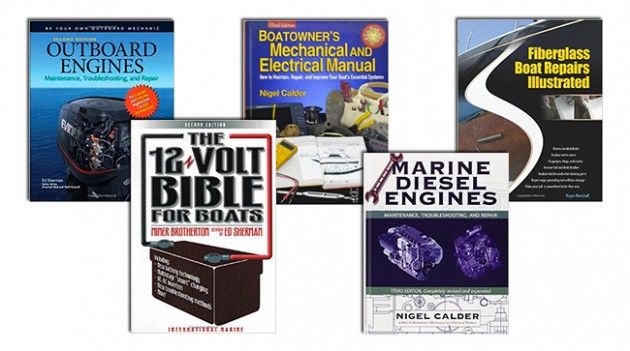 While the books I list are certainly not the only ones available on the subjects they cover, I've read and used each and every one of them. In fact, the covers are falling off more than one. Whether you have a pesky head to unclog or a diesel fuel filter to replace, curl up with one of theses books first and then amaze your dock mates with your new-found nautical knowledge when it's time to do the work.



by Nigel Calder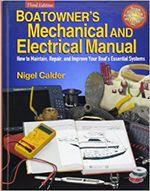 Perhaps the most seminal volume ever written on boat maintenance and systems—and the most tattered and torn in my library—this 832-page "Boat Owner's Bible" is packed not just with simple how-tos, but also with practical explanations that help readers understand the engineering and science behind the systems in their boats. While the book concentrates most heavily on electrical, plumbing, and engine systems, it also covers sailboat rigging, liquefied petroleum and compressed natural gas systems, refrigeration, galvanic corrosion, and more. Illustrated with tons of descriptive diagrams and photos, it's also made easy to understand with simple, plain language. If you were given only one book to have in your library, this one wouldn't be a bad one to pick.

by Nigel Calder


Sure, not all boats are equipped with diesel engines, and many of the ones installed on newer boats are so technically advanced that only a trained technician can service them. But that doesn't mean folks who have them shouldn't have clue as to what's going on under the engine hatch. That's because there are plenty of ancillary things, such as fuel filters, cooling pumps, supply lines, and exhaust components, that require frequent checks or troubleshooting. This book does an admirable job in helping readers understand, troubleshoot, and maintain the components critical to a smooth-running diesel—no matter how complicated it is. The narrative in the book helps readers understand the principles of what makes a diesel engine actually tick. It's a not-to-be-missed book for boat owners with a diesel engine or two aboard.

by Ed Sherman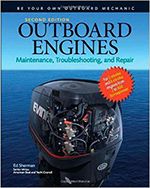 Remember the days when pulling the start cord or turning the key to fire up your outboard engine was akin to spinning a roulette wheel? Yep, there always seemed to be a bit of odds-making involved in whether it would start or not. Today that problem is much less common, thanks to modern two- and four-stroke outboard engines. Still, there's nothing wrong with understanding basic outboard mechanics, maintenance, and troubleshooting techniques, no matter how old or new your outboard engine is. The most appealing aspect of this book, to me, is its completeness, covering outboard engine components and systems from the lower unit all the way up to the top of the engine block. Routine maintenance and troubleshooting are covered in detail, too, helping you to prevent problems before they occur, and explaining how to fix them if they do pop up.

by Miner Brotherton and Ed Sherman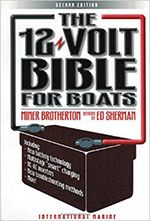 It's a fact that most folks own boats that are less than 30 feet in length. It's also a fact that the majority of those boats are powered—in one way or another—by 12-volt electricity, making this book an essential companion for the DIY boat owner. While you might only have a small bilge pump and a couple of navigation lights powered by a lead-acid battery on your boat, understanding how 12-volt, direct-current electricity works is essential to making repairs or building new systems—no matter how simple or complex your system is. This book covers everything from the theory behind that electricity to real-world jobs, such as selecting the proper wire when installing a new electrical circuit. Also included are essential troubleshooting and maintenance skills, including how to use a multimeter to diagnose problems, and properly caring for your batteries. If amps and alternating currents sound like dark wizardry to you, this is the book you've been looking for.

by Roger Marshall


My dad could have used this book when he tried to piece back together our beloved green Sears and Roebuck Ted Williams Gamefisher skiff back in 1978. Let's just say the repair to the crack in the hull didn't last long. Maybe if he'd read chapter seven of this book, which includes a "How to repair major grounding damage" project, old greenie would still be afloat today. There are all sorts of other projects in this book—both small and large—but its real worth is in providing the reader with an understanding of the resins and materials that are a part of any fiberglass boat repair. I used this book to make a substantial repair to the foredeck of my 1978 Columbia 8.7, which involved removing rotted balsa core, replacing it, and then re-laminating the deck. Simpler cosmetic repairs, such as gouges in gelcoat and mending deck cracks, are also covered. No matter what level of repair you're considering, this is a handy guide to have.