See more articles
Getting Tough Stains Out of Gel Coat
Remove tough stains like rust out of the gel coat on your boat with this process.

Do you want your boat gel coat to glitter in the sunlight? Of course you do. We take pride in how our boats look, and we want them to look good. But with age and use, just about every boat out there is going to get stains and discoloration in the gel coat.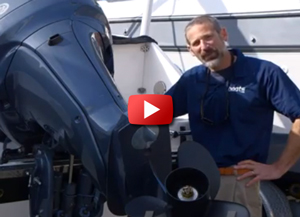 Step number one is getting off the easy stuff with some elbow grease. In fact, you can watch our video on How to Restore Faded Gel Coat on a Boat if that's a problem with yours. But sometimes, you face really tough stains. Regular spray-on cleaner may get up most of the dirt, but uh-oh, I think I just found one of those stains. This is a rust stain, and they can be the toughest to get out. I need some help. Chris!

Chris Breeden, Service Manager/Yamaha Master Tech: Lenny, for tough rust stains you're going to need to use an acid-based cleaner.

Lenny: Why are you wearing gloves?

Chris: Well, this is some pretty nasty stuff. You don't want to get it on your skin and you don't want to breathe the fumes.

Lenny: Now one of the things I've been told is that after using an acid-based cleaner, you need to rinse it away thoroughly.

Chris: Absolutely, or it can discolor the gel coat and pit metals. Alright - we have the stain off, and now we need to put a good coat of wax on there.

Lenny: That's right, because that acid strips away all the wax, doesn't it?

Chris: Definitely.

Lenny: There we go. Now, she's gleaming from stem to stern. If your boat has some tough gel coat stains, don't let them ruin your day.

Watch How to Restore Faded Gel Coat on a Boat.

For an overview of painting projects on all exterior surfaces — topsides, deck, and bottom — read How to Paint a Boat.