See more articles
How to Launch, Retrieve, and Load a Boat on a Trailer
Launching and retrieving a powerboat at the ramp might seem like a big deal, but it's really not that difficult once you get the hang of it.

Here are 10 simple steps to follow for launching:

1. Before you get onto the boat ramp, pull off to the side of the road or into the parking lot and prep for the launch without blocking the ramp.

2. Pull the trailer lights. That way you won't blow a hot bulb when it hits the cold water.

3. Load all your gear into the boat.

4. Remove the transom tie-down.

5. Get a line ready to tie to the dock.

6. Don't forget the plug!

7. Back down the ramp far enough so the boat starts to float and the outdrives are submerged.

8. Apply the parking brake.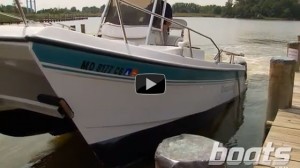 9. Release the bow hook.

10. Back the boat into the water.

When you're ready to haul out again, just drive it gently onto the rollers or bunks. Be careful not to submerge the trailer too far, because then the bow will wander off the trailer.

Tilt the motor up, attach the bow hook, and you're ready to go back to the parking lot and secure the boat for the trip home.