See more articles
Jon Boats: The Ultimate Guide
Jon boats are popular for their affordability and durability. Let's dive into the ins and out of these flat bottom fishing boats.
Jon boats are some of the most popular fishing boats in the Unites States, and have earned their reputation as one of the most sought-after fishing boats in the market primarily due to their affordability and sturdiness. They excel not only in general fishing endeavors but also in specialized boating activities such as trot line crabbing, waterfowl hunting, and even the daring pursuit of gator wrangling. If you're contemplating whether a jon boat is the perfect fit for your needs, let's delve into the intricate details and explore the world of these versatile freshwater fishing vessels. Prepare to uncover everything you need to know about these exceptional boats.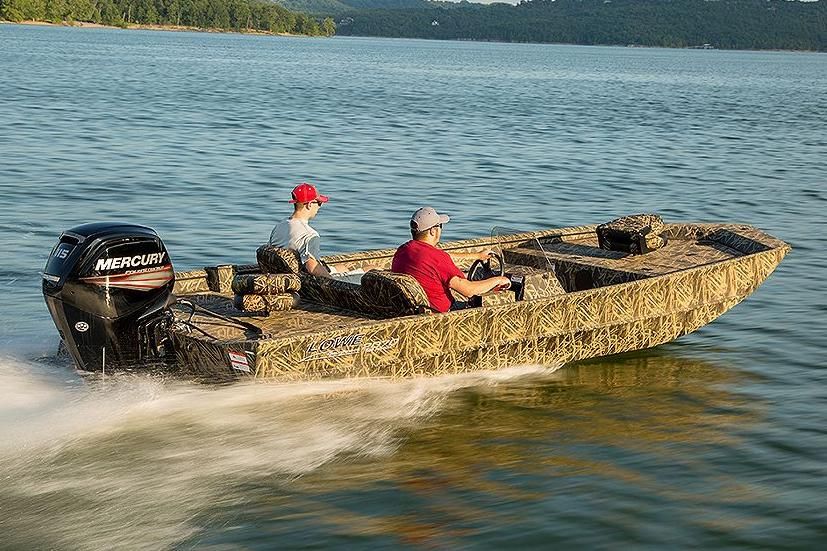 What is a Jon Boat?
In simple terms, jon boats are flat-bottom boats made of aluminum. They are relatively small vessels, usually fitting into the under-18-foot category. Typically, their bows are squared-off or partially pointed to maximize interior volume and stability. You can find small, basic jon boat models with no accessories apart from a hull and bench seats. You can also find larger models outfitted with features like live wells, casting decks, and swivel seats — these can function as basic saltwater fishing boats. While there are no firm distinctions separating a jon boat from a skiff boat or bass boat, jon boats are usually the most minimalistic and least expensive of the three.
Jon Boat Build & Design
Though you may spot a fiberglass model on a rare occasion, the vast majority of jon boats are made of aluminum. In many cases, jon boats are outfitted with bench seats which do double-duty as structural members. The same is true for small raised foredecks. Along with these, the boat depends on ribs for added structural support.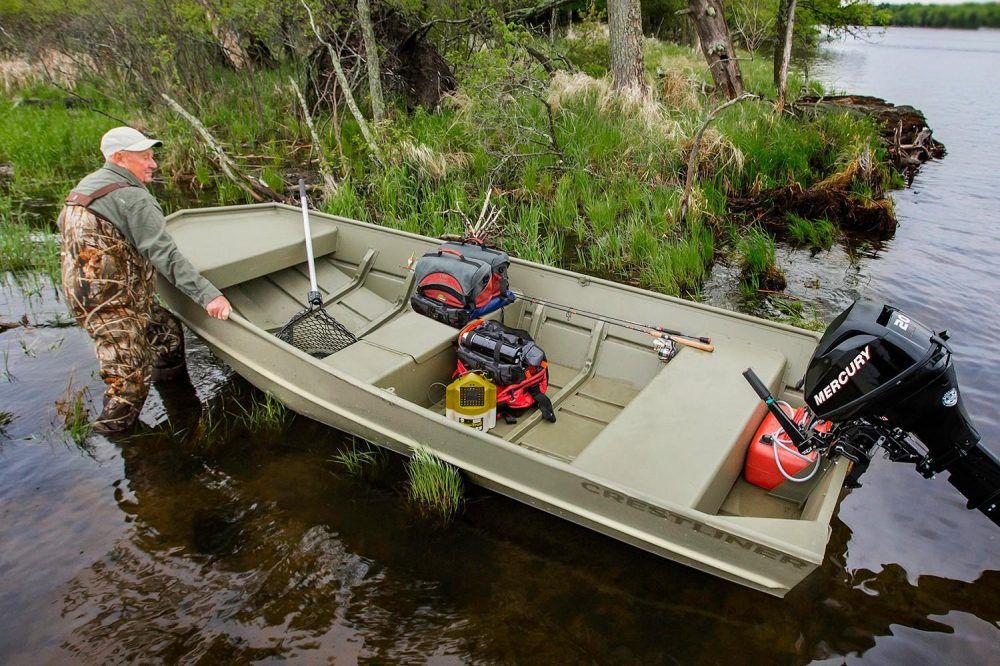 Ribs
The spacing of ribs is critical on a jon boat. As a general rule, the closer the ribs are to each other, the stronger the boat will be. Of course, the optimal rib spacing is also relative to factors like boat size, the presence of bench seats, and the thickness of supports. Larger jon boats may also have stringers, or structural supports running fore and aft instead of side to side. Smaller models may have ridges or channels that also run fore and aft in the bottom to add strength and rigidity.
In most jon boats, the ribs are exposed, which makes it easy for boaters to trip. Many people add a sheet of plywood to cover the ribs and serve as decking. On larger, pricier models, manufacturers may offer aluminum or ply decking. While covering the ribs increases cost and weight, many jon boat owners prefer this add-on.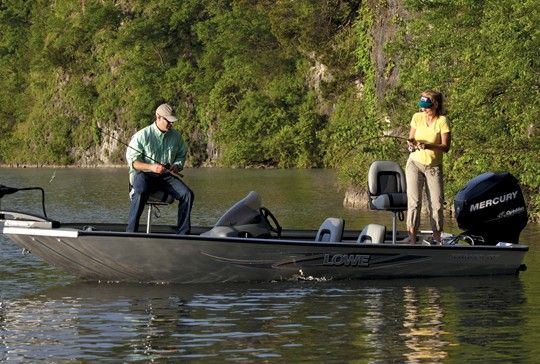 Hull Thickness
The thickness of the aluminum in the hull and hullsides are also indicators of the jon boat's strength. Thickness can vary greatly depending on boat size. For example, on a 10-foot car-topper for rowing in ponds and coves, the hull may be as thin as 0.05 inches. On the other hand, the hull will be twice as thick on a rugged 18-footer that carries a 90 or 100 HP outboard. As you may expect, the thicker the aluminum, the tougher the boat and the better the construction quality. Still, hull thickness comes with a tradeoff — the thicker the aluminum, the heavier the boat. This is an important consideration since a jon boat's light weight is part of its appeal.
Riveted vs Welded
Jon boats are typically either riveted or welded. In the past, you would want to weigh the pros and cons of these construction methods. At one time, it was common for riveted boats to leak after several years of hard use. However, construction methods have evolved and largely eliminated this issue. So are riveted or welded boats better? We say it's a toss-up.
Power Options
Due to their lightweight and easy-to-plane hulls, jon boats usually require smaller outboards than other boats of the same size, especially fiberglass boats. Small motors provide plenty of power for a jon boat and lower both the initial cost and running expenses.
When it comes to powerplants, you can find a huge mix on jon boat models. Of course, some jon boats don't have a power plant at all – many pond-hoppers are powered with oars alone. Jon boats for larger ponds or small lakes often have a transom-mounted electric motor. This only costs a few hundred dollars and can power the boat at jogging speed for several hours of running time.
There is also a lot of variation with gasoline powerplants. On smaller models, an outboard with five or six horsepower can get a lightly-loaded boat on plane and cruising. At the opposite end of the spectrum, models like the Crestliner Retriever 1860 can hit over 40MPH with the right power.
Have a specific lake in mind for boating? Check if it has any parameters regarding what kind of power options are allowed. Some lakes require electric outboards. In this case, you'll want to look for a manufacturer that outfits electric instead of factory-installed power. Electric trolling motors are a decent option and come in handy for bass fishing.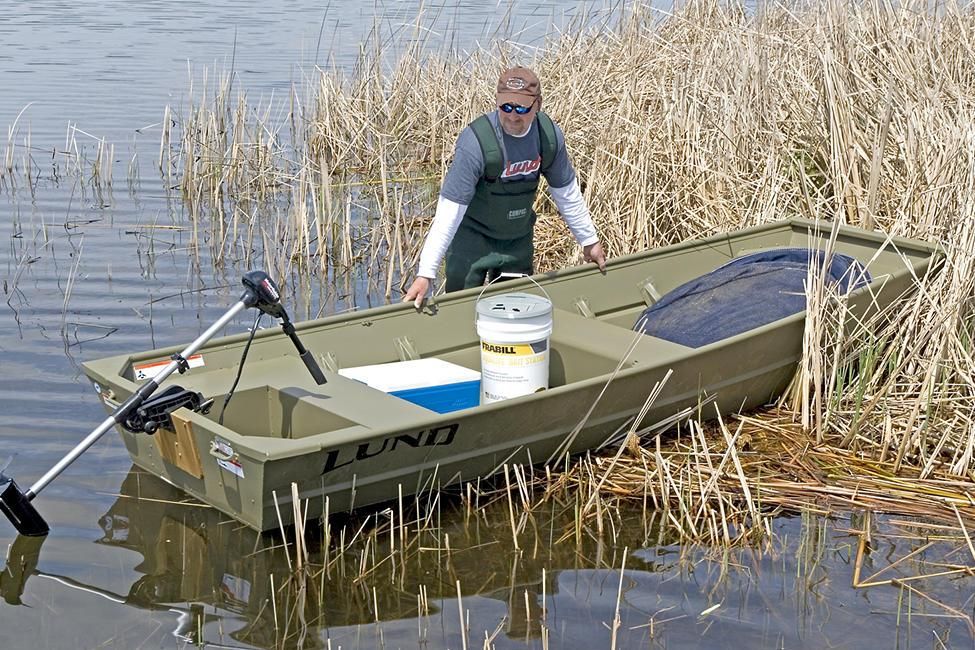 Jon Boat Accessories
While jon boats are known for their simplicity, you can always jazz them up with accessories, add-ons, and customizations. Up-sized power and trailer packages are especially popular — these can bump your boat into higher-level fishing categories. Additional seating, stowage compartments, livewells, track mounting systems, and decking are standard add-ons. Stowage options can range from locked rod boxes to gun boxes for hunting. Track mounting systems allow you to outfit your boat with activity-specific gear, like tool and cup holders. Basic electronics like fishfinders or chart plotter-combos are also preferred accessories.
Features like remote steering and a center or side console can be added to this list. This is a topic that tends to spark debate among boaters. Some argue that a jon boat is no longer a jon boat once you add steering systems and consoles. Of course, boaters in a different camp may choose to deck their jon boat out with extras like folding Bimini tops, stereo systems, and foam decking pads.
External customizations like slick paint jobs and camp patterns are also favorites. Most bare-bone jon boat models also have specialty versions with names like "Panfish Boat," or "Multispecies Boat.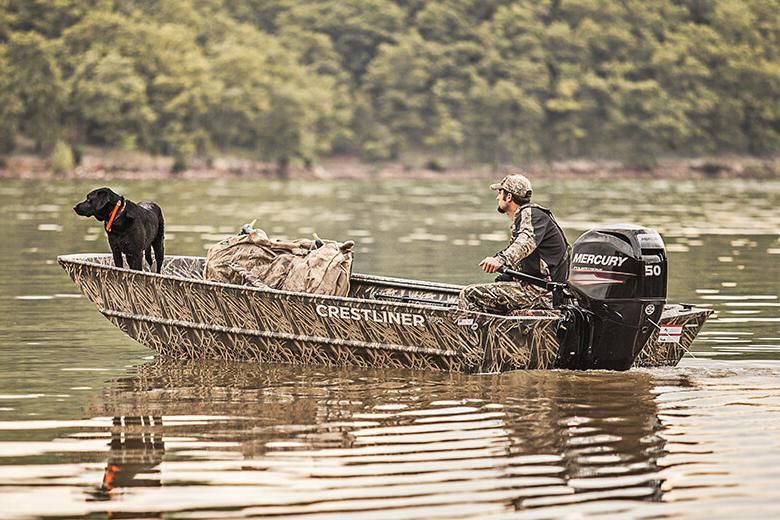 Is a Jon Boat Right for You?
It isn't hard to see why anglers and hunters gravitate toward these durable, flat bottom boats. If you want to cruise shallow waters on a vessel that's affordable and simple in nature, a jon boat fits the bill. Check out this guide for more tips on choosing a fishing boat.