See more articles
How to Rig and Hot-Rod a Soft Plastic Fishing Lure
Fishing gurus Shawn Kimbro and Lenny Rudow take you through how to rig and how to Hot-Rod soft plastic lures and jigs, in this short video.
If you ever use a soft plastic fishing lure or jig, this video is a must-see. In it, Shawn Kimbro (the author of Chesapeake Light Tackle) and I show you how to rig soft plastic lures and jigs, and also how to "Hot-Rod" them.

Just what does it mean to Hot-Rod a lure? It's a way of adding color contrast, to make the jig more visible and appealing to the fish. So check out this short video clip taken from the Got Bait? fishing series. Whether you fish for striped bass in the Chesapeake Bay, largemouth bass in reservoirs, or anything in-between, knowing these rigging tricks is a must.


Now that you have a firm handle on how to rig soft plastic jigs—either to maximize longevity or to maximize the action, as Kimbro and I explained—you can gather more fishing tips and tricks by watching the entire episode: Got Bait? The Search for Stripers.

And if flounder is your prey species of choice, check out the pilot episode, Got Bait? The Hunt for Flounder. Offshore anglers will want to watch episode three of the series, Mahi-Mahi Madness.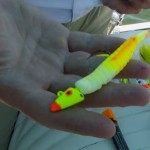 All three of these Got Bait? videos are chock-full of serious fishing tips, coming from expert anglers who joined the usual crew for a day of fishing. And remember, in each episode, we answer the question: which is better, bait or lures? Yes, the answer does vary from species to species and situation to situation. But whatever that answer is, one thing is for sure—you'll be a more effective angler, after watching the Got Bait? series.