See more articles
Teak Wood Care: Boat Maintenance Tips For Wood Decks And Trim
From teak wood cabinet doors to teak railings, trim strips and moldings, our experts lay out the basics to provide the best care for your boat.
Teak wood has been a favored material among boatbuilders for generations. Teak is a tropical hardwood that has a legendary resistance to water, and teak's durability is why it is still used today to build everything from hulls to decks to decorative trim aboard boats of all kinds. Interiors, exteriors, even deck furniture is made of teak. This regular use of teak in boatbuilding, of course, means that boat owners need to know how to care for the wood. There are two schools of thought about how to care for teak – by letting it weather naturally, or, by using teak oils, sealers and varnish to help preserve it.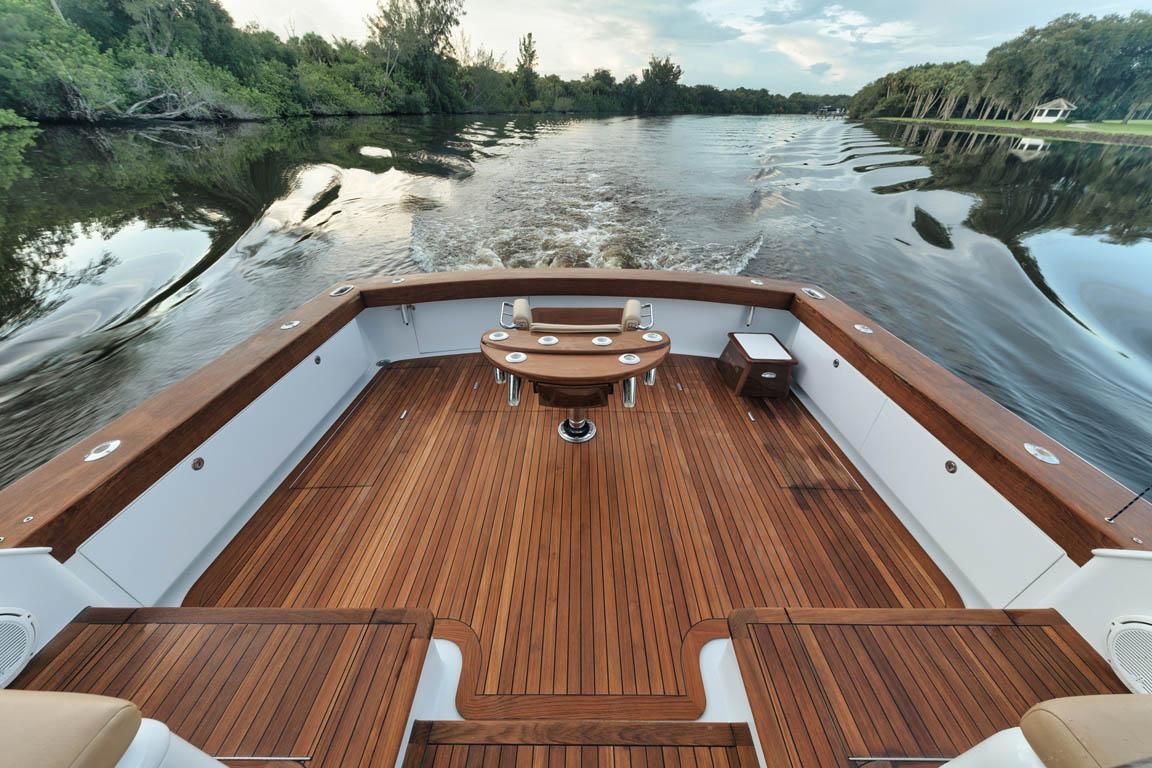 Teak wood decking. on a 1986 Jim Smith Custom 60 Sportfish Convertible Yacht. Image credit: United Yacht Sales in Stuart, FL.

Let Teak Weather Naturally

Depending on where a boat is kept, teak will weather differently, albeit naturally. In tropical waters such as the Caribbean, teak tends to turn a bright silver-gray and look almost stately. In colder climates such as the Great Lakes, teak can turn almost black and look, well, filthy no matter how clean it actually is.

And teak is, after all, wood, which means that if it's left unprotected in the elements, it will eventually check and split. Thinner trim is likely to succumb faster than thicker slabs, but wherever splits occur in a boat, the teak must be removed and replaced. Boaters can protect the wood using teak oils, sealers and varnishes.

Teak Oils and Teak Sealers

Teak oils and sealers both will protect the wood, and some teak oils claim to be ultraviolet-resistant. The idea behind teak oil is that it soaks into the wood and replaces its natural oils, making it less brittle and more resistant to water seeping in.

Teak oils come in numerous brands and finishes; some have a pigment to them that can give teak on a boat the appearance of being freshly sanded. Most teak oils last only a month or two—and not even that long in harsh conditions—which is why some boaters turn to teak sealers.

A teak sealer is just what it sounds like: a product that does a better job of actually sealing the wood, providing UV protection and, usually, lasting a while longer than teak oils. Teak sealer also has benefits such as withstanding mildew, and it comes in clear as well as tinted varieties, so if the color of teak on a boat is already ideal, the wood can be sealed without changing its look.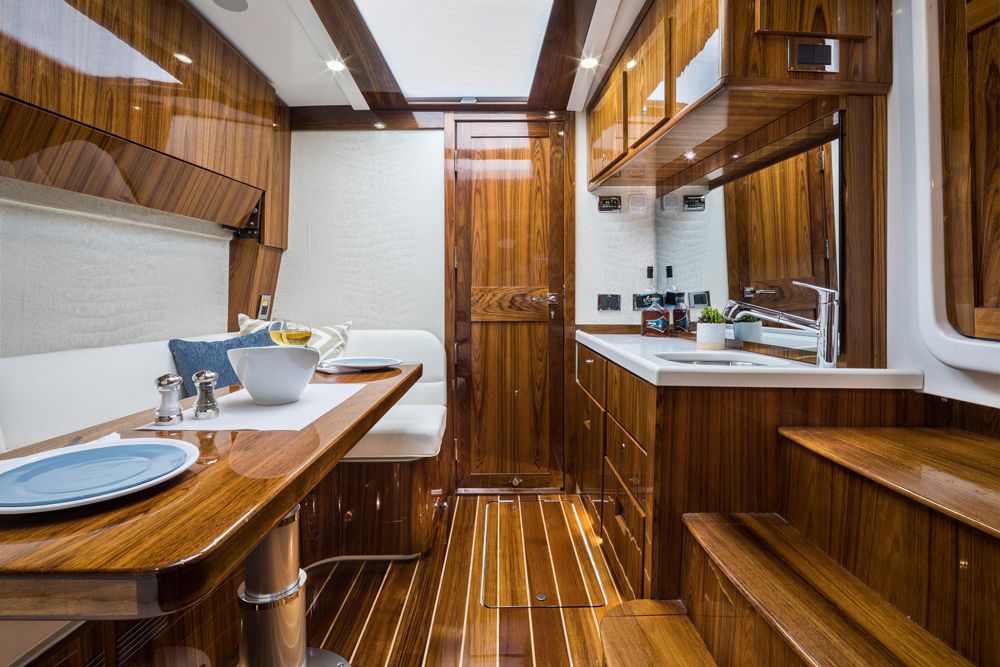 Varnish for Teak

If a high-gloss, hard surface is the goal, then UV-resistant varnish is the way to go with teak. Like many woods, teak can be varnished until it's smooth and glossy. The wood's natural oil is removed using a cleaner, sandpaper and acetone, and then several coats of UV-protective varnish are applied. Different varnishes come with different recommendations; some varnishes should be thinned for the first coat that's applied, so it can seep into the teak the way water might.

Varnishing, of course, is done in layers. In between coats of varnish, the teak needs to be sanded and then gone over with a tack rag to remove dust and grit. Three, four, five, six coats of varnish are typically used—it all depends on how hard the boater wants to work, and on how rich and glossy the finish is expected to be. To achieve a polished look some classic Italian boat building companies such as Como Classic Boats uses up to 34 coats of varnish on every boat they build!

As for color, teak varnish comes in clear as well as tinted versions. Manufacturers offer everything from "quick dry" to "rubber effect," with satin, gloss and matte finishes. Which varnish is the right choice depends on the boat, the desired effect and the budget. Any good marine-supply store or chandlery can help compare and contrast the available options.

How To Clean Teak Wood
Simply wash it regularly as you would wash any other deck. Use saltwater to wash it down and use a soft brush (animal hair works best) gently scrub across the direction of the grain.
Caring For Teak Ladders


Companion ladders are frequented areas, thus we recommend using an abrasion resistant and skid-proof coating.

Q&A
What is teak wood and where does it come from?
Teak is the common name for the
tropical
hardwood
tree species
Tectona grandis
which grows in mixed hardwood forests.
Teak can only be found in four or five countries worldwide including
India
,
Indonesia
,
Malaysia
, and
Burma
, Africa and the Caribbean and Burma.
What are the benefits of using teak wood?
The natural oils and rubber found within the grain of the wood. They are locked in tightly to protect the tree, eliminating the need to add weatherproof oils to the wood. The teak's natural oils also waterproof the wood and protects it from dry rot which is why teak furniture is so popular.
Why is teak so expensive?
Naturally grown teak takes over 20 years to grow and subsequently teak forests have depleted and
some types of teak are on the threatened species list
. High-quality teak takes 40-80 years to get a large enough tree to produce the softness and length required for teak decking.
How sustainable is teak?
Something to be mindful of is that teak's eco-credentials don't look great. Due to the fact that teak takes a long time to grow, supply is short, and illegal logging of rainforests is taking place in Myanmar, one of the only four countries in which the species grows. Surprisingly, importing illegal timber into the EU hasn't stopped the trade. While you may be buying teak that comes from a sustainable plantation, it is worth doing your research to find out where exactly it comes from.
What are some alternatives to teak wood?
Teak alternatives have been available for years and are widely used. In many cases they also offer multiple advantages over real teak, including better longevity and affordability. Some alternatives include:



Cork




Modified softwoods




Expanded foam




PVC



If you want to use natural wood
Kebony
is great treated maple that has a close resemblance to teak but lacks the soft, honey colour of newly sanded teak. Over time, it gradually changes appearance until it looks identical to teak.
For more boat maintenance tips, read:
Editor's Note: This article was originally published in August 2000 and updated in January 2018 and June 2021.