See more articles
Towing in Mountainous Terrain
When you're towing a boat, hills make it harder.
In this, the third installment of the boats.com Tips for Boat Towing video series presented by Ram Trucks, we tackle a tough trailering challenge: towing a boat through the mountains. To film this one we headed out into the Appalachians, towing a 24 Everglades behind our Ram 1500 Outdoorsman. If you think you might ever need to haul your boat through mountainous terrain, be sure to watch this video, first. Click on the photo below:


Yes, the Everglades is a saltwater fishing boat, yes it did look a smidge out of place in this territory, and yes, we did raise a few eyebrows along the way. In fact, at one point we even had a lawnmower repair-man offer to trade a riding mower—no wait, two mowers—for the Everglades. Sorry buddy, nice try though.

Still, this 5,000 pound boat and motor serve as a valid test for this task, because many freshwater boats used in the mountains are just as beefy. On top of that, many boaters who usually use their boats along the coast vacation out west, and will have to pass through some steep grades on the way. In all cases (even if you're towing a utility trailer, a horse trailer, or a camper, for that matter) the bottom line remains the same: you need to keep focused on issues like getting started on an incline, "burst" braking, passing, using side-view mirrors instead of the rear-view, and all of the other things we mentioned in the video.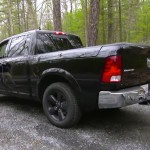 Going up and down steep grades is, of course, only one of the many challenges we trailer boaters face. Right now, you can learn how to stay safe by watching Safety Tips for Trailering a Boat. And you hunters should be particularly interested in How to Tow Hunting Boats.

And in the next few weeks we'll also be releasing how-to videos covering topics like what to look for when choosing a new tow vehicle, launching and retrieving a trailer boat, and how to back a boat trailer like a pro.