See more articles
What to Look for in a Tow Vehicle
If you trailer your boat, you know that what you tow with is just as important as what you're towing.
Whether you're currently towing your boat with a Ram, a Ford, a Chevrolet, a Toyota, or a whatever, you already know that choosing the right tow vehicle is not an easy decision. Each of these brands has its own plusses and minuses, and figuring out which will best serve your needs can be more than a little confusing. So for one of the videos in our Tips for Boat Towing series we decided to address the issue and look at all the different factors that come into play when choosing a new tow vehicle. Click on the photo to watch:


Now, one would naturally assume that we're biased since Ram sponsored this towing series. Yes, it's true we used a 1500 Sportsman as our only example in this video, and we didn't also look at the specific features some of the Ram's competitors have. But across the board, all of the specifics, variables, capabilities, and requirements we point out in the video are valid. No matter what tow vehicle you use you'll need to consider things like hitch class and capacity, gross combined vehicle weight, torque and power, and also little extras like the towing mirrors and back-up cameras.

Of course, there are a few other minor but still important factors that will come into play. Which truck interior do you like the most? Which seats do you find most comfortable? Which tow vehicle do you find most pleasing to the eye? What fuel economy do you find acceptable? And, of course, just how much can you afford?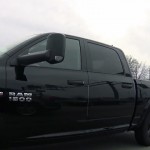 By now, no doubt, you recognize just how complex a decision this really is. So plan to take your time with it. Do your research, take all of the candidates for test drives, and make sure you consider all of the variables we've covered in this video.

Oh, and by the way, that Ram 1500 Outdoorsman? While I can't be 100-percent objective in this case since I didn't use its competitors for the same tasks at the same time in the same place, there is one thing I can tell you for sure. I used it to tow a 5,000 pound rig up and down hills and even mountains (watch Towing in Mountainous Terrain – Hills Make it Harder), and put close to 700 towing miles on the odometer. After that experience, heck yes, the 1500 Outdoorsman would be a serious contender if I were buying a new tow vehicle tomorrow. It may not be the right final choice for you, but no one should eliminate it from contention without first giving it a good, hard look.

In the meantime, whatever your tow vehicle may be, here are some other videos and articles we've produced about trailer boating and towing boats. Give them a look-see, and you'll be a better trailer boater.

Safety Tips for Trailering a Boat
How to Tow Hunting Boats: Trailering, Launching, and Retrieving a Boat on Sand and Mud
Boat Trailering Tips from an Expert