See more articles
Düsseldorf Boat Show 2020
In its 51st edition, the 2020 Düsseldorf Boat Show ("boot Düsseldorf") hosted nearly 2,000 exhibitors from 70+ countries who made the journey to showcase their boats, equipment, accessories and services in 17 halls that provide nearly 2.5 million square feet of space.
"boot Düsseldorf" 2020 Wrap Up

If it's in, on or under the water, it has a place at the world's largest land-based boat show!

Each year in January, the massive Messe exhibition center in the German city of Dusseldorf puts on boot (no capitals), the boat show to end all boat shows. For anyone active in water sports, this is a can't-miss event.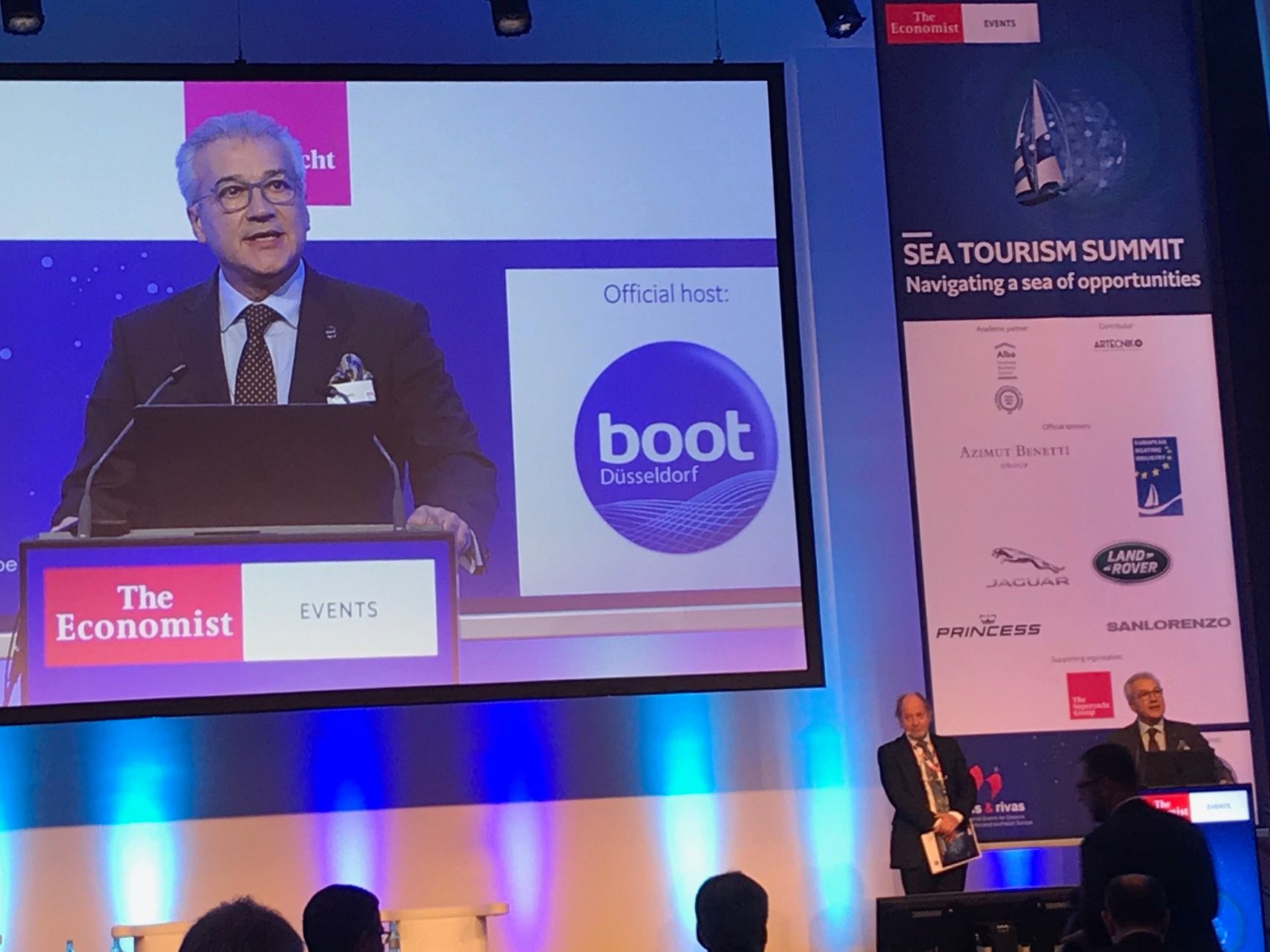 Photo By Zuzana Prochazka

In its 51st edition, boot 2020 hosted nearly 2,000 exhibitors from 70+ countries who made the journey to showcase their boats, equipment, accessories and services in 17 halls that provide nearly 2.5 million square feet of space. Annually, a quarter million attendees from over 100 countries come during the show's nine days to check out power and sailboats, kayaks, kite surfing boards, water skis, and SUPs. An entire hall is dedicated to diving equipment with another enormous space focused on underwater photo gear.

Eighty-foot power yachts from builders such as Princess, Ferretti, Pershing, Presitge and others tower over show goers. Hulls from Beneteau, Azimut, Absolute and some European brands we don't even know on this side of the Atlantic are on display in heated comfort with a raised gallery from which to get a bird's eye view of the behemoth yachts elegantly arranged below.

Sailboats and sailing multihulls from HH, Lagoon, Jeanneau, Hanse, Solari, Arcona and Elan are packed into two dedicated halls. Smaller designs are shown complete with keel and full rig. Given that the boats aren't in the water, exhibitors add extra creativity to their presentations of the hulls. Large models have to forgo either their keels or masts so they can fit inside. This year, new model introductions included Dufour's 530, Bali's 40 Catspace, Moody 4 and the Excess 11 catamaran among others. Acres of sailboats piled side-by-side created a dreamlike toy store ambience. It was a sailor's Christmas for sure.

Each year, trailer and towboats, RIBs and PWCs, houseboats and every kind of floating board, ski and fin fill numerous halls. With nearly 1,500 boats of all kinds, there is something for everyone. Even superyachts are represented with premier design firms and yacht transport companies enticing buyers to dream (really) big.

Charter vacation companies, sailing schools, tourism boards and nautical artists come together in the city by the Rhine. Boaters, divers and kite boarders meander the aisles snapping up apparel from Musto and Helly Hansen or marine electronics from Raymarine and Furuno. In 2020, Quantum Sails was on hand to offer their latest laminates and Dometic launched a line of new electric coolers, complete with a newly-designed portable lithium ion battery.

Because boot is early in the calendar year and because it's such a draw, many global manufacturers use this venue to launch new products and concepts. This year Torqeedo announced a partnership with ZF Marine while Dutchcraft announced the world debut of their all-electric 25-foot model still in the prototype stage. Electric propulsion was a focal point this year as the concept of sustainability found its way into nearly every discussion. Environmental issues even made it onto the agenda of the Sea Tourism Summit hosted by The Economist held on Friday, the day before the show opened.

Boot is not just about seeing and shopping but also about taking part and testing out some of the goods. Divers can try out the latest wet suits, masks and regulators as they take a dip into a giant tank. Kids and adults alike become dinghy sailors with large fans creating "wind" over an open pool. Surfing demonstrations are held on "The Wave" – a five-foot high and 30-foot wide wall of water where some attendees don wetsuits and ride a rush of whitewater in front of hundreds of spectators. A meandering lazy river is a test site for kayaks and canoes where paddlers wind around an "island" built complete with grass patches. For the over-stimulated, there were on-water SUP yoga classes.

It can take days to thoroughly cover boot and it's good to break it up into a few sessions. When it starts to become a blur, hop on the subway that has a terminus right at the convention facility and ride down to Dusseldorf's Altstadt (historic old town). Public transport is free with a boot ticket. Stroll along the river walk watching barges fight the current on the Rhine, shop along the pedestrian mall and tuck into some traditional German schnitzel washed down with steins of local brew at Zum Schiffchen, a traditional beer hall and restaurant. Or take a train from the Hauptbanhof, the main train station, to Koln to visit the city's 800-year-old cathedral.

Of course, boot isn't just for old hands. Newcomers to boating can take a virtual boating test drive with reality glasses and an actual steering wheel and throttles to hold. Expert advice is available on a variety of topics including budgeting for a boat purchase, chartering tips and how to get a boating license. Multiple seminars are offered throughout the venue over the course of the nine days.

The pros visit boot as well. The second weekend is packed with exhibitions and contests featuring professional athletes. Spectators can watch WAVE and short-track master competitions as well as the European Skimboard Cup 2020 championships. There's even a tow-in windsurf contest for best freestyle surfers showing off tricks and jumps on the flat-water pool.

The show is also a big draw for marine journalists. More than 2,000 writers from 45 countries visit the show to cover the advances in technology and new product launches. It's not unusual to see journalists dashing from one press conference to the next, especially over the first four busy days. The show's media team puts together helpful listings of presentations and hospitality events to make navigating the many conferences possible. What happens in Dusseldorf circulates quickly throughout the world via dozens of magazines, websites and newspapers.

Usually, nearly a quarter of show goers are first time visitors for the show that has been running since 1969. Maybe you should be one of them next year. Plan a winter trip to boot 2021 to be inspired, awed and entertained. It's also not a bad way to escape winter for a little while as you stroll, shop and learn about all things nautical.