See more articles
Exceeding Expectations, the Galati Way: Part 2
How do five siblings not only work together but earn recognition as Boating Industry top dealer, two years running?
(For the beginning of this article, read Part 1.)

Reflecting on the statistical likelihood of a family businesses failing when passed to the next generation, Mike Eiffert said that the Galatis had beaten the odds because their parents instilled in them how to work together as a team. For the kids, however, there was little doubt. "How could we not be successful?" Fran said to me. " To us, it's normal that we'd be working together."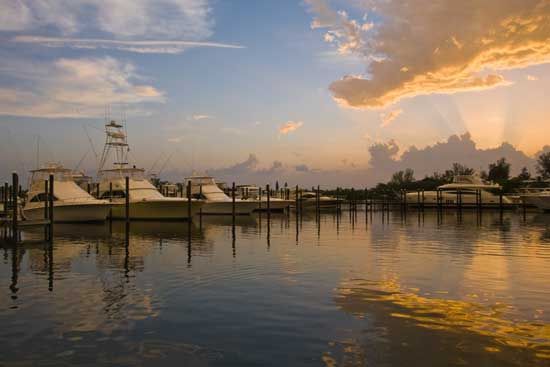 Today, the five siblings run the business, along with Darren Plymale. And not by trying to preserve the past: Just as their father did, the Galati siblings have often changed gears in managing their business. They've bought and sold yards, spread themselves out geographically, taken on new product lines, and relentlessly identified weaknesses, then come up with solutions. In the process, they've grown the business tenfold. "Our father taught us business, not the marine business," Joe said.

Although they aren't big on titles, Joe, the oldest, is the president and business leader. The others have each found a niche in which they operate effectively, putting their talents to good use.

Joe is soft spoken, a good listener, and was head of sales for a long time. He now covers Marquis, Tiara and Cruisers lines. Joe opened an office in Destin in 1999 to expand the business up Florida's west coast.





Carmine's trademark greeting — "Hey Buddy" — is known throughout the marine industry. He was the service manager for "17 years, 3 months, 2 days," then passed the job to Mike. Now he's head of sales for Viking, Viking Sport Cruisers, and brokerage.

Fran worked with her husband in fitness centers and other businesses, then rejoined her brothers in 1996. Now she's in charge of HR, payroll, personnel, and benefits, and told me, "Our employees are my customers; happy, healthy workers reflect on our customers and other team members."





Mike, the service manager, is tall, expressive, well-organized, and focused on time management. Mike arrives before 6 a.m. to manage 70-plus service people up and down the coast and to anticipate what customers will want next: "My goal is to contact the customer with an update on his work before he calls me."



Chris Galati applies a laid-back demeanor and people skills to running the marina and working with customers to find compatible captains. He's a leader in customer relations, attending two fish tournaments a month, April to August, and also takes customers on the company boat to teach boathandling, fishing, and whatever else they need to learn to gain confidence.

What were once board meetings around the dining room table with their father doing most of the talking have moved to an office and became progressively more structured, with Mike Eiffert providing detailed financial updates. According to Joe, decision-making is by consensus, and meetings can be long. You also have to " be thick-skinned and not expect much patting on the back. We focus on what to do next to improve, always with a sense of urgency." The creativity comes in whenever a weakness is identified, such the sales chart mentioned earlier, which was developed by Carmine.

As sales expanded, they also realized the need to centralize their consumer financing operation, and they hired Darren to fill the gap and make this another positive part of the customer experience.

For a while, it was hard to get all the boats commissioned on time, so Joe set up a team in one location for what he dubbed "Single Point Make-Ready." This crew brought a consistent set of skills to bear on boat preparation, minimizing problems customers might have when they took delivery.

When service teams were losing valuable time on the road, Mike equipped the trucks with cameras and mobile e-mail. He also developed databases of photos and sea-trial data, which come in handy months and even years later when a customer calls in with a problem.

As the company has expanded, screening new hires has become an ever-larger challenge. Fran introduced the use of background checks and personality/behavioral testing for new hires to help put the right type of people into the right type of jobs.

Even before the current economic slowdown, Galati Yacht Sales had begun a concerted effort to grow its brokerage business, investing in Certified Professional Yacht Broker training for all brokers. According to Carmine, although Florida brokerage sales have been well off in the last year, Galatis' sales have been flat—a big gain in market share.

Many decisions can be difficult—like any time you decide to floor plan a $1.5 million boat. Despite that, Carmine said, "I don't ever remember an argument among us. The No. 1 lesson we learned is about respect; everything comes from that. Each of us has thought things through before we take each other's time with a discussion.

"When Dad died, we made a pact. If I'm sure of what I want, I can say, 'It's important to me.' Use of those words makes a difference."



The success of the Galati siblings has been "more than a Mom's dream come true," Anna Maria said. "When they won the Boating Industry award, Joe dedicated it to me. I cried for two weeks every time I thought about it."

Holding back a tear as she did, Anna Maria told me one more story: She was in line at the grocery store one day, overhearing a woman talking about buying a boat and saying how great the Galati family was. "What could be better for a mother to hear than that?" she asked me. I couldn't think of anything.

Editor's Note: John Burnham is the editorial director of Boats.com and YachtWorld.com.  Photos courtesy of Eric Stammer. For more about Galati Yacht Sales, visit their website.  This story, in combination with Part 1, first appeared in the November issue of YachtWorld Magazine.