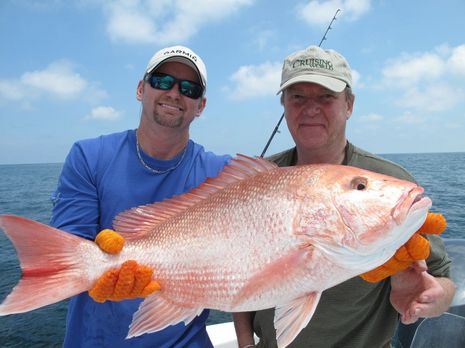 Phase two of the Garmin extravaganza -- a fishing trip off Texas with pro angler Bill Platt -- may not have gone quite as planned, but I don't think you need much more than this image of calm seas, blue sky, and a huge ass red snapper to know that it was truly a blast...


Garmin sponsors Platt with its latest equipment, and he had just
installed the GPSmap 7212 and 6212 seen below the night before our early morning rendezvous at a
Galveston launching ramp. The two MFDs, a GMI 10, a GSD 22 black box sounder, and a GXM 51 satellite weather/audio receiver all worked fine, and the NMEA 2000 connection to the Contender 33's three 350 hp V8 Yamahas (!) meant that any of the displays could show all sorts of engine information (Garmin has been doing a lot of work on that front). But Bill, who is also an electronics installer, had not had time to finish putting in the GHP 10 autopilot system, and the GMR 604 xHD radar would spin up but wouldn't transmit. I'm sure that was a disappointment to the engineers back in Olathe as they'd followed my testing series, including the slight disappointment I had with the Garmin HD radome performance relative to other advanced radars, and they think they've made great strides with xHD. They're also proud of how well their autopilot integrates with the Auto Guidance feature on the MFDs.
But all was not lost by any means. Below we're checking out how well a DVD playing on that recently discussed Clarion CMV1 displays on the 6212. Note how it fills the whole screen, a big contrast to earlier series, and I can attest that the video looked great even when there was lots of motion. Besides, I got to see how a guy like Bill uses his electronics for a kind of boating that's quite different from what I'm used to...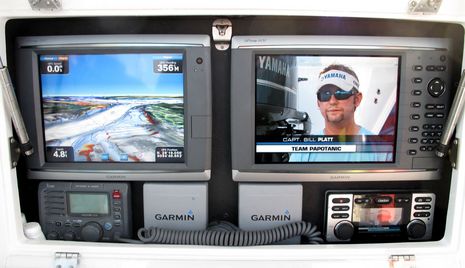 I've long known that a fisherman's history is one of his most important assets, but this trip couldn't have been a better example. The Gulf of Mexico off Texas is essentially a featureless plain, as we could see pretty well even charging along at 50 mph toward the first of several carefully archived spots Bill has collected during decades of hunting his home waters. (And, as hinted on the weather screen below, he's now got hot spots from Mexico to Hatteras, due to all the SKA tournaments he fishes.) He'd manually goosed up the fishfinder's gain, and would throttle back once in a while to further check out an interesting blip or two, but we really didn't see much in the way of fish or bottom structure until we got to spot #3...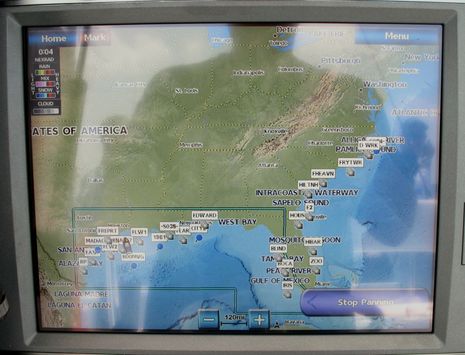 Where -- hot damn! -- we found a mountain of what turned out to be mostly red snappers. We worked this area for hours and Bill showed us how he could differentiate the lunkers from smaller fish and bait balls (not that hard once you've seen it done). And all those fish may still be there today, though only once did we see what may have been part of the 105' sunken barge that created this mini eco system many years ago. In other words, we might have never seen a snapper without Bill's database, but in fact we caught lots like that 20 pounder in the top photo. I even had time to fool with Garmin's 3D fishing view...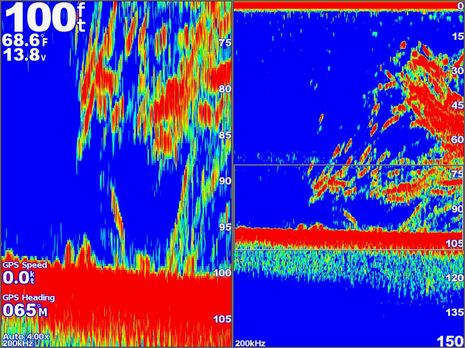 Which has changed a lot since the 4 and 5000 series were introduced. If you turn on fish symbols you now get spherical representations of targets color coded by strength and marked by depth. This particular image doesn't illustrate it well but these targets are saved so as you go back and forth over an area you can build a screen history of where your sonar cone has found fish. Bill, by the way, could also tell the size of the fish by the way they nibbled our baits, and he was one heck of a boat driver...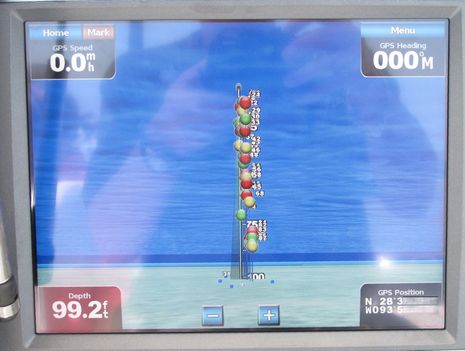 In fact, Soundings recently profiled Bill and his boat, and noted not only that it's the fastest in the professional Kingfish fleet, but that Bill is known as Captain WFO...for Wide "bleeping" Open! (Saltwater Sportsman has a good article on his king mackerel techniques.) We covered over 140 nm on our trip, though we were drifting over snappers most of the time. To truly appreciate the 59 mph Galveston-bound moment below you've got to imagine Capt. WFO's 600 watt stereo system blasting XM's Outlaw Country channel with a few sun-burned dudes from Kansas and Maine hanging on tight to boat, and long necks, while trying out their rebel yells. I think it's safe to say that I got a real good taste of boating Texas style.