See more articles
Got Bait? The Search for Stripers
In our latest episode, we find out which catches more fish: using live spot for bait, or casting BKD plastic lures.
Which is better, bait or lures? That's the question we answer with every episode of the Got Bait? fishing series, and the answer isn't always the same. If you watched the pilot episode, The Hunt for Flounder, you already know that lures proved more effective when fishing for flounder in coastal bays. In this episode, The Search for Stripers, we put live spot up against soft plastic lures called BKDs. Mix in a few cow-nose rays, a couple of traitorous team members, and a spot-sandwich. (Yes, he really did take a bite).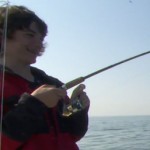 Add a heaping helping of fish that refuse to bite, then give it a dash of brotherly competitiveness. Just for kicks, bring along Shawn Kimbro, the author of Chesapeake Light Tackle—and yes, you will find out a few of this guy's secret tricks and tactics for catching striped bass. So go ahead and click, to join us for the latest episode of Got Bait?


The spot-versus-lures debate is not a new one, nor are the results of our fishing challenge likely to change a lot of minds. Many people fish with spot regularly, and catch a ton of stripers—there's no denying that these fish make excellent live baits. But many other anglers eschew bait in favor of lures like the BKDs, and there's also no denying that many of them have a lot of success. But what we experienced was surprising, to say the least. And we're pretty darn sure every episode is going to end up that way.

Coming up next month: Got Bait? III: Mahi-Mahi Madness.