See more articles
17 Holiday Gift Ideas For Boaters This Season
Hot new boating gear has been making waves in 2021, and getting these gifts would make any boater smile.
Back in 2020 we spread the word about 10 cool last minute holiday gift ideas for boaters, but in the last two years there's been a whole new crop of nifty nautical knick-knacks that have hit the market. And since boaters love playing with the latest and the greatest goodies and gadgets as much as anyone, we thought we'd break the news about these 17 awesome boating gifts for 2022.

1. ACR Bivy Stick


Satellite messengers make an excellent holiday gift, because they're not only convenient, they also boost your safety margin. With one in hand you can text when outside of cell range and also have an SOS button in case of emergency. A new two-way texter is the ACR Bivy Stick; ACR acquired the Bivy, which was originally designed for use by hikers and backpackers, gave it an IPX7 waterproof rating, and came up with an unusual subscription plan that's much more flexible than some other satellite messengers. You get monthly "credits" that only get used up when you use the Bivy Stick, and if you don't use them, they get rolled over to the next month.

Available on Amazon for $349.95.

Visit ACR Electronics to learn more.

2. Clarion XC2510


If the stereo on the boat owned by your someone special is good but not great, you could amp up the gift giving this year with a Clarion XC2510 Micro Class D Marine Amplifier. With 700 watts of power to its credit this compact unit takes up very little space (it's just 11 inches long and 4.3 inches wide) but will seriously rock the boat with a MOS-FET power supply and variable gain control. Connections are marinized with corrosion-resistant nickel-plated RCA, power, and speaker connectors, and the unit is conformal coated. Smaller and more efficient than conventional power supplies, a MOS-FET amplification circuit delivers power with less distortion and zero On/Off switching noise. This means you can crank up the volume or set it to easy listening. Either way, your sound will be crystal clear.

Available on Amazon for $179.99.

Visit Clarion to learn more.

3. Costa Del Mar Untangled Performance Sunglasses


For 2021 Costa Del Mar expanded their Untangled line, which has frames made from recycled nylon fishing nets. The discarded nets are melted down, pelletized, then re-molded into sunglasses so that they can't do damage in the environment nor take up space in a landfill. New versions are targeted at the boaters, with larger lenses that block more light and prevent the sun from creeping in around the edges. Blue, green, gray, copper-silver, and sunrise silver Costa Del Mar 580 lenses are available.

Available on Amazon for $117.70.

Visit Costa Del Mar to learn more.

Yamaha Seal Seascooter Water Toy With GoPro Mount


The Yamaha Seal Seascooter (YME23002-Seal) is an entry level water toy designed for younger recreational divers and snorkelers. Cruising at speeds up to 2. 0MPH (3. 2Km/H) with a depth rating of 15ft (5M) the Seal is perfect for shallow dives, snorkeling adventures or Chasing Fish. Designed for family fun the scooter has a run time up to 1. 5 hours with normal use and includes an auto shutoff, dual-trigger control and caged propeller casing for safety. The built-in camera mount allows users to seamlessly take videos of their experience using their sport camera of choice, most commonly a GoPro, but it works with other submersible underwater cameras as well.

Available on Amazon for $294.99.

Visit Yamaha for more information.

5. Hook Optics Knot Tiers

Older anglers know that the more you age, the tougher it gets to see fishing line when you're trying to tie knots. That's why Hook Optics came out with the Knot Tier Bifocal sunglasses. These non-proscription bifocals come with 1.5, 2.0, or 2.5 magnification sections at the bottom of the lens. They're sized to minimize interference with regular vision and when it's time to tie a knot you just tilt your head back a bit, look down through the magnifiers, and enjoy the view through the hydrophobic, oleophobic, anti-reflective, scratch-resistant, Zeiss-made lenses.

Visit Hook Optics to learn more.

6. Humminbird MEGA Live Imaging

If your boater is an angler who loves new tech, treat him or her to a new Humminbird MEGA Live Imaging system. This new real-time sonar beams its video-like views back to the fishfinder screen in milliseconds to provide such a timely look through the water that you can watch your own lure and see fish as they approach and then attack it. They aimable transducer mounts to your trolling motor, and interfaces with Humminbird Helix 8 through 13 G3N, Helix 7 through 15 G4N, and MEGA SI or DI modules. The system won an award for Best New Electronics at this summer's ICAST tackle trade show, so you can bet it'll wow any angler as one of the best holiday gifts of all time.

Visit Humminbird to learn more.

7. HydroFin



Just imagine how happy your present-getter will be when they discover that the gift you just got them will make their pontoon boat go up to 40-percent faster and burn up to half as much fuel. The HydroFin is a hydrofoil system that mounts with bolts and adhesive to the logs of a pontoon boat or tri-toon boat, and provides lift. Lots of lift. At 35-mph it can generate up to 1,366 pounds of lift and bring the boat up in the water by four to eight inches.

Visit Hydrofin to learn more.

8. Shimano Shimmerfall Jigs

Is there an angler alive who's fully satisfied with their tackle selection? Heck no —so giving the gift of lures is always appreciated. And if an angler likes jigging he or she is bound to go gaga over the new Shimmerfall. Shimmerfalls are designed thin to sink fast and stay deep when jigged in a strong current, are available in six colors and four sizes ranging from three to seven ounces, and have through-wire construction for enhanced durability. Pus, the edges are tapered to maximize their dancing action when the jigging begins.

Available on Amazon for $15.99.

Visit Shimano for more information.

9. SiriusXM Fish Mapping



You may already have SiriusXM radio in your boat or car, but fish mapping puts those satellites to a much better use: finding the fish. Fish Mapping identifies areas likely to hold fish by identifying plankton concentrations, sea surface temperatures, subsurface temperatures, height anomalies, and weed lines. Scientists interpret the data and provide recommended fishing locations for tuna, mahi, swordfish, wahoo, kingfish, and billfish. It works on Furuno, Garmin, and Simrad gear (with a SiriusXM receiver) and as part of the package you also get weather data.

Visit SiriusXM for more information.

10. Sharkbanz


If your favorite boater sticks to rivers and lakes the Sharkbanz may not be of much use, but if they go boating, swimming, or fishing in areas where sharks are present it'll be a prime pick. The Sharkbanz (available in a wrist band or a "zeppelin" that's designed to attach to fishing lines) emits an electromagnetic field that is "thousands of times stronger" than anything produced by the critters in a shark's normal food chain. That disrupts the sensitive electroreceptors sharks use to locate prey, and sends them scurrying.

Available on Amazon for $89.30.

Visit Sharkbanz for more information.

11. SAMSFX Fishing Line and Hook Knot Tying Tool Kit


For the boaters who are anglers out there, here's a quick affordable gift idea. This nifty little 4 fly fishing tool combo includes a quick nail knot tool, hook tier, loop tyer and retractors. The fishing knot tool will help you tie your lines securely in a matter of moments. The included hook tier brass multi tool is great for connecting fishing line to the hookessential knot tool for carp fishing and fly fishing. A simple plastic tool for quickly tying loop knots for hair rigs or hook lengths, the loop tyer can also be used as a hook remover for degorging hooks.

Available on Amazon for $10.99.

Visit SAMSFX Fishing for more information.

12. Revolve Boat Hook by PYI

Boat hooks have a million uses. With a boat hook you can catch a mooring line, tug on a tarp, push away from a dock, bring a fish on deck, and more. Most hooks are aluminum and some telescope but they all take up a lot of room because they're usually at least five feet long and awkward to store. That's where the new Revolve Boat Hook by PYI is different because it's the world's first rollable composite boat hook. When stored, it rolls up and can fit into a coffee can. When extended, it's six feet long. You attach the hook to one end of the pole and hold it at the other end by the neoprene grip that also makes the hook float should you drop it. This is a great compact solution for a hardworking tool.

View the Revolve Boat Hook by PYI on Amazon

13. Luci Inflatable Solar Light by Mpowerd

Help a boater light up the deck, cabin or cockpit with the inflatable Luci light by Mpowerd. Because it's inflatable, the light packs down to a disk about six inches in diameter. When inflated, it's about the size of a coffee can. Leave it out to charge during a sunny day and it'll provide light all night long. It needs no batteries and has multiple LED lights that deliver a steady or flashing light. Tie one in the rigging, hook it from the dodger, or leave it on deck to help you find your boat at night when you return via a dinghy. It's perfect for boats or hiking and camping so your boater will find lots to do with it.

View the Luci Inflatable Solar Light by Mpowerd on Amazon

14. Pro+ 2 Fish Finder by Deeper

The angler on your list will be tickled by a cast-able fish finder which is a sphere that floats while it monitors the depths and will return a sonar image to your phone or tablet via Wi Fi or Bluetooth. The Pro+ 2 can be used from a fishing boat, kayak, pier or shore and it's great for ice fishing too. It has three beam frequencies (wide, narrow and mid) for good target separation and excellent fish tracking. It scans to 330 feet with accuracy, has nine hours of battery life, and will work via Bluetooth around 300 feet from the angler. It also has GPS which allows you to create your own bathymetric charts (by casting and reeling it back in repeatedly) and it saves this information to the app that's loaded onto a phone or tablet.

15. State 2.0 Wakeboard by Hyperlite


For your tow sport boaters, check out this board that's perfect for anyone who's just learning to ride the wake. The asymmetrical State 2.0 wakeboard makes turning easier because the toe side edge is shorter, while the heel side is longer. With less material comes less friction so it's easier to turn the board whether for kids and adults. This board is durable but lightweight and there are multiple sizes for different sized riders – 135 cm for those under 155 pounds and 140 cm for those over. Beginner and intermediate riders will progress quickly on this fun board so it's the perfect gift for anyone wanting to experiment with wake riding.

View the State 2.0 Wakeboard by Hyperlite on Amazon

16. Boat Stabilization: Seakeeper Ride


Above: The Seakeeper Ride is an innovative new boat stabilization system from Seakeeper. Image by Seakeeper.

Maybe your favorite boater loves their boat but wants a more stable ride? Sure this gift might be a bit pricey, but for a serious offshore angler, it could be very appreciated. Gyrostabilizers have been coming on strong and they really work to stop the rock and roll of a boat at rest. Although they've been made more affordable and compact for smaller boats, they're still a pricey add-on and they work only when a boat's not moving. Now there's a new device that keeps the pitch and roll to a minimum when a boat (such as a center console) is running at speed. The Seakeeper Ride is a Vessel Attitude Control System (VACS) that eliminates up to 70% of underway pitch and roll to increase safety, comfort, control and confidence.

Seakeeper Ride controllers are mounted to a boat's transom, below the waterline. Using proprietary inertial sensing hardware and software, the system understands how the boat is behaving in all three axes and deploys the rotary blades at a rate of up to 300 mm/second to counteract pitch, roll, and yaw. In just one second, Seakeeper Ride's sensors take 1,000 measurements, driving its blades to make 100 adjustments to combat wave motions. Comfort and safety are enhanced and seasickness is minimized with this revolutionary system so now anybody can come along for a day of boating or fishing.

17. Saving Fingers And Fish: Boat Dehooker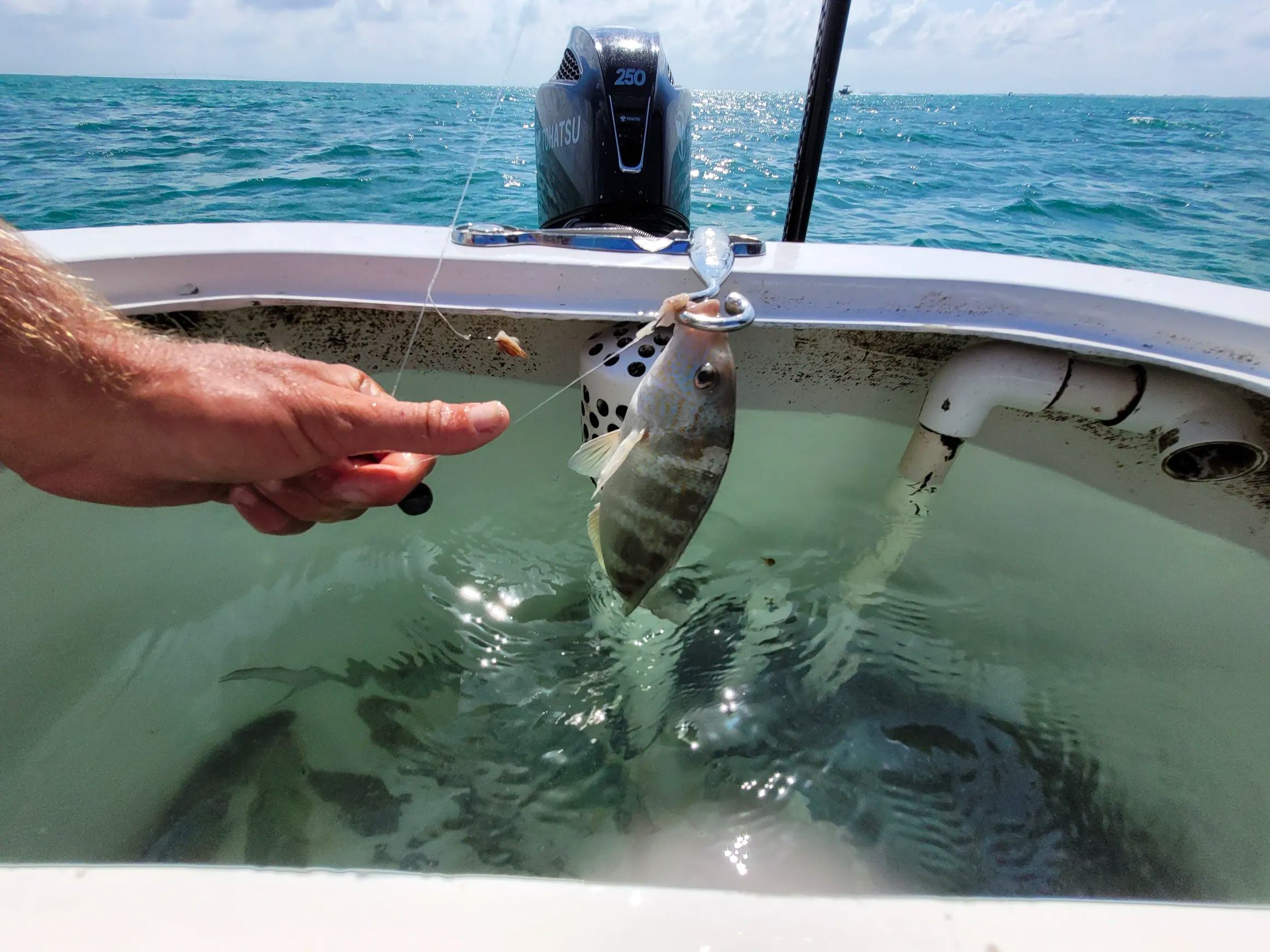 Above: The 6-inch "Boat Dehooker" by Overboard Technologies in action in a livewell onboard a boat. Photo by Overboard Technologies.

Removing fishhooks is a dicey proposition both for the angler and the fish, especially when it's a catch-and-release situation. Now, there's a better way to tame hooks and handle the fish less to increase their chances for survival when released. The Fish Dehooker by Overboard Technologies is a "hands free" device that can be mounted on the gunnel of a boat where it can swing inside or outside the boat. It's made of stainless steel and it removes a hook without the angler needing to put the rod down.

If angled inside, the fish can drop into a bucket but when angled outside, a standard hook is removed (when caught in the lip) and the fish falls back into the water without any human handling. It's great for kids too so they can dehook on their own and stay safe. When done, the hook swings into its nesting position on the gunnel. Fewer skewered fingers and lower fish mortality rates is a win no matter which end of the rod you're on.

The Best Boating Gifts: Shoot For The Moon!

No matter what sort of boater you're gifting one or more of these cool new goodies should make for a perfect present. And if you just read through this entire list and don't feel like any of these items make the cut, there's only one thing to do: you'd better shoot for the moon, and get them a bigger boat.

Editor's Note: This article was written in 2021 and updated for the holiday season in December 2022.