That's the hyper-green eco-adventure cat Plastiki posing for a press conference in San Francisco last Friday. Sure, the project is somewhat mockable -- they'll be recycling urine as they cross the Pacific, for cripe's sake -- and there are even some who think that Mick Jagger's daughter will join the already semi-glamorous crew. But I'm sensing that this is the real deal, as did Kimball when he visited (and then Charlie pointed out that there's a North Atlantic plastic patch too, damn it). Wired's detail on the innovative construction and a Treehugger interview with de Rothchild also helped hook me. I'm planning to following this adventure and, as you're about to see, that should be easy...


You see, representatives of Plastiki sponsors Jeppesen Marine and Inmarsat were at the press conference and they've shared some photos that I haven't seen elsewhere. In fact, this shot of the navigation area was taken just before a hail storm rolled in and ended the boat tours way early (well done, Ron Ballanti!).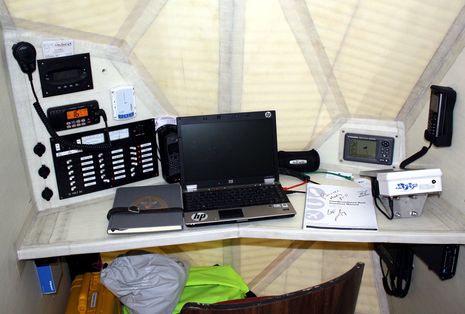 So, how do eco-adventurers with lots to say about the mess we've made, and the recyling we need to adopt, equip themselves for ocean voyaging? Click for the bigger picture, and let's go left to right. At top is an OutBack FLEXnetDC system so the crew can monitor how well their solar, wind, and bicycle generators are keeping up with power demands. Above the switch panel is a venerable Icom M-422 VHF and a much more rarely seen MOBi-lert system (oddly not listed at Mobilarm's home site anymore). Then there's an Iridium 9555 sat phone tucked into a marine dock behind the HP laptop, which is just one of many tech items that HP donated. The PC will be running MaxSea V12 software able to display the C-Map Max cartography Jeppesen donated (and maybe will switch up to Time Zero when the new MapMedia C-Maps are ready?). The PC is no doubt interfaced to the Furuno GP-32 and probably also to the Comar CSB200 Class B AIS transponder mounted under the 'chart' table.
That "SkyEye" thingy perplexed me for a bit. I knew that Xaxero makes the SkyEye direct satellite weather system with the distinctive helical antenna sometimes seen on hardcore cruising boats, but it turns out they also market the Xtracker Solar, which is what's sitting there waiting for installation somewhere on Plastiki with a good sky view. And, finally, there's the ACU and IP handset for the FB500 system donated by Inmarsat. This is one well-connected boat (like Visions of Johanna), but I particularly like the shot below of the FB antenna mounted on a mast recycled from a utility pole. Yes, that's a rotating hydroponic garden mounted where some boats might have a mizzen boom. "Fair winds, following seas, and fast growing veggies?"