See more articles
Invincible Boats 2 New Models Underway: 43 Open and 46 Pilothouse
Invincible two latest boats currently under construction promise to offer serious anglers two tournament-ready offshore fishing battlewagons that will give other fishing boats a run for their money.
Invincible, a premium saltwater sport fishing and high-performance boat brand recently announced the introduction of two new models, currently under construction. The two boats are the 2023 Invincible 43' Open Fisherman (a monohull announced at MIBS 2022) and the 2023 46' Pilothouse power catamaran (announced late last year). Both of these new boat models will offer an exciting addition to Invincible's lineup of serious offshore fishing boats for anglers looking for tournament-ready, feature-packed fishing platforms that can take a beating.
Invincible 43' Open Fisherman: A Monohull Battlewagon
The 43' Open Fisherman monohull is set to debut at the Fort Lauderdale International Boat Show 2022 (FLIBS 2022). Replacing the outgoing 42' Open Fisherman and Center Cabin, the 43' utilizes the same proven Michael Peters Yacht Design SVVT hull with an evolved interior that completely re-imagines the liner and the cabin from top to bottom.
"We designed the 43 with the tournament and master anglers in mind," said John Dorton, CEO. "Technology has advanced so much from even a few years ago and we're always striving to be at the forefront of what benefits sportfishermen both on their way to the bite and when they have their lines in the water."
Designed by Sr. Vice President of Engineering Scott Wood, the new 43 is equipped with everything important in a large fishing center console. The cabin has a full sleeping berth, a vanity sink and head compartment for those overnight tournaments. The innovation comes in how the space has been reimagined:
The all-new extended console, helm and cabin are moved forward to accommodate dual row seating without affecting fishability from the cockpit
The standard extended console lounger houses the largest fish box on-board
A new hardtop option has been added to accommodate additional electronics for the cockpit/helm areas and accommodate a rear-entry second station
A second live well with aquarium windows has been added to the transom to complement the optional in-floor well.
"This boat really showcases a lot of features that you have seen in some model enhancements over the past few years but there are also items that we're showing for the first time," said Scott Wood, Sr. VP of Engineering. "It's exciting to introduce enhancements that can be applied throughout our lineup"
Orders for the 43' Open Fisherman will be available as early as model year 2023.
View Invincible 43' Open Fisherman boats for sale now and pre-order yours.
43' Open Specifications
LOA: 42' 9"
Beam: 11'7"
Fuel Capacity: 675 Gallons
Maximum Horsepower: 1,800 HP
Invincible 46' Pilothouse Cat: Tournament-Ready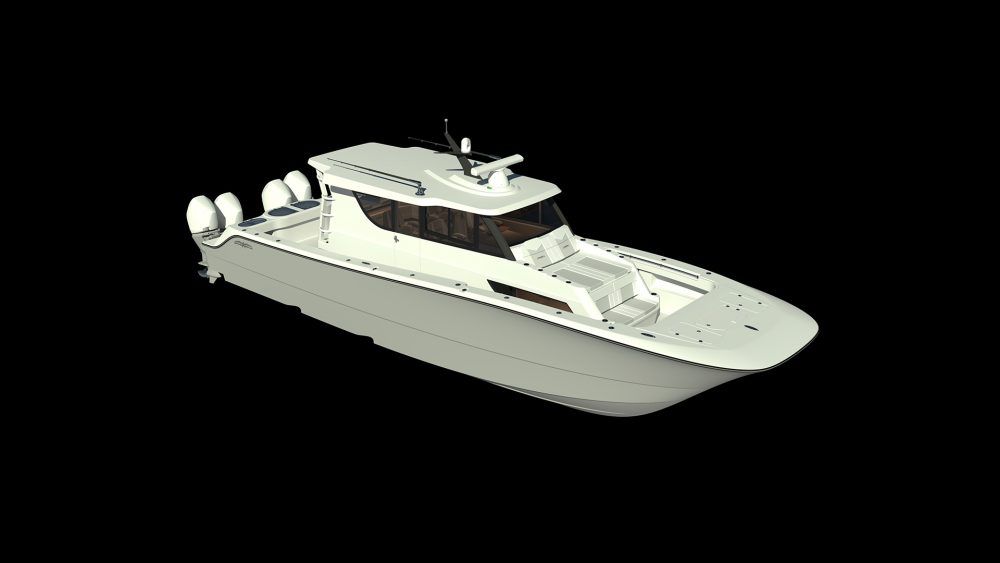 Using the same hull as the 46' Catamaran, this enclosed version of that boat will offer a bit more comfort than a center console day boat traditional provides, along with retaining the versatility of the outboard-powered center console boat class. This vessel will be an attractive option for buyers who may be considering larger sportfish yachts, as the more comfortable cabin and accommodations will provide the ability for an extended range of fishing trips as well as providing that full 360-degree access to the water that center consoles are famous for.
Invincible Boats also boasts that the 46 Pilothouse is the first ever production catamaran with a pilothouse.
"We were so impressed with the launch of the 46' Catamaran last year that we immediately began to explore a pilothouse version to better suit our customers in growth markets such as the Pacific Northwest and internationally in the Middle East," said John Dorton, CEO. "The 46 is billed as advertised with superior performance and fishability with any comparably-sized boat, so we knew we had the perfect platform to start such an ambitious project."
two sleeping berths: one located forward, and one converted using the u-shaped settee. There are two interior seating layouts. Air conditioning and a generator are standard. The glass partition at the rear of the pilothouse is a power window that can be raised and lowered for communication with fishermen in the cockpit or for more open air.
46' Pilothouse Specifications
LOA: 45' 11"
Beam: 12"
Fuel Capacity: 1,000 gallons
Maximum Horsepower: 1,800 HP
View Invincible 46' Pilothouse boats for sale on boats.com now and pre-order yours.
View All Invincible Boats for sale on boats.com